The Virtual Event Planner's Checklist: How to Ensure a Smooth Sailing Event
Virtual event planning was on the rise well before COVID-19 hit, but now in the wake of the pandemic, it's setting the stage as the next big thing. If you've caught wind of the movement and want to get involved in the industry, there are some things you should know first.
Understanding virtual events—and then learning how to plan for them—is trickier than traditional event planning. The online sphere introduces an all-new set of challenges in terms of technology, marketing, engagement, and more. Sure, you might not have to worry about catering, but you'll still need a carefully developed strategy if you want the event to go off without a hitch.
Not sure where to start? Use this checklist to successfully host a virtual event that sails smoothly and keeps clients coming back for more.
Step 1: Start with a vision
Collaborate with your client to get a sense of their goals and motivations.
Why do they want to host a virtual event?
Maybe they have a webinar in mind, or they might have to transfer an annual conference to a digital domain. You could work with a realtor looking to showcase amenities in a rental property through an online open house, or onboard a company's remote workforce with a virtual training session.
Be sure to ask detailed questions to understand what your client is looking to get out of the experience. Whether they want to engage current customers, draw prospective leads, inform investors, attract tenants, or educate employees, it's your job to deliver results. Or if you're hosting the event, ask yourself what you want to get out of it? What are the results you're looking for?
Establishing these targeted outcomes upfront is critical to the planning process because it'll help determine your target audience, the type of content you must curate, and which technological tools are required to get the job done.
Step 2: Establish a plan
With a vision in mind, it's time to sort out the details of the event which takes two to four weeks to plan on average.
You won't need to book a venue, but you will need to set a time and a date. As a general rule of thumb, try to keep the event around an hour and a half long; anything longer than that can be pretty taxing on our attention spans—unless you incorporate breakaway sessions or scheduled intermissions.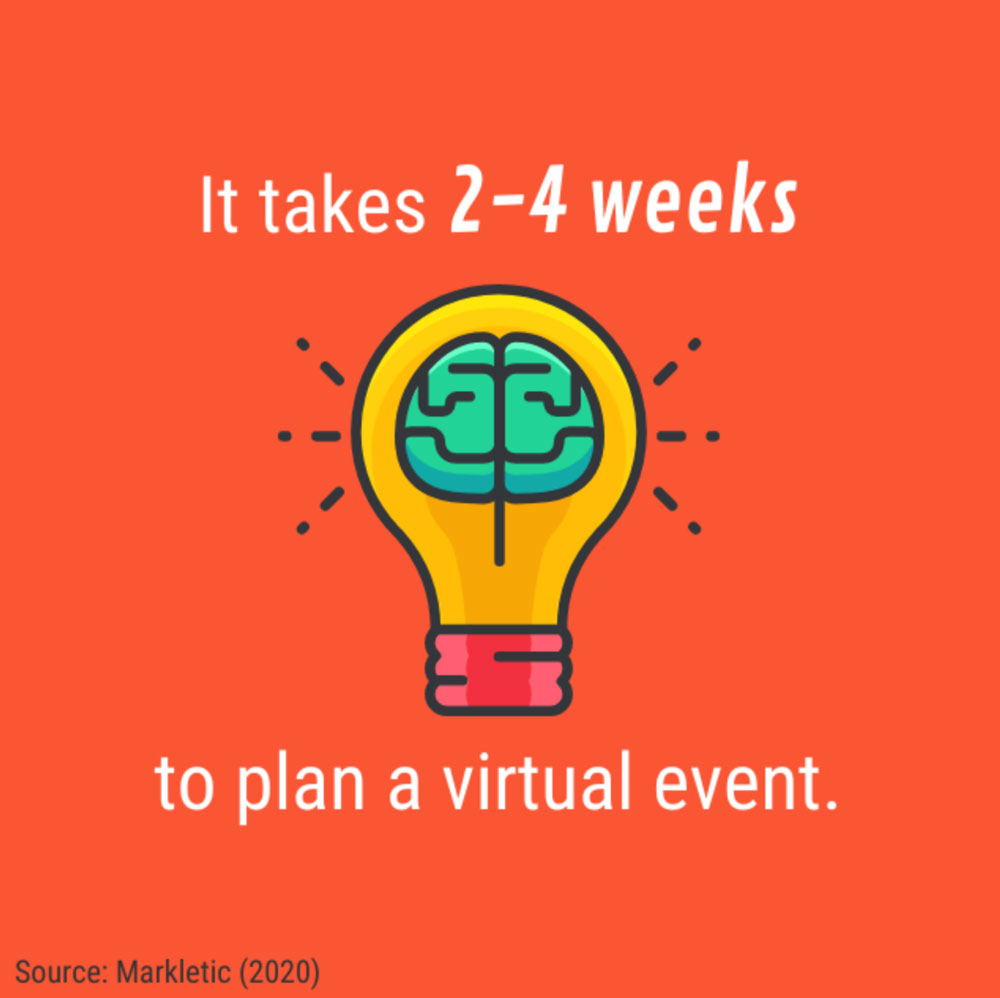 Be sure to coordinate with any keynote speakers, special guests, corporate execs, and live DJs well in advance, especially for longer events. They're the ones who will draw a crowd, so confirm there are no schedule conflicts that could veer their appearance off course on the day of the event.
You should be mindful of different time zones as you set the schedule, not only in the country but also across the world. Online streaming can expand a brand's reach by opening the door to global participants who, up until now, couldn't attend such an event in person.
Do your best to choose a time that caters to the largest majority of people to attract the most viewers.
Step 3: Promote the event
Allocate a sizable portion of the event budget to marketing initiatives so you can drum up substantial interest and get people excited. The last thing you want is a low, underwhelmed turnout because you might not recover costs, and strong participation is the largest indicator of a job well done.
So, send out plenty of promotional reminders and coordinate across all social media channels available to you with synchronized messaging.
If you know your target audience, then your marketing strategy should come naturally. Use hashtags to increase the virtual event's visibility in relevant online communities and try to get key opinion leaders (KOLs) in your industry to promote the event.
Don't wait too long to start, either; most planners need three to six weeks to successfully promote a small virtual gathering, but 65% agree that it takes at least six weeks or more to drive the amount of desired registrations for a large online video conference.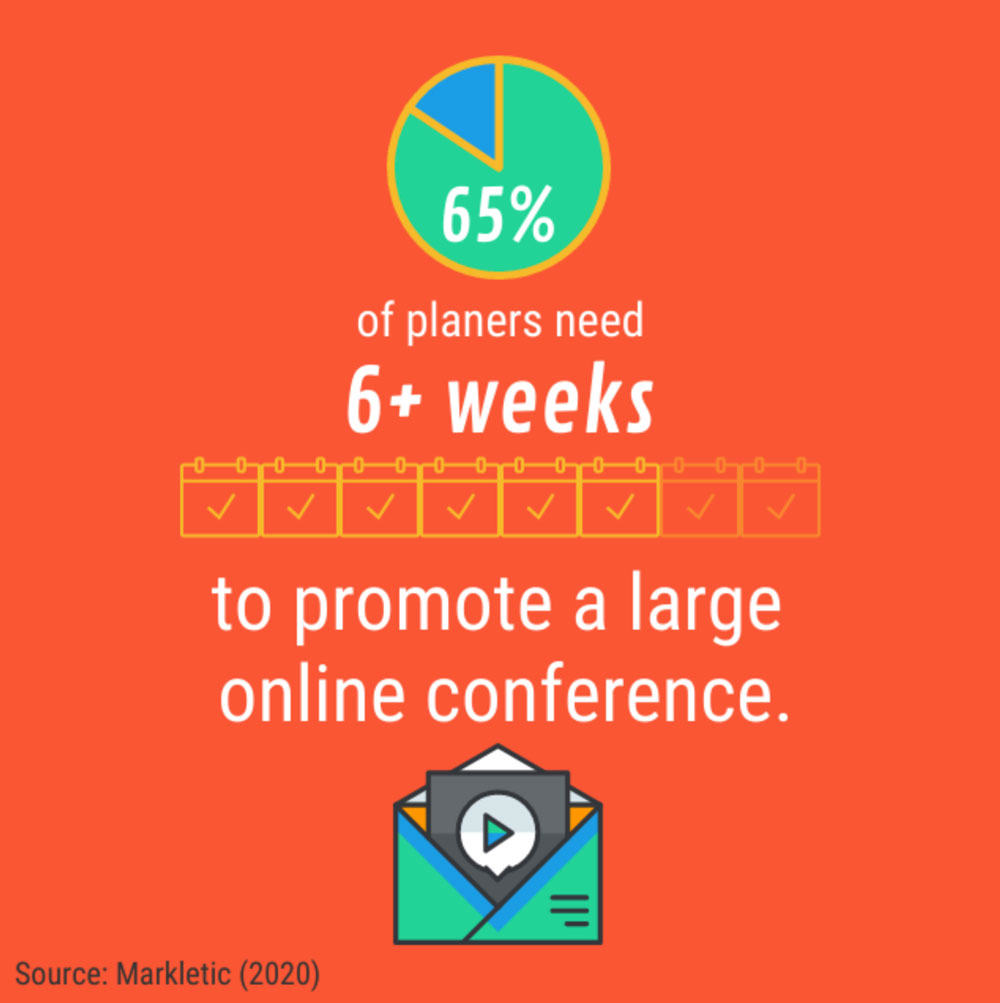 One way to get the hype going is to offer a limited quantity of discounted, early bird ticket prices that scale up in cost as the event date gets closer on the calendar.
This helps incite pressure to purchase so they can save money, and as each tier of limited tickets sells out, it'll establish a popular interest that suggests the value is worth the cost.
Create discounts and coupon codes
Purplepass let's user create unlimited
promo codes. Run early bird specials and
codes for loyalty programs.
If you're not charging ticket fees, another way you can engage participants is by including a link within promo emails that leads to discussion forums about the event and the topics to be discussed. You could also open up the floor for people to request certain questions for a Q&A panel, for example.
Essentially, the more the event is talked about, the more engaged the audience will be.
Step 4: Nail down logistics
Be sure to include instructions on how to access the event within the marketing material and RSVP confirmation page. It's also a good idea to send out a reminder a day before the event with the login material and encourage participants to do a test run beforehand to ensure they don't miss a moment of coverage.
You must choose a technological platform to stream the event. Zoom has become very popular in the COVID era of technology, but 31.6% of planners prefer Intrado as their streaming software of choice for B2B virtual events.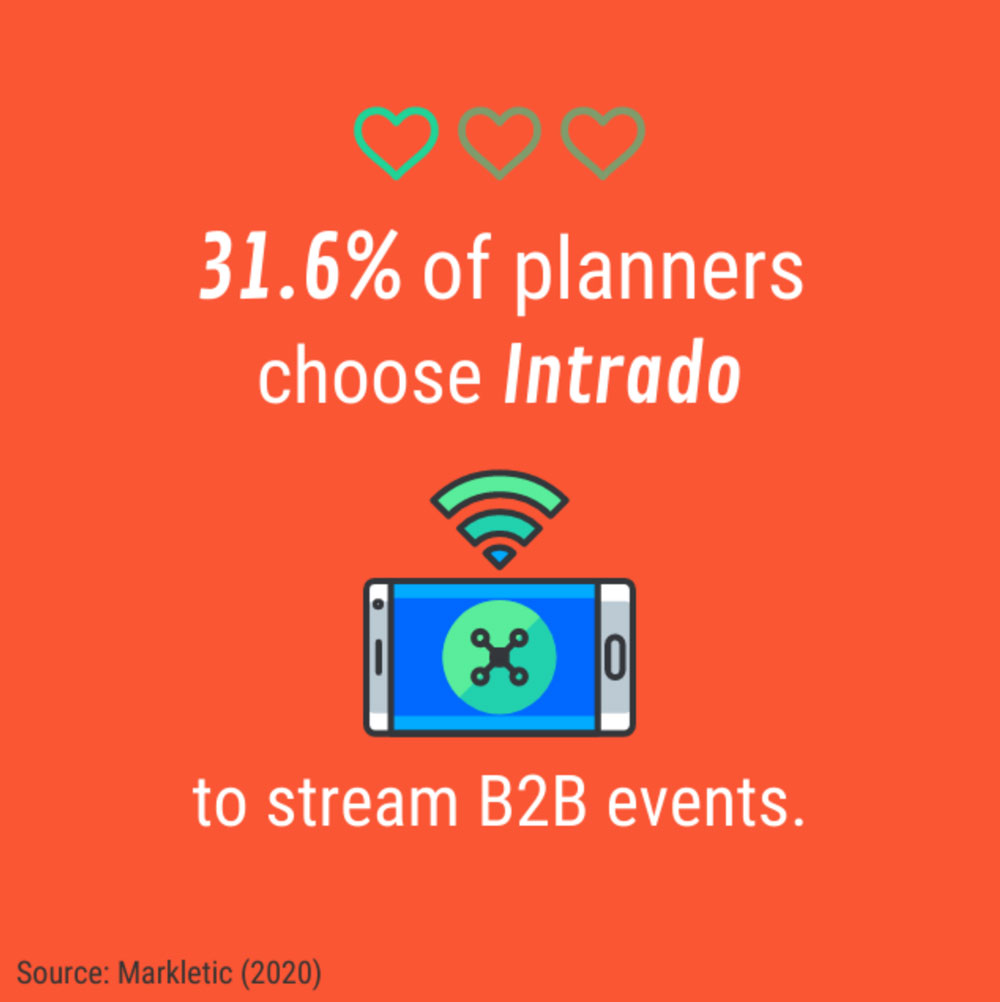 Step 5: Engage attendees & prove your success
Remember those metrics that you started with?
Determine a way to measure them with collaborative tools such as online quizzes, event-specific promo codes to track related sales, follow-up surveys, and so on.
These will help you track the number of viewers who tuned into the event, but also how much they learned, bought, or participated. Then, report data-driven insights to your clients, such as the total percentage of participants who answered a training question correctly, or the return on investment for the average cost each viewer gained.


Takeaway
Follow these five steps to ensure smooth sailing at your next virtual event, then showcase the results of your success to secure more work in the future—because 2020 event planning isn't canceled, it's just developing.
*Markletic, "50 Incredible Virtual Event Statistics"


---

Author: Kaelee Nelson
Kaelee Nelson received her Master degree with an emphasis in Digital Humanities and pursues her career as a writer in San Diego, currently writing for 365businesstips.com. She enjoys informing readers about topics spanning industries such as technology, business, finance, culture, wellness, hospitality, and tourism.