16 Tips for Promoting and Live Streaming Your DJ Sets
Promoting a music event, especially one headlined by a DJ, used to be quite the challenge. Now, thanks to the coronavirus, there are a few more obstacles to face before going live.
While we are still giving you advice on planning and promoting your event, keep in mind, this is for promoting virtual events in order to abide by the guidelines put in place by CDC.
Not sure where to start?
No problem! Purplepass offers 24/7/365 support
to help get you where you need to go.
Tips for promoting a virtual DJ event

1. Start promoting ASAP
The clock is ticking as soon as you set a date for your event. The sooner you begin promoting, the better your chances are of hitting your target for ticket sales.
Early promotion spreads the word far and wide, building momentum toward the big day. The alternative is to wait until a couple of weeks or days ahead of the event and splurge on promotion, inevitably limiting interest in the event and generating minimal ticket sales.
*** Social media is an easy way to start marketing your event ASAP.
Create a Facebook event page to showcase your event as well as any necessary information. Once created, share it on your other social platforms to get the party started! Besides sharing event info, introduce yourself, your music, and other DJs, if any, that are performing with you.
Also, include a direct link to your registration and DJ personal page that includes any music samples such as Soundcloud or Mixcloud.
2. Use event discovery sites
Event discovery sites are frequented by those most inclined to attend events. Though establishing a presence on these sites will require some effort, it is well worth it.
Tout your event on these sites and interested parties will discover your event, spreading the word to others inclined to purchase tickets.
Top event discovery sites include:
Eventful
Evensi
Goldstar
Facebook
Groupon
3. Reach out to Influencers to promote your virtual party
Fellow DJs and social media influencers can play an important role in promoting your event.
Though it might seem counterintuitive to give these individuals free tickets or a small payment, doing so is actually an effective tactic in event promotions.
Take a moment to consider the vast number of people in the social and professional circles of influencers and DJs. Give them some tickets, promote each other, and encourage them to spread the word, and interest in your event will increase.
As detailed in this informative Forbes post, social media influencers can be worth every penny and then some depending on the event and their audience.
4. Social media giveaways to boost engagement
The prospect of winning something online without spending a penny is quite appealing to everyone.

Humans love the stuff!
Though giving away free tickets or merchandise is certainly a minor loss, it is a necessary and temporary means to an end. The overarching goal is promoting your event in a manner that drums up extensive interest, and encourages likes, shares, etc.
Whether you decide to hold a contest for free tickets or another form of giveaway, it will prove to be a profitable decision that spurs considerable interest in your event. This phenomenon is explained in this informative piece by SEO guru Neil Patel.
What exactly do giveaways do?
Encourage shares among friends (increasing your reach)
Boost engagement on your platform (helps your visibility)
People are more willing to participate if there is something in it for them
If a ticket giveaway is, the winner will most likely invite more of his/her friends to join
5. Create event hashtags
Event hashtags ensure your event is chic in a digital sense.
Come up with a creative event hashtag featuring the "#" symbol ahead of a couple of words stringed together without spaces and people will start using that hashtag on Twitter and other social media platforms.
Furthermore, hashtags are important as they are memorable. A creative hashtag will linger in the minds of prospective ticket-buyers, heightening the chances of actual sales.
Add in the fact that hashtags can be searched for on the web and you have every reason to create one. You can learn more about the merits of hashtags and their appropriate frequency for each unique social media platform in this helpful article.
6. Use a ticket registration for online ticket sales
Because we currently live in our homes or online, online sales are 100% necessary. Without it, getting RSVPs and accumulating a guest list for a live event is almost impossible.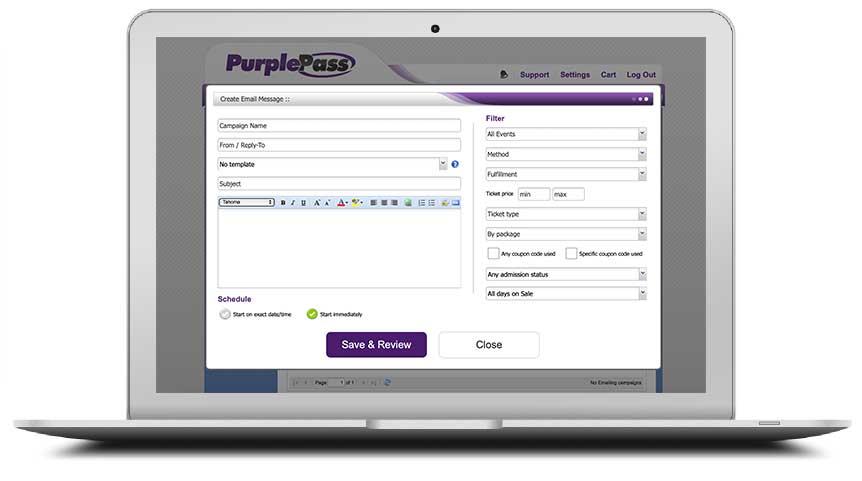 Furthermore, promoting RSVPs and sales online ensures you have an accurate idea of the number of attendees so you can get a better idea of your audience.
An online registration brings other perks as well:
Customizable reports, alerts, and guest lists
Marketing tools
Integrations
Ability to offer coupon codes and early bird discounts
Full-time zone support
Inventory management
Creating different ticket packages and deals
A platform for RSVP or free events
Insights into your demographics and audience
If your event is free, so are we
Hosting an RSVP event? No problem!
Our platform is free to use for free events.
7. Use photos and videos to highlight your event on social media
Social media has quickly become a critically important means of promoting brands, entrepreneurs, freelancers, events, etc.
Add some pictures or videos of the following to showcase what your event is all about:
Past event performances
Music videos
Downloadable MP3 files
Event photos
Testimonials/quotes
DJ equipment
YouTube tutorials
Yourself!


8. Instagram and Facebook live
Don't forget about your stories and social media live options.
This is a live event, so it's time you get used to talking to your guests through a camera lens.
Followers tune into more live stories than videos because it's happening in the moment showing a raw, realistic side of the storyteller. Before going live, you can customize your video title and even include a nonprofit for people watching to donate to.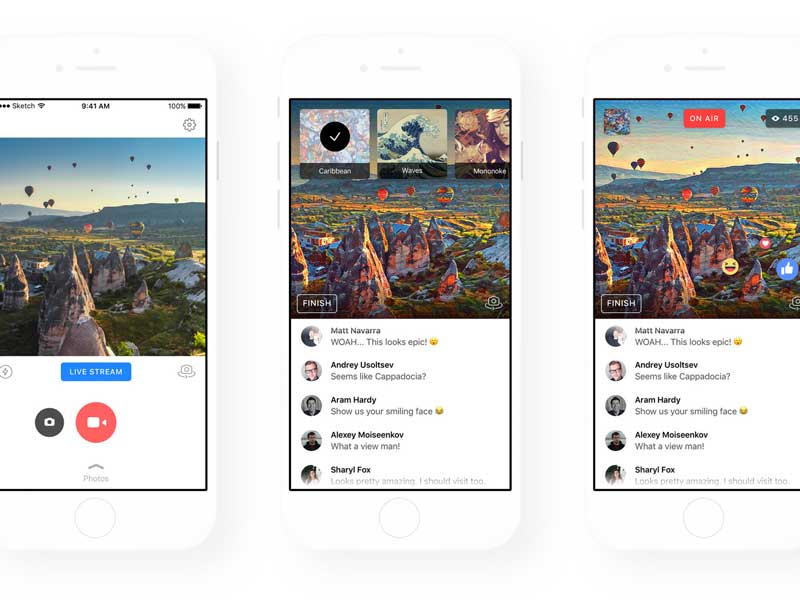 Once live you'll be able to view any active followers' engagement with your video as well as any comments or questions they may have for you. Use this as a form of communication with your guests, make event announcements, Q&As, sneak peeks, introduce your event, etc.
9. Invite other DJs to be part of the party
Show-goers will appreciate your DJ performance that much more if you build the momentum with an opening act or two.
Reach out to your fellow DJs to see if they would like to open for you on your virtual platform (bonus: they don't even need to leave their house!).
Continue your outreach until you find at least one DJ willing to kick things off on the big day/night. An auxiliary benefit of this outreach effort is that other talent will spread the word about your show to their fans, friends, and others, sparking that much more interest and ticket sales.
---
Tips for hosting a virtual DJ event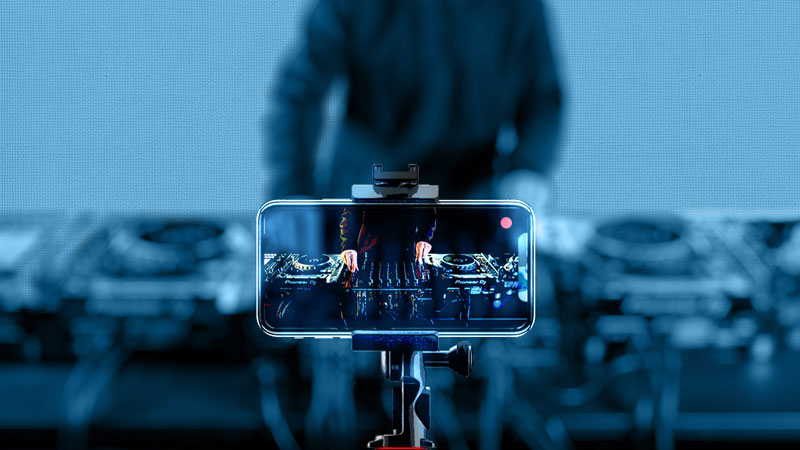 10. Equipment
Get the right equipment. Not only do you need your regular DJ setup, but a camera for streaming, audio, lights, and reliable streaming service.
Tripod mount for camera or smartphone
Smartphone for live streaming
Recording and audio device - shop now
Adapters and cables/input/outputs
Laptop program that uses internals - OBS
Headphones
Sound panels/soundproofing foam
11. Live Streaming Settings
Know the best settings for streaming live to YouTube, Facebook or your preferred platform.


12. Test your set
Do multiple test runs to make sure everything is functioning properly. Test your audio, playback, recordings, chat room functions, adding other talent/DJs, all cables, cords, jacks, headphones, etc.
Do a small set for friends and family first in order to perform a solid run-through with audience feedback.
13. What is your backdrop?
Use a venue with an appealing backdrop that works with your sound, not against it. I mean two things by this.
(1) Look around at your background. What will your viewers see? Does it mesh with your brand? Is there branded images on the wall or family photos?

People are tuning in to escape their homes and jam out with you; they don't want to be in another home so make sure your set doesn't look like one. Instead, set the environment with branded images on the wall, or create clear space and add lighting effects.
(2) Your venue can literally work with or against your audio. A bigger room runs the risk of creating an echo, unless using sound panels. Either looks for a smaller space, or pad that baby up!
14. Find a streaming service with chat rooms
Use a streaming service that supports online chat rooms and discussion so people can interact with each other throughout the event; this creates a more interactive space.
Some software with chat room support:
YouNow
Streaming Video Provider
Rumble Talk
LiveStream
SendBird
Decast
15. Research the best performance time for your audience
What is the best time to hold a virtual event?
If you're hosting a live-streamed event, pick a time that isn't within business hours, preferably on the weekend. Know your audience and understand what works for them.
Tip: Send out a mass survey to your followers for gathering information on demographics and their preferable event times. Not only will you learn more about who is tuning in, but you'll increase your views by being flexible and performing on their schedule.
16. Practice working with another talent
If your event includes other artists, practice adding them to the event and making sure their equipment is set up correctly. Again, run through your set multiple times!
We have experience with DJ sets
An online registration might be the next step to
boosting your ticket sales.