Top Tools in 2020 for Improving Remote Collaboration and Communication
"Technology now allows people to connect anytime, anywhere, to anyone in the world, from almost any device. This is dramatically changing the way people work, facilitating 24/7 collaboration with colleagues who are dispersed across time zones, countries, and continents. "
Owe it to the rise of technology or the outbreak of dreaded COVID-19, more than 4.7 million people are now working remotely in the U.S. alone, and this is not a temporary alternative.
Looking at the severity of the current situation, we should be well-prepared (technologically) to collaborate efficiently with our virtual teams to make sure the quality or quantity of the work is not compromised.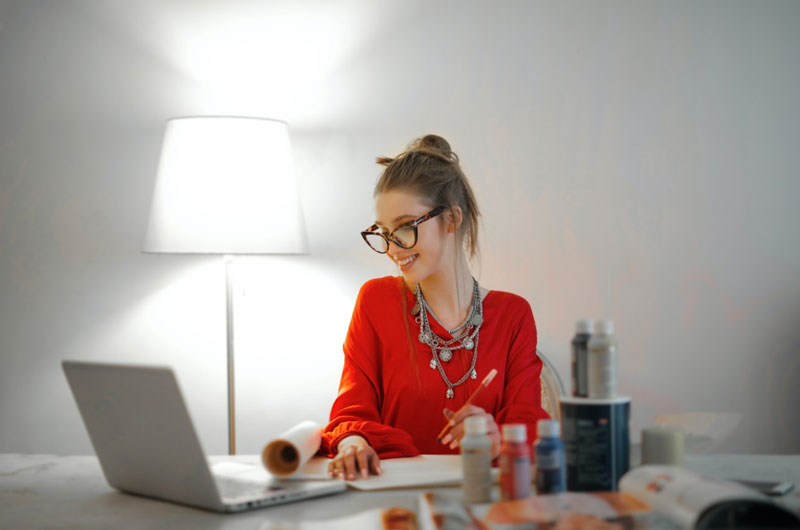 Remote workers face many challenges and merely having an internet connection won't help.
Without quick communication, efficient collaboration, and proper organization, you and your team are likely to suffer in the form of low productivity, misunderstandings, confusion, unsatisfied clients, and lack of mutual trust and respect.
As a Chief Marketing Officer at ProofHub, I understand how easy remote workers can feel disconnected from the team and lose ways when working from home. Lack of communication and organization results in misinterpretations, misunderstandings, and messed up tasks, which adds to the woes of every manager.
Entrepreneurs expect managers and their teams to perform at the same level, no matter where you're working from. Luckily, there are some top-rated tools to improve collaboration, communication, and organization across remote teams and departments.
I have compiled a list of some of the best tools for effective remote team management. Read on to know more about it.


Top tools for general collaboration
Trello is a simple visual collaboration tool, based on a Kanban framework, that can be used across the organization by anyone to organize projects of any type and size.
Individual users or teams can create boards, lists, or cards, which can be easily moved around as tasks move through multiple stages.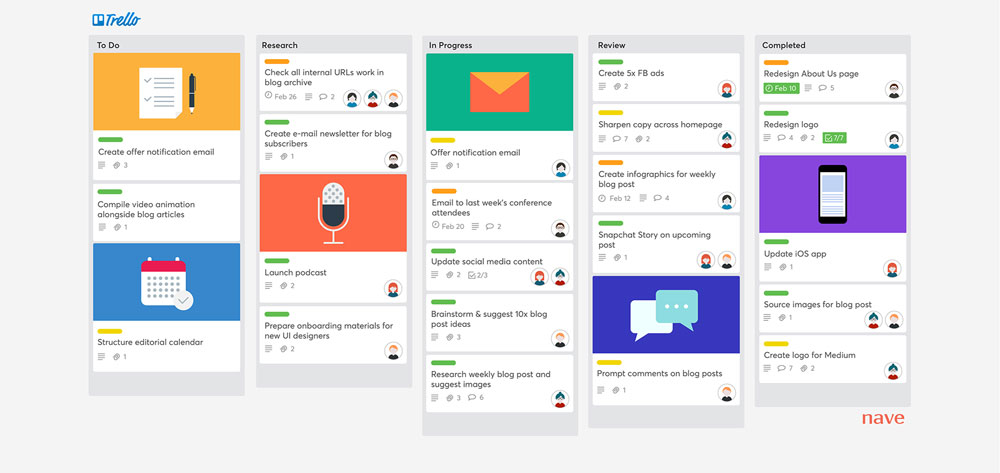 This collaboration tool works incredibly well for remote teams, who can easily check and track the progress of their projects on a user-friendly platform.
In one glance, you can know who's working on what, what's being worked on, and where something is in a process.
Pros: Easy project management, generating and sharing reports, segregation of tasks
Cons: Lots of manual setups, limited email integration
Pricing: A free Basic plan, Business Class plan is priced at $9.99 (per user, per month), and the Enterprise plan is priced at $20.83 (per user, per month)
ProofHub
ProofHub is an all-in-one project management software that eliminates the need to use multiple tools from different locations.
You can use powerful-inbuilt features from a single location to easily plan, collaborate, organize, and deliver projects of all sizes, on time.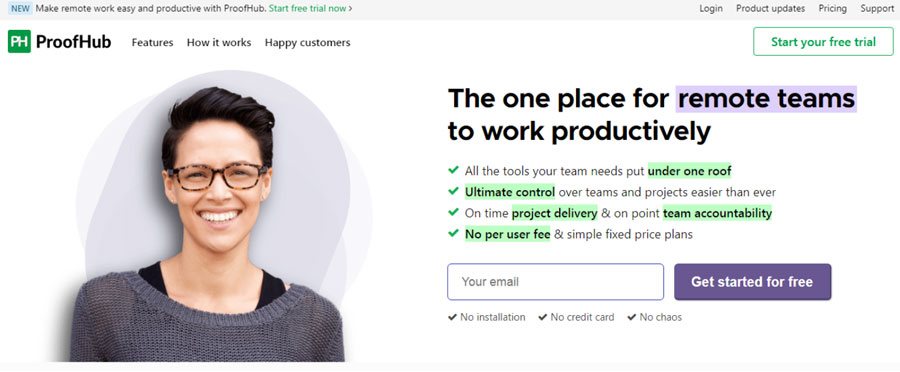 Unlike some other collaboration tools, ProofHub allows unlimited users and unlimited projects at a reasonable price. Clients, managers, and teams can collaborate and communicate in a single location to share feedback.
There's so much you can when you have ProofHub as your reliable project management system.
Pros: Ultimate control, proofing, all-in-one tool, reasonably priced plans
Cons: Addition of video conferencing would make it perfect
Pricing: A free 14-day trial, Ultimate Control plan for $89 per month, Essential plan for $45 per month
*** In the wake of COVID-19, ProofHub is offering a free subscription to schools for the rest of the year 2020 to help admins, teachers, and students collaborate remotely, at one feature-rich centralized location.
Basecamp is a simple yet effective project collaboration software that helps remote teams stay on the same page by providing all the tools they need to manage projects easily in a single platform.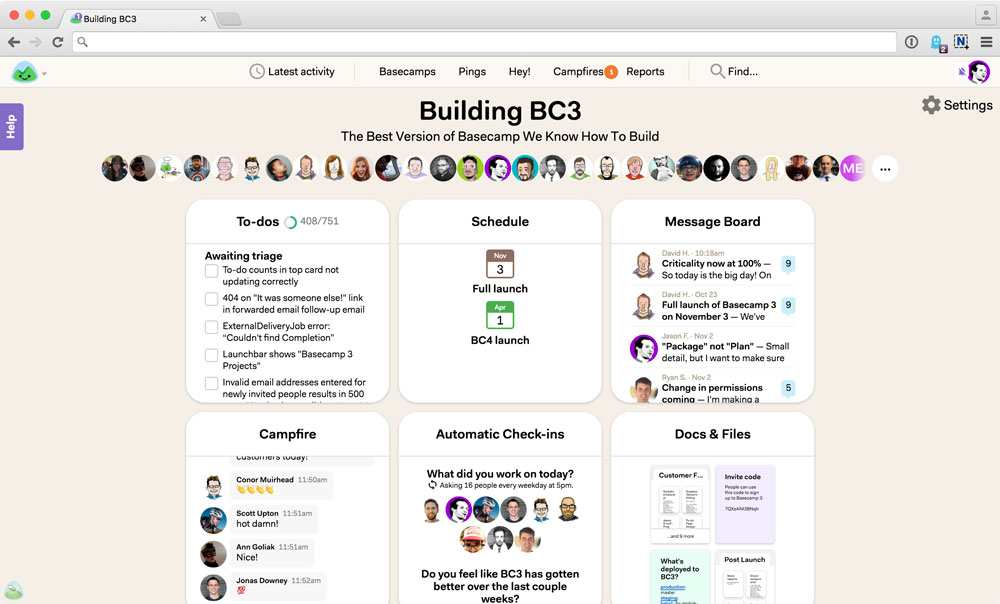 Users can arrange calendars, set meeting schedules, track assignments, share documents, plan projects, and do more things as a collective unit to ensure hassle-free collaboration by keeping everyone in the loop.
It is quick to set up and improves remote employees' accountability.
Pros: Links with tools you already use, data is well-organized, sets task accountability
Cons: Can have more features, the lack of tagging or labels in projects
Pricing: A free 30-day trial, Basecamp Business plan for $99 per month/flat
Top tools for team communication
Chanty is a simple team chat software that features easy-to-use user interface and intuitive user experience.
This team chat software is a great communication tool for teams of all kinds at work and even a user with limited "tech" knowledge can use it easily.
Chanty has all of the additional features teams need to stay connected throughout the day such as audio and video calls, a built-in task manager, and access to artificial intelligence enhancements.
Pros: Cheap, no message history limit, notifications, and instant alerts
Cons: Lack of integrations
Pricing: A free plan is available, Business plan starts at $3 per user, per month
Flock
Flock is a cloud-based communication software that features robust communication software tools like instant messages, multiple integrations, built-in to-dos and polls, screen and file sharing, and more.
Teams can organize all conversations, productivity tools, and apps in one place.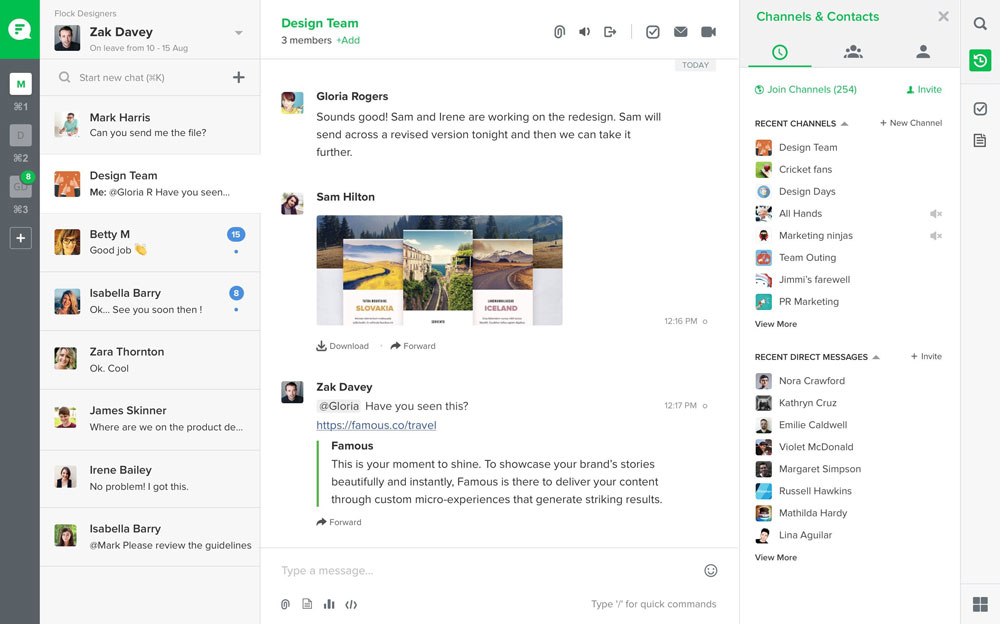 Flock is designed to provide strong virtual workspace to teams, and integrations with third-party applications and process automation functionality help to improve productivity.
Pros: Affordable, faster than Slack, video conferencing
Cons: Complicated interface, limited customization options
Pricing: A 30-day free trial is available, Pro plan is priced at $6 per month, per user, Enterprise plan is priced at $10 per user, per month
Skype is one of the most popular communication tools used by businesses to hold virtual meetings as well as create individual or group chats. The paid version of Skype allows users to have meetings with groups as well as make international voice calls.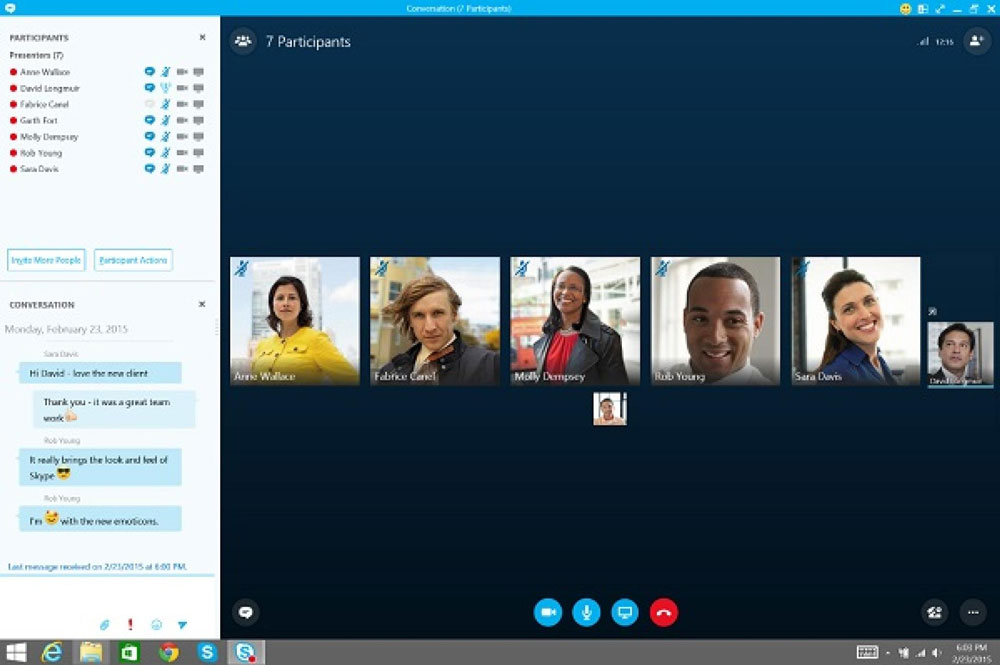 Besides chat, audio and video calls, Skype also offers collaboration functionalities and features for a very low price of $2 per user, per month. Skype is owned by Microsoft and provides compatibility with MS Office tools, integration with some third-party business apps, and stringent security via strong authentication and encryption measures.
Pros: Screen sharing options, very cheap paid subscriptions, reliability
Cons: Background noises are picked easily, little or no access to emergency services
Pricing: Free Basic plan, Online plan 2 at $5.50 /user/month, Office 365 Business Essentials at $5.00 user/month, Office 365 Business Premium at $12.50 user/month
Top organization tools for remote work
Google Docs is a web-based software that is great for distant learning and remote work. It provides people with a writing platform and enables collaboration between team members through the easy sharing of documents.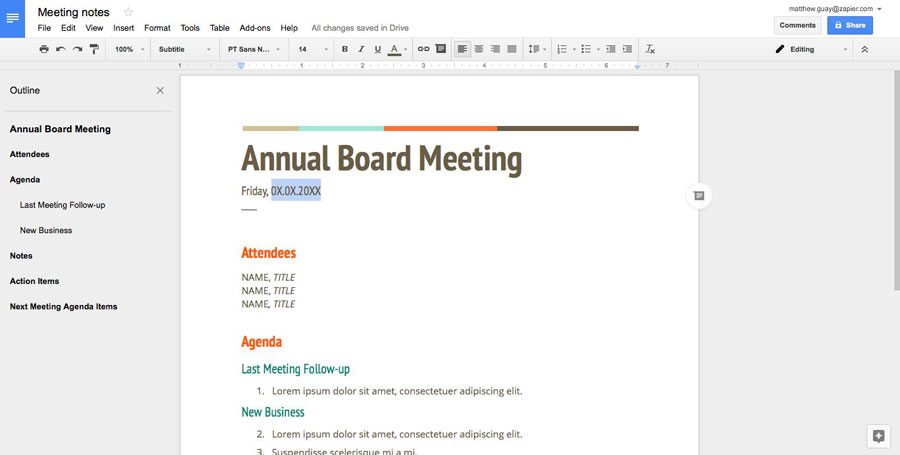 Users can choose who gets to access the document and who can edit it. The application automatically saves the document, so that users can find the changes made by them after a power failure or lost internet connection.
Pros: Smart-formatting, readymade templates, instant save
Cons: Doesn't work without an internet connection
Pricing: Free
Evernote is one of the best tools to write and organize your notes anywhere.
This note-taking application synchronizes all the notes you take, so you can find them on any device that has Evernote installed on it. It is a single place for your notes, ideas, lists, and reminders.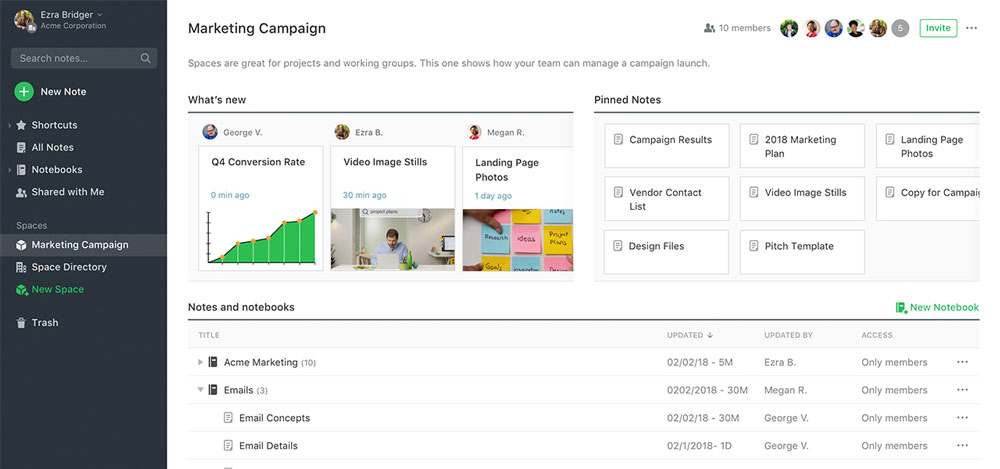 Evernote has useful features that allow multiple people to easily collaborate on shared notebooks. You can digitize all your files, organize, and store them in a single database.
Pros: The search function, one place to store all notes, easy reference to the content
Cons: Can't password protect individual notes, offline access only in the desktop version
Pricing: Free Basic plan, Evernote Premium plan at $7.99 per month, Evernote Business plan at $14.99 /user/month
Canva
Canva is well-known to be a simple design platform that enables businesses, organizations, and individual professionals to create excellent quality graphic designs. This tool boasts of both usual as well as an exclusive collection of graphs and charts.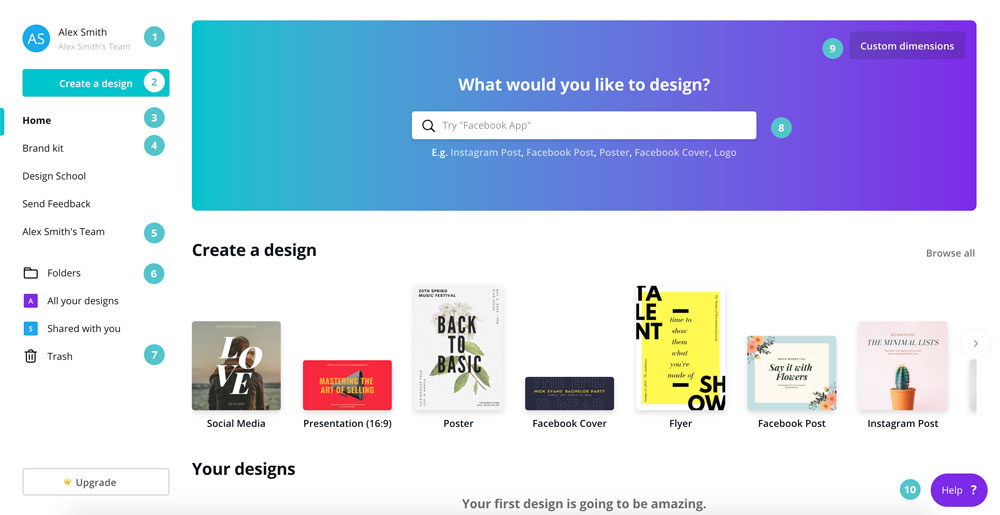 Canva is a user-friendly, reliable design tool that makes it easy to perfectly execute a creative design idea for almost every purpose imaginable.
Users can also create custom designs and templates that reflect elements of their brand and company.
Pros: User-friendly, huge variety of templates, intuitive, free fonts
Cons: Doesn't have animated video features, take some time to create graphics
Pricing: Free Basic plan, Pro plan for $9.95 per month/user, Enterprise plan for $30.00 month/user
The Bottom Line
Your remote employees need to go on with their jobs effectively, and it's difficult to achieve this goal without using the right tools.
As an experienced and efficient manager, it is your responsibility to see if they have the right resources to be at their productive best at home as they are in an office space, without compromising their overall well-being.
Using the best collaboration, communication, and organizational tools will go a long way in ensuring that every team member is on the same page while working towards a common business goal. I hope implementing some of these tools will help you and your team to work smartly to achieve more in less time, with a high satisfaction rate.
Use SMS messaging to stay in touch!
With Purplepass' SMS feature, users can
reach guests via text; alerting them of the
latest event updates, changes, PROMOS, etc.
---
Author: Vartika Kashyap
Vartika Kashyap is the Chief Marketing Officer at ProofHub — a project planning software for teams of all sizes. She is one of the LinkedIn Top Voices in 2018. Her articles are inspired by office situations and work-related events.
She likes to write about productivity, team building, work culture, leadership, entrepreneurship among others and contributing to a better workplace is what makes her click.