Affordable Digital Ticketing for Schools and Education
Purplepass Ticketing, an event management software for different industries and events, offers a discount to all schools and nonprofits using the platform.
Most schools and educational institutions have transitioned to online e-learning. With concerns for reopening schools too early and maintaining the health of students and staff, the education industry is turning to other alternatives.
Ticketing for schools
Learn more about what Purplepass can offer your
schools, different features, discount options below!
Whether education remains online for a while or schools reopen, the concern for health and minimizing interactions with germs is always going to be there.
But why is digital ticketing the answer?
The alternative to safe events, conducting lectures online, class registration, processing graduation tickets, etc. is digital ticketing. Using an online ticketing system for schools gives districts the opportunity to continue running their schools through the software and/or host future events.
Using Purplepass for a school registration
Many schools have already turned to Purplepass as a platform for their school registration and class sign-ups. Pre-coronavirus, most students attended orientation to get their class schedule, school merchandise, planners, ID cards, etc.
However, unless done in shifts, holding orientations would be a cause for concern and considered a large gathering by the CDC.
Instead, students can go to an online portal to register, enter any necessary information (shirt size, color, etc.) for merchandise sales, order their ID cards and anything else they would have originally done at orientation.
For graduations, schools can use Purplepass' ticketing features for when students need to order their tickets. To learn more about how processing graduation packages and tickets/student works, click here.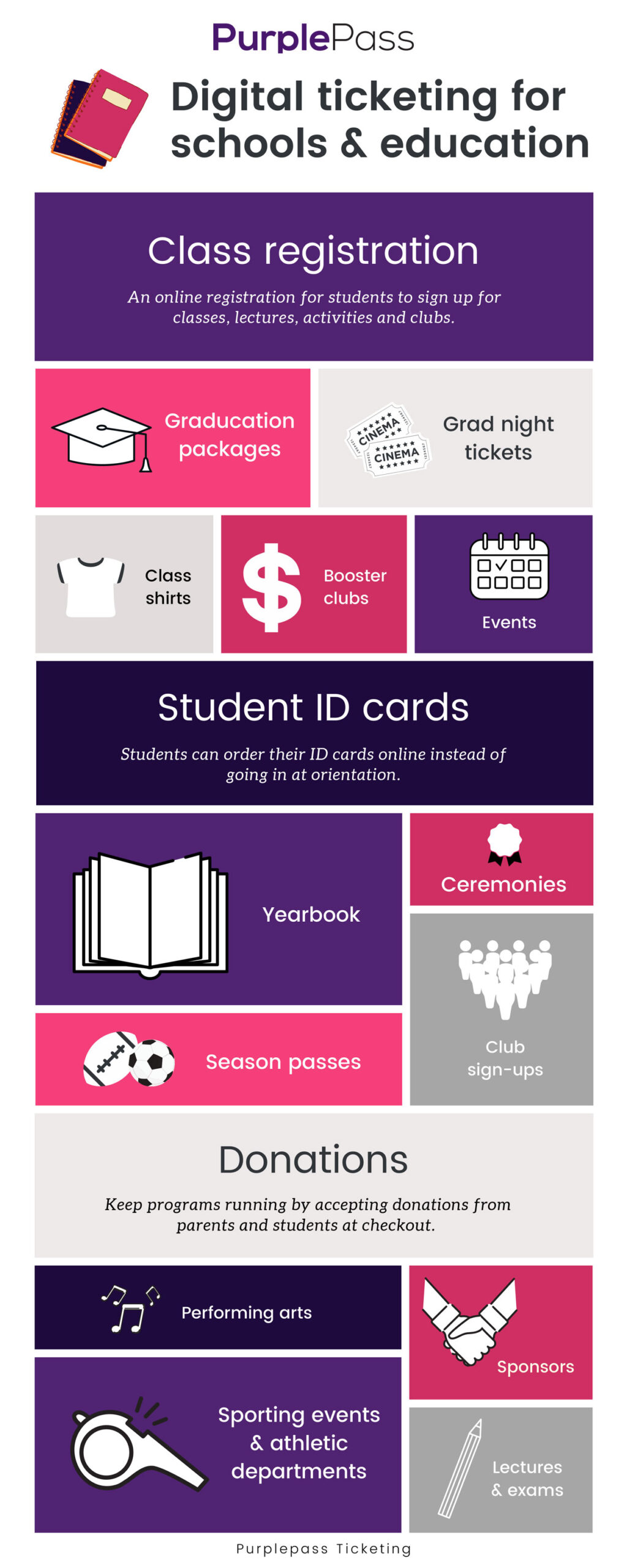 Using Purplepass for safe events
Whether you're hosting in-person events or virtual ones, digital ticketing minimizes the number of interactions at an event gate. Promoters can have customers process payments online, ahead of time, to eliminate the use of cash.
Most schools rarely accept credit card payments or don't have the ability to prior to Purplepass, so this is a great perk!


Other ways interactions are minimized at in-person events using Purplepass:
1. Sales are made online, in advance, meaning they come ready with a ticket in hand (print-at-home or mobile tickets).
2. All order confirmations and receipts are delivered electronically.
3. Wireless scanners are used to scan guests in. Guests present their tickets, and the scanners can read them from a distance.
4. Promoters can leave messages to customers at the checkout or make them agree to terms and conditions. That way, they are aware of any new policies in place, or other instructional notes they want to leave them.
5. If the event is assigned seating, schools can allocate which seats they want to make available, thus enforcing social distancing rules.
For a complete guide on running a touchless, risk-free event gate, click the link to get our free guide "Your Guide to Running a Touchless Event Gate".
Affordable ticketing for schools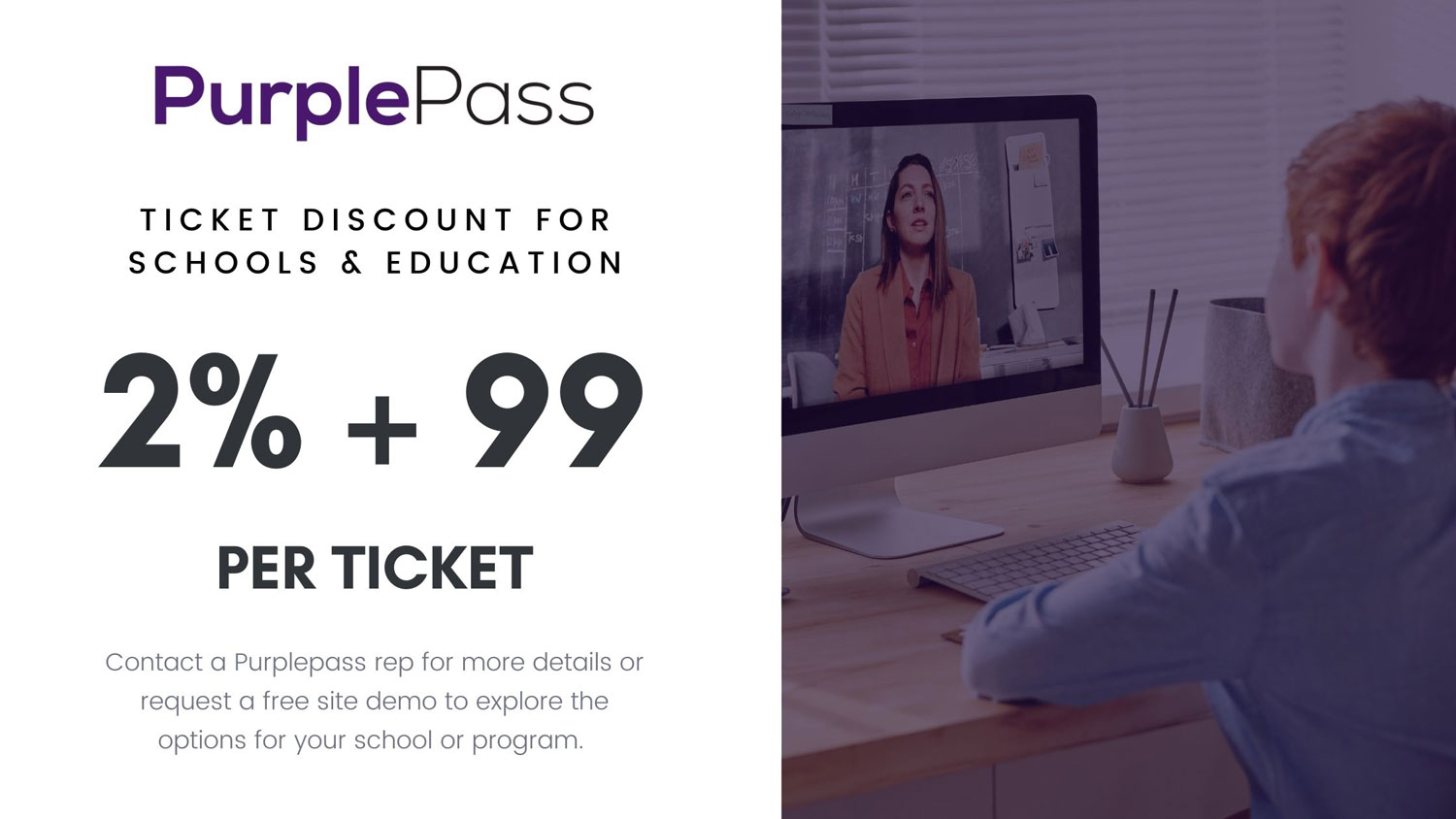 Purplepass offers a discount of 2% + 99/ticket to all their schools and nonprofits. Other free services (no hidden fees we promise!) include:
Unlimited events
Zero fees on free or RSVP events
Free map building for venues (assigned seating)
Phone order support for guests
NO monthly charges period
24/7 customer support (phone, text, email)
Free time zone support
Is Purplepass right for your school?
Request a free demo of the entire site and
discover features that could benefit you!