Purplepass Launches Digital Ticketing Solutions for Reopening Venues
Although the event industry has been placed on pause, that doesn't mean Purplepass hasn't been working; quite the opposite, actually. We've been hard at work creating new digital ticketing solutions in response to the effects and negative impacts COVID-19 is having on the event industry.
Keep reading to learn about new partnerships, integrations and innovative tools being launched for venues hoping to reopen in the coming months. Promoters should incorporate these features and technology throughout their event(s) in order to properly follow the regulations being put in place in response to the coronavirus.



Auto Social Distancing tool


In direct response to the coronavirus, Purplepass is launching the Auto Social Distancing (ASD) tool to better monitor social distancing. The ASD feature only works for events using assigned seating or a seating chart; these can be built for free.
Contact your Purplepass representative to request your map or email us at support@purplepass.com

ASD gives promoters the ability to define a value of space between each seat or group of seats at their event(s). The tool will automatically apply space around seats based on the distancing values set.
Regardless of the party size, the system will space them out, helping promoters maintain social distancing at events.
Click below to learn more about how it works and the tool's release date.
A partnership with Modern Tribe
managing events in WordPress


Purplepass has partnered with Modern Tribe to give users the ultimate ticket management experience directly in WordPress.
Promoters can download Modern Tribe's WordPress plugin, The Events Calendar, and integrate Purplepass' new ticketing plugin for managing events directly in WordPress. Users will be able to create events, edit them, view stats, and have tickets automatically installed on their event pages without leaving WordPress.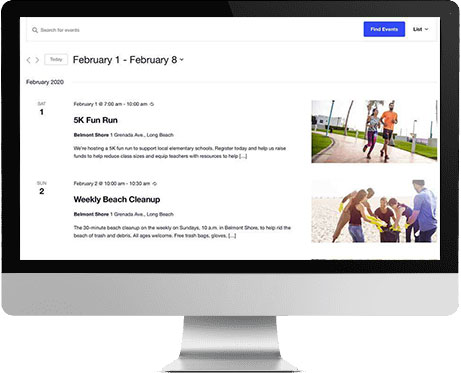 We created this new WordPress ticketing plugin to give Purplepass users the flexibility of building their events where they want to; that be in Purplepass or within their WordPress account.
Purplepass' ticket widget tool is also highly recommended for those who want to sell tickets directly on their website without redirecting customers to a third party.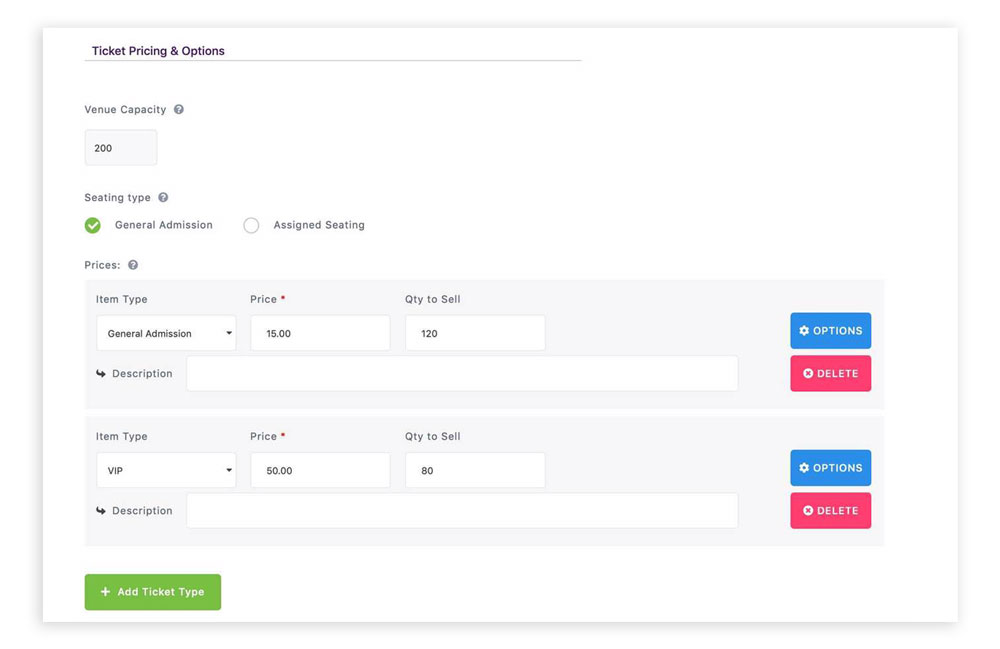 Before, Purplepass users would need to spend the time creating their ticket widgets, but with our new event calendar in WordPress, ticket widgets are created automatically upon importing or creating new events.
This way, you can seamlessly embed the entire buying process directly on your site!
Live streaming event widget


Finally, what everyone has been waiting for! The ability to sell tickets to a live streamed event and broadcast it directly on their website. Here's how it works:

Step 1: Create a new ticket type - Live Stream
Similar to creating a regular ticket type, upon creating your event, select "Live Stream". This selection will prompt you to select between the following options; (1) load a URL, (2) embed player code.
Step 2: Create your widget for live streaming
This widget gives guests the capability to access a video stream directly on the event page. Promoters can simply create and install the widget one-time and use it for all their events. No extra accounts or redirects required.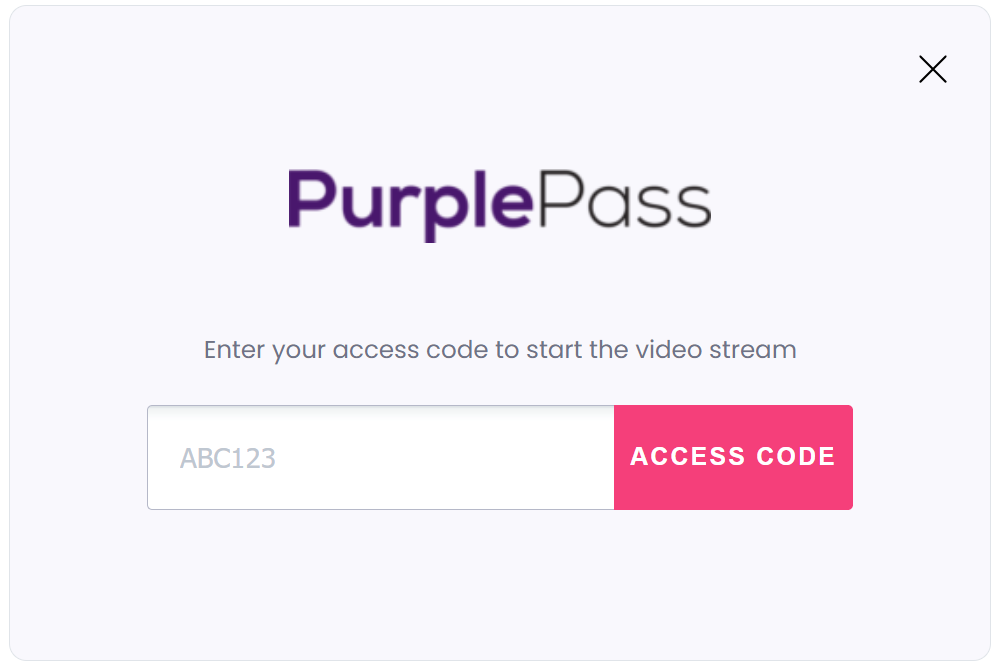 To access the event, guests will be required to enter their order number and/or email for a verification process. To learn more about how it works and the feature's release date, click below.
Equipment for a touchless gate


Build an entry process that is guaranteed to be germ free so guests can feel good about entering your event with digital ticketing and equipment.
Wireless scanners that can scan at a distance
iPad mobile box office with card readers for guests to swipe themselves
Digital ticketing and QR codes (eliminates physical tickets, wristbands, badges, etc.)
A box office that accepts all forms of credit cards (Master, Visa, American Express)


Here are our recommendations for taking payments at your events:


Accepting Cash Payments

Create a separate dedicated station for accepting cash and only accept exact change if possible.


Have staff wear gloves when receiving money. Staff accepts the money, guests enter the gate, thus, there is no exchange or touching.


For cash drops, make sure staff wears gloves and avoids handling the banknotes for at least a few days post-event. Current research suggests that pathogens can live for multiple days on paper, so leaving the money untouched can ensure all viruses that once lived there are gone.


Accepting Credit Cards
Option 1: Require that all purchases be made in advance and online.
Option 2: Use a linking service like Bitly to provide a simple way to find ticket links, purchase tickets online and have them sent directly to the customer's smartphone.
Option 3: Use a credit card slide/insert so customers can insert their own payment on a device with no additional exchange. Tip: Use velcro to attach the credit card reader to the table so they can do the transaction one handed.


Box Office Payments
If possible, go fully remote. Only accept phone orders, taking all the required information and emailing tickets and confirmation to guests via email.


Confirmations and Receipt Printing
Some people still prefer printed receipts, but to fully eliminate an exchange of germs, opt for emailed receipts only. No paper.


Your guide to running a touchless event
Get more tips on how you can create
a safe event experience for your guests!
Registration for schools and education


During these unprecedented times, we've been dedicating a significant amount of our efforts to helping out schools and educational programs.

Providing online ticketing for education has allowed schools to continue their daily functions online during this pandemic; class registrations, exams, certifications, lectures, merchandise sales, etc.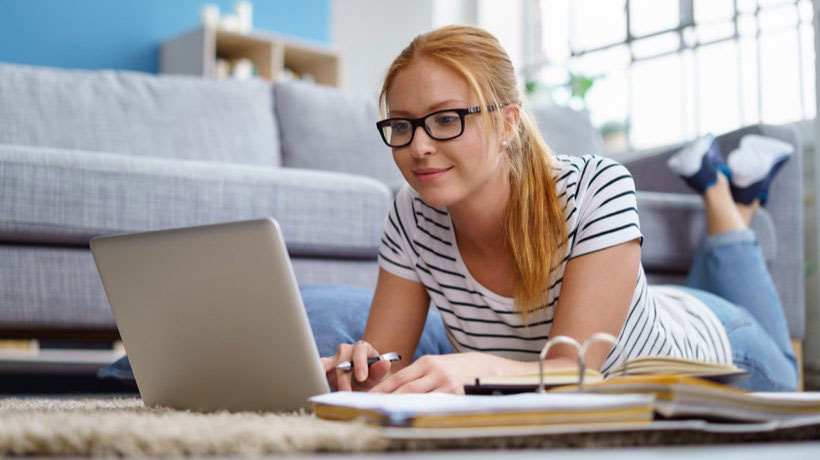 Our ticketing solution for schools offers a platform for student registration online, rather than having them attend in person for orientation and sign-ups. Teachers can also administer exams and educational programs through Purplepass' registration for fee collections, providing instructions and sign-ups.
Post COVID-19, schools can still utilize our platform for graduation and ceremony ticketing, season passes and custom ticket packages for sports, in-person lectures, and department events.
We also encourage schools to seek support from parents by using our donations tool; users can include a spot for receiving donations on their event page. Adding these additional donation options can offer support for struggling departments or programs struggling to keep up during COVID-19.
Merchandise and ticket add-ons


A big source of revenue for events can be merchandise and other ticket add-ons such as food tickets, VIP passes, and/or souvenirs. Depending on your event, we make it possible to conduct merchandise sales online by including them at checkout.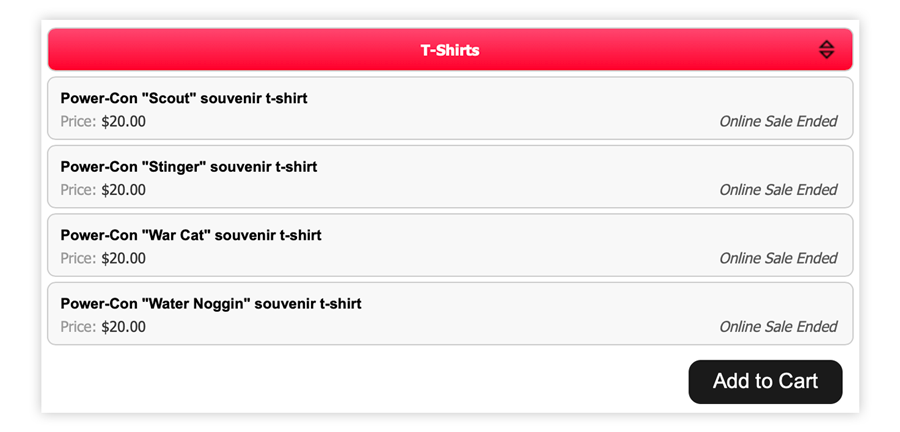 Not only can promoters build ticket types, but offer add-on packages as well that include the sales of merchandise. By giving guests the option to purchase merchandise online, you're eliminating any cross contamination that may encourage the passing of germs at an event.
Instead of booths for merchandise, drink, food sales, etc. with Purplepass, guests can make these purchases online; eliminating any long lines or unnecessary booth traffic at your events.
When including these ticket add-ons at checkout, all Purplepass users can create custom checkout questions for any sale that requires them; for example, "What size t-shirt are you?".


Industry support


While we are finding novel ways of supporting the industry for reopening of events, we are also focusing on the future. Festivals and massive events, to personal drama performances and theater productions, our platform is built to offer support to all event types.
Our current focus in on the following industries:
Festivals and fairs
Sports
Arts
Conferences and conventions
Food and taste events
Concerts
Education


We offer support for all industries, event types and sizes. Our powerful ticketing and unique technology is a solution for any event. To learn more about whether we are right for you, check out our review as one of the best digital ticketing companies in 2020.