4 Ways to Hack Your Event ROI With Ticket Add-ons
Merchandise can be a serious game-changer for your event. It creates an entire revenue stream that can absolutely dominate your ROI.
Over 80%
of people buy event merch at some point in their lives, so those cheesy mugs and logo-plastered shirts have some big-time value for event managers. But there's a teeny, tiny problem.
You don't get the money until the day of your event.
But what if you want it sooner? What if there was a way to sell merch before your event? Welcome to the wonderful world of ticket add-ons — the easy way to sell merch, VIP experiences, and more at the same time that you sell your tickets.
These ticket add-ons can be your, well... ticket to event dominance. But what should you include? What trinkets can you throw in with a ticket that event-goers will want?


Why you should be using ticket add-ons
Offering ticket add-ons is like offering customers an upsell and a cross-sell at the same time. You're giving them the option to upgrade their ticket experience AND offering them something novel that they may want. And it works big time.
Upselling can boost bottom-line revenue by up to 30% AND companies that offer up-sells see +70% of their revenue coming from those upsells.
People love being offered additional stuff. The secret to winning with upsells is to offer additional merch (or experiences) at the right time.
So, what's the right time? When they're in your ticket purchasing menu!
When people make it into this menu, they've already gone through your onslaught of marketing campaigns. They're at the bottom of the funnel. They're 100% ready to purchase. That's the perfect time to offer them an upsell!
Now you only have one problem — figuring out what to offer as ticket add-ons.
Examples of ticket add-ons that work
1. Merchandise
Event merchandise can be a serious contribution to your ROI.
So, why should you wait until your event to sell it?
Selling merch up-front gives you more cash, PLUS it pre-brands your event. Those people could walk around with branded t-shirts and hats before your event takes place.
And, given that 92% of people trust their friends and family over your killer Facebook ads, that pre-branding can add up at the ticket counter fast.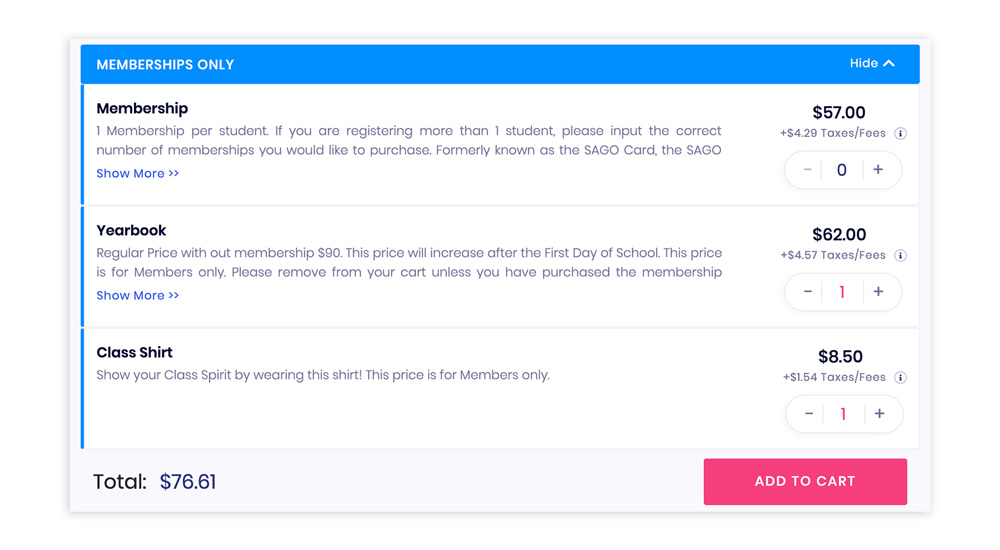 2. Food and drink discounts or tickets
Want to make cash and spread some love to your hard-working vendors? Offer event-goers food and beverages beforehand!
Chances are, they will eat and drink at your event anyway.
Plus, getting them pre-prepared for their Instagram food shots can pay off dividends for your marketing campaigns. After all, over 80% of Millennials snap food pics.

3. Fast passes
Humans hate waiting in lines.
Not only do we think we stand in line 36% longer on average than we actually do, but the majority of people pay money to not have to wait an "unknown amount of time."
So why not offer fast passes during the ticket purchasing experience if hosting a large event.
People with fast passes get to skip the line! You can incorporate RFID chips or use a variety of ticket colors to make this happens.
It's a cheap, easy way to bump up your profits without really losing anything. What's not to love?


4. VIP, season pass, and other experiences
Believe it or not, VIP experiences sell like hotcakes.
That's right! You don't have to offer goods to event-goers; you can offer experiences.
While the exact VIP experience will differ from event-to-event, there's one thing that's sure; some people are dedicated to getting the best experience available.
33% of people who buy VIP tickets will refuse to go to an event that doesn't offer them VIP tickets. You better offer those tickets!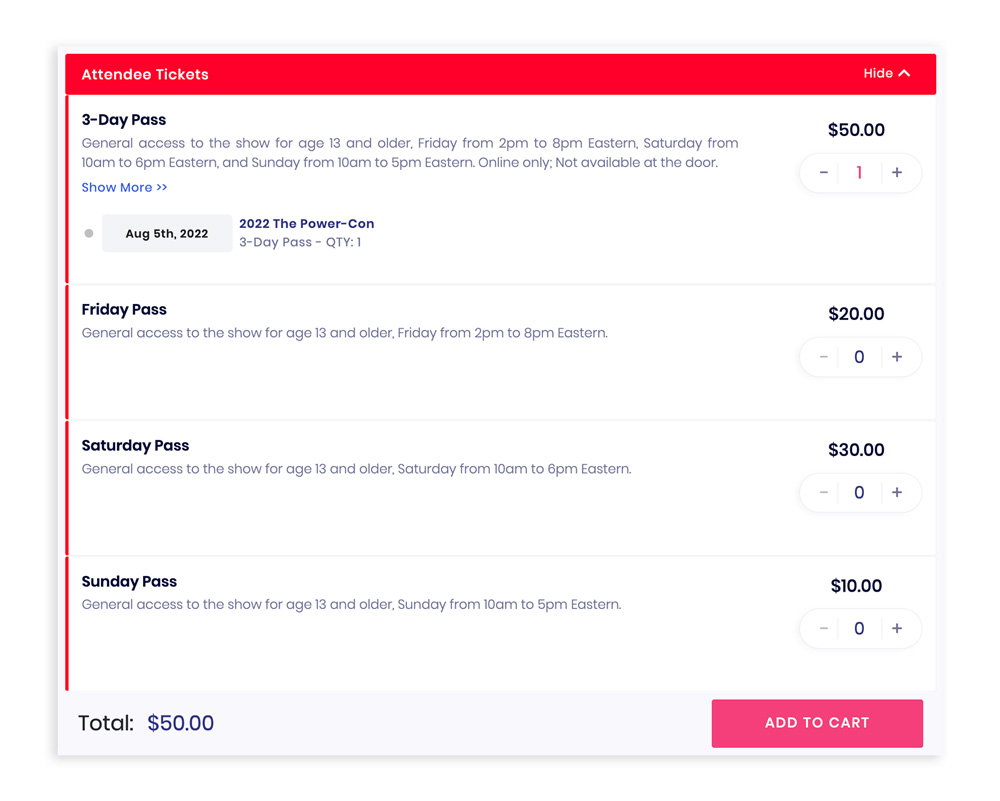 What if you could offer ticket add-ons for every event?
Imagine the potential of offering add-ons for every event! With Purplepass, our ticket selling mode is an exceptionally fast and easy way to give attendees the option to add-on merch, VIP tickets, food and drink, and fast passes directly from your ticket portal.
Don't just sell tickets, sell merchandise
With ticket add-ons, you can
add merchandise, beer and food
options, etc. to your checkout.
We even offer a merchandise mode that is designed for the ultimate speedy sales. What's not to love? To learn more, check out this guide on our Advanced Selling Mode.