Auto Social Distancing Tool for Safe Seating at Events
Social distancing. The word all event promoters fear and may be the reason their events continue to be placed on pause. How can you possibly maintain proper social distancing protocols at events?
Introducing Purplepass' Auto Social Distancing (ASD) tool, created to make following CDC's guidelines on social distancing and spacing out your guests possible!
How auto social distancing works? (ASD)
First, ASD only works for events using assigned seating. Whether that be in auditoriums, theaters or outdoor venues, you need a seating map before getting started.
To have one built, contact your Purplepass representative and we will create what you need for free or message support@purplepass.com. Our maps offer support for all layouts, curves, booths, tables, etc.
Request your venue seating map
We build an unlimited amount of maps for
promoters...for free! Request one below!

ASD is the solution to assigned seating in a COVID-19 world. Meaning, the tool will give promoters the ability to define social distancing space on their seating maps, while maintaining it throughout the event(s).

Here's how it works.


The tool will automatically apply space around seats within a group or individual seats. Promoters can start by having all their seats for sale via Purplepass using a seating map. As customers purchase tickets, the system will automatically put seats on hold around the party based on the distancing values set in their account.
Guests can purchase individual seats or sit together; regardless of their party size, the system will still distance them out properly.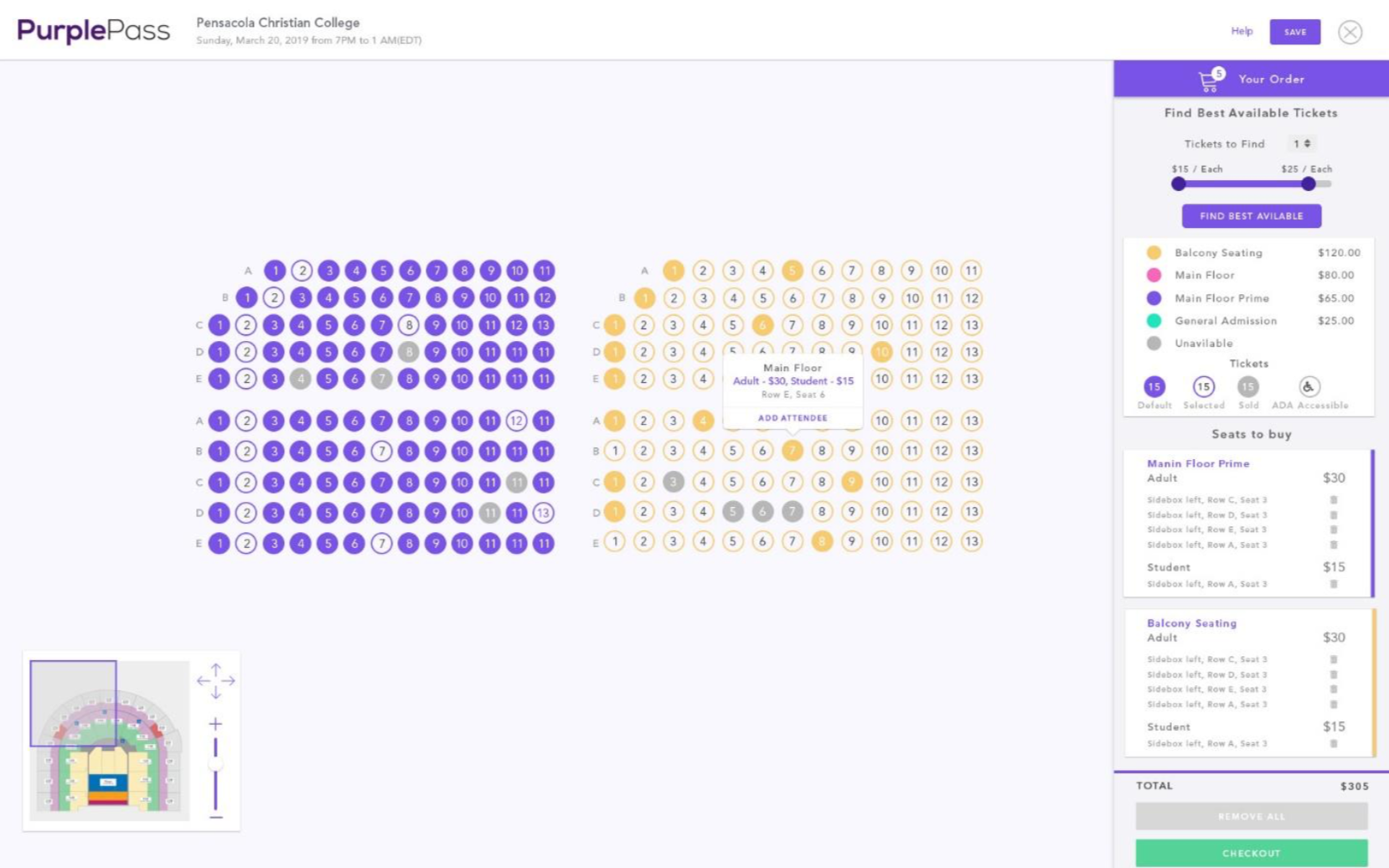 The buffer zone feature
The buffer zone tool is essentially the physical space around the seats that promoters can set. Instead of spacing out guests by seats, Purplepass' new tool will use a buffer zone feature.
Not all venues are created equally.
Some seats are not always spaced out consistently, can be different sizes, have gaps, etc. With the buffer tool, promoters will be able to block off a predefined area using the following space settings:


Standard: A value of 60 (buffer 1-2 seats)
Minimum: A value of 30 (buffer 1 seat)
Maximum: A value of 90 (buffer 2-3 seats)
Customize
The system will also apply this space in 360 degrees, including seats in the rows in front and the back.
Granular control


The buffer zone being used is defined by units of distance versus the venue seats. Promoters will be able to use granular control to better manage spacing.
For example, when starting out, all promoters will have a large buffer zone.
However, as time goes on, they can reduce the size of the zone gradually allowing it to fill up the venue capacity more and more while maintaining the proper distance based on current situations.
As concerns for COVID-19 fade, promoters can slowly reduce their buffer zones in small increments until allowing full capacity again. This offers complete control and maintenance of proper distancing as we move past this pandemic.


Below is a demonstration of the functionality of the ASD system.

The green indicates seats selected.
The red indicates the buffer zone.


The seats located in the red zone will be put on hold automatically upon purchase. This is just an example, as the buffer zone will be much larger.
Create your seating map today!
Sign up, create your event, request a
seating map and start using the ASD tool!
Try out our new seating maps and features like upgraded ticket widgets, custom color themes and more - here!