A Ticketing System for Schools, Graduations and Ceremonies
Annual graduations and award ceremonies are part of the school year; a time to celebrate the students. And of course, mom and dad want to come, plus grandma, their uncle, friends, and maybe the neighbors. Long story short, with these types of school events, managing tickets can be a messy task when students keep inviting more guests or don't have enough.
But, what about the kids that only need 1 ticket? Or students that need 10?!
How can schools create a proper distribution of tickets for graduations and other ceremonies? This is where a ticket registration comes in.
Ticketing system for schools
Learn why our online registration software
might be exactly what your school needs
for your graduations and ceremonies.
Using Purplepass as your school registration software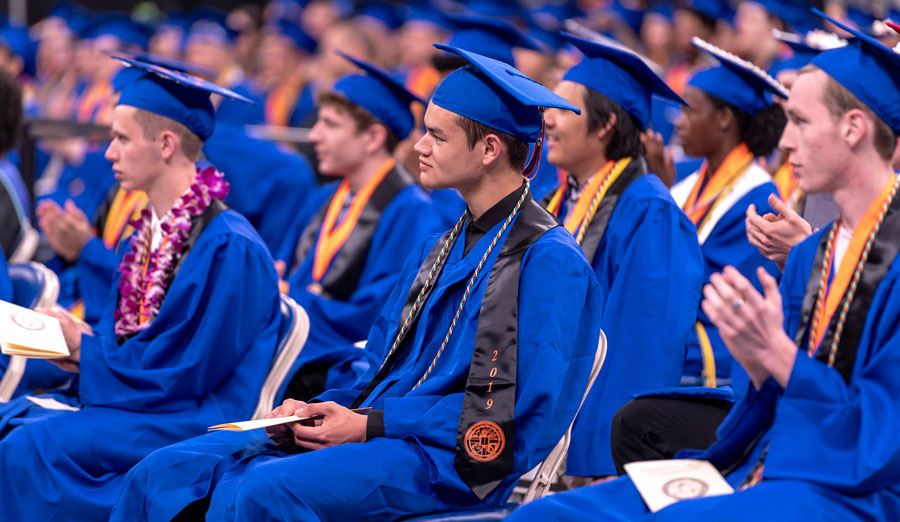 After working with a variety of schools and events, Purplepass' ticketing system for schools caters to all the typical problems that might appear within student events.
Using student IDs as coupon codes
Managing events with limited resources while accounting for the dramatic fluctuation in demand per student makes planning ceremonies very challenging for schools. Coupons codes are a great way to set limitations on ticket purchases made by students.
This also automates the entire process, leaving less work for staff and faculty.

Here's how it works using Purplepass
Within your account, users can bulk upload a list of student IDs; IDs of students that will be purchasing tickets for the event.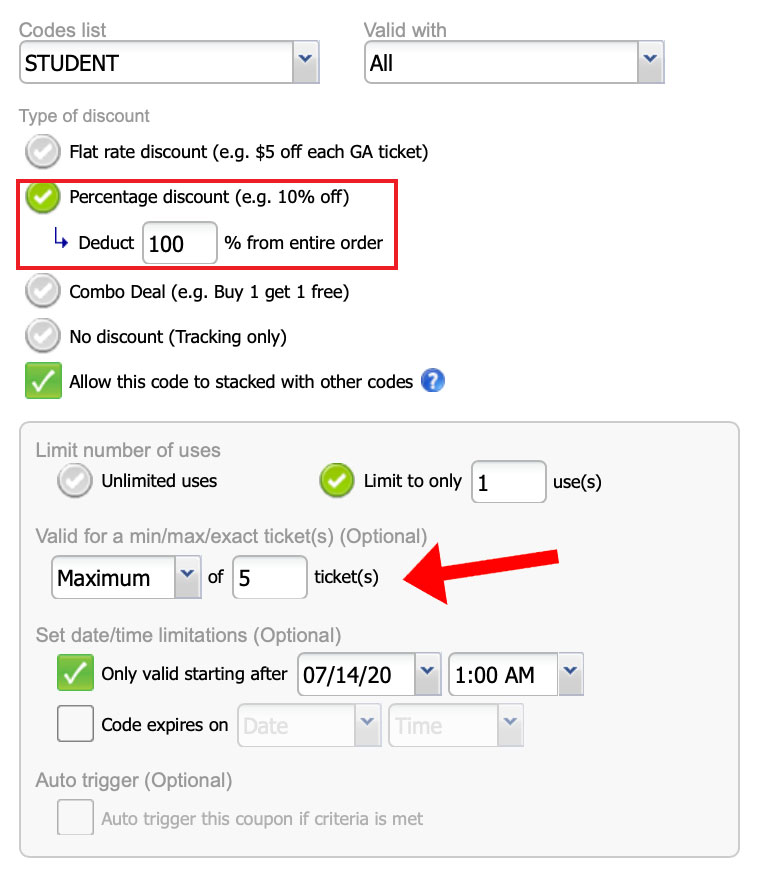 Once uploaded, users can then set the code restrictions:
Discount the entire order so tickets are free
Limit the number of uses
Set how many tickets the code is valid for (each student gets X amount of tickets)
Setting a MAX use and ticket cut-off
The most important setting when creating your codes is the "Valid for min/max/exact ticket(s) (Optional)".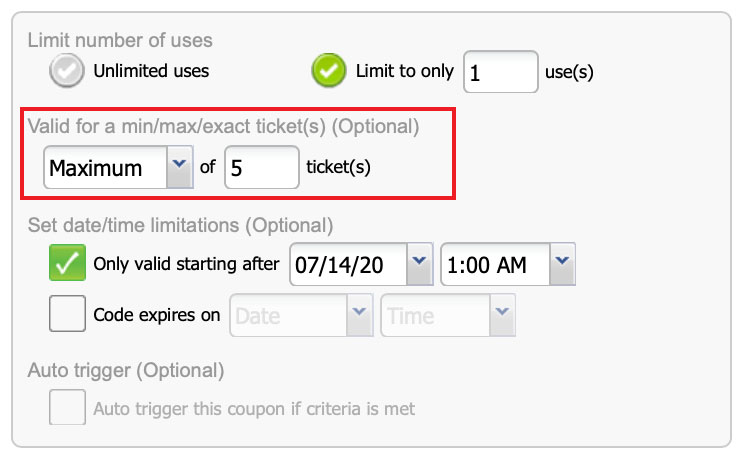 This tells the code how many tickets each coupon can receive.
That way, schools can automatically limit students regarding how many tickets they can get, ensuring that there are enough seats for everyone in the audience.
Staff no longer have to manually track the number of tickets that have been given out versus how many are left. Instead, the coupon codes can regulate this distribution process your school class registration software.
SMS messages for sending codes
Our text message service is an
easy way to connect with your students,
send updates, new PROMOS and alerts.
Running a second ticket distribution based on initial release
What about the students that don't use the MAX amount of tickets?
For example, let's say each student can get up to 7 tickets for their graduation. Students that are only inviting 5 guests would only check out for 5 tickets, leaving 2 remaining. All these remaining tickets will be tracked and held in the ticketing software.
After calculating the spare tickets from the initial release, schools can run a second ticket distribution based on what is left.
This can be done by creating a new coupon code that makes the lasting tickets available. This can be announced and done on a first-come-first-serve basis or, if there is enough to go around, each student can check out for another ticket or two using the new code.

"Since starting with Purplepass we have no problems or complaints. I will continue to use them. It was so easy to use, set up and edit. Our customers told us they found it easy to purchase tickets. I found it was easy to reassign seats if the customer made a mistake and refunding was simple. The customer service is outstanding. easy to talk to, easy to reach by phone or email. Knowledgeable staff and friendly, extremely helpful from day one. Our other schools are now signing up for their shows."
- Regina Dudo, Central Bucks High School West Harlequin Club

"Overall experience with Purplepass has been amazing. No complaints here! The software is extremely easy to use. You don't have to be a rocket scientist to figure it out. Their motto says it all "we don't give you what we have; we give you what you need."
- Karley Mellberg, Mesa Community College

"As a nonprofit organization, the all-volunteer Temecula Education Foundation (TEF) strives to spend its resources as effectively and efficiently as possible. Using the Purplepass platform helps us do that by allowing us in-house management of event ticketing and online class registration. We received excellent customer service in both endeavors. The in-person support exceeded expectations for the 2016 Taste of Temecula Valley (TOTV). PP online and phone support were outstanding for our TEF-managed registration for 2016 summer school classes. I am not a technical person, but the system is very intuitive, and the tutorials are very helpful. The post-event data collection feature was an eye opener; it will be tremendously helpful as TEF looks to future marketing efforts. Tracking financial transactions and receiving payment were easily managed."
- Barbara Burkett, Temecula Education Foundation