11 Procedures that Could Make Reopening Schools Possible
How soon are schools opening back up? Will our students ever return to an in-person learning, hands-on experience? This form of learning is crucial for the development of students' mental and physical well-being, however, the coronavirus has forced schools to switch to online learning.
Even the American Academy of Pediatrics has raised concerns over keeping students out of the classroom saying "evidence shows the academic, mental and physical benefits of in-person learning outweigh the risks from the coronavirus."
The longer students remain at home, the more concerned schools are becoming with getting them back into the classroom. Students are not only missing out on hands-on learning, but social interactions with their peers and teachers, which is essential for their psychological health.
Although, right now it might seem like students will never return to the classroom, there are some procedures worth considering that could make reopening schools possible.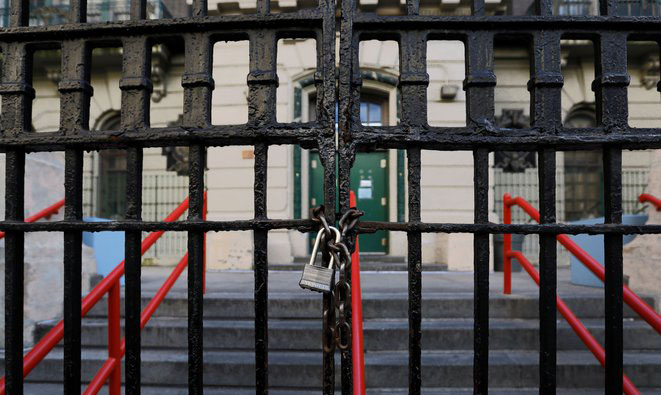 1. Hybrid teaching
What is hybrid teaching?
This model is the practice of working with students in the classroom on some days and the rest of the week, they work online.

Hybrid learning might be the best solution for slowly transitioning back into the classroom. Students can attend online lectures for three days out of the week, and the other two can be in person. This cuts interaction times in half and the chance of coming in contact with more germs.
Teachers can also break their classes up into smaller groups for in-person sessions if their schedule is flexible. Break students up into groups and assign different times for them to attend in-person lectures, switching around with other small groups, so teachers never have a full classroom.
2. Temperature checks and frequent testing
I have a feeling that those handy temperature guns are going to be around for a while. Require staff to scan temperatures as students enter the classroom, sending anyone with a temperature of 100 or greater home. If they have a fever, require that they test negative for COVID-19 and all symptoms are resolved before returning.
If testing is easily accessible in your area, require frequent testing results from students before attending in-person events.
3. Classroom cleaning and disinfecting
You knew this was coming. Your school needs to have an in-depth process for cleaning their classrooms before even considering the reopening of schools.
Procedures for this should include:
Airing out the classrooms and keeping windows open when possible
Disinfecting desks and chairs
Requiring that teachers bring their own equipment (if sharing rooms with other teachers)
Cleaning door knobs, window seals, equipment (things that are frequently touched)
Sweeping and mopping the floors
Emptying the trash cans
Disinfecting pencils, markers, pens, etc.
Having teachers spot-clean throughout the day
Discouraging anyone from sharing objects or school supplies. Have students bring anything they need instead of getting it from the teacher.
Set up a hand washing station or hand sanitizers in each classroom and encourage students to use them when they enter and exit the room.
Also, encourage parents to keep students home if sick or showing any symptoms of the coronavirus. We should not punish students for being extra cautious and remaining at home when uncertain about their health.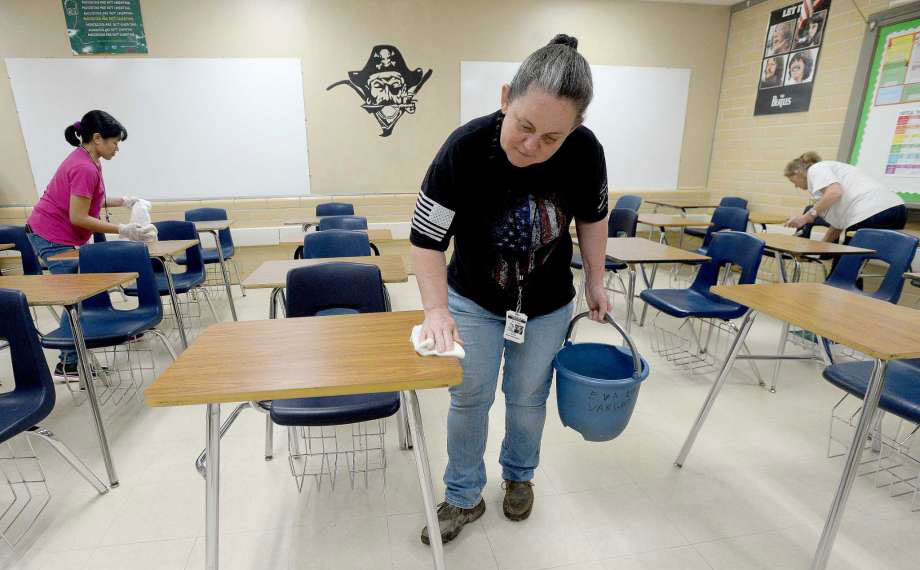 4. Mixed schedules
Similar to hybrid teaching, mixed schedules are also a possibility when reopening schools. With mixed schedules, you are allowing about half your students to attend school in-person. With that 50% student population, break them up into smaller groups of about 5-10 per group.
These groups can attend in-person lectures for a few days a week, then the rest spent at home. Then repeat with the other 50% student population.
5. Continuing the requirement of face masks
Yes, they are annoying, but the longer we wear face masks in group settings the longer we can contain this virus. Remember, about 40% of people infected with COVID-19 don't show symptoms, but act as transmitters when they talk, sneeze or cough.
They can spread the virus even if they don't experience it.
Masks, however can trap any droplets that exit their mouths, stopping germs from going into the air or on other people. Until we have more understanding of how the virus works or a vaccination, your students should require masks, even with social distancing is in place.
6. Eliminating recesses and long breaks
Specifically for younger children, recess and lunch is their favorite subject. However, it's best to eliminate these social times altogether and create shorter school schedules.
For lunch and breaks, kids can be put into smaller groups and take their breaks in shifts. Or lunch can be implemented in a space with tables designed for social distancing; it might not be as fun as recess, but students can still eat while following safety protocols.
7. Personal protective equipment
Be prepared to supply personal protective equipment to your staff, teachers and students. What's considered protective equipment?
Masks
Gloves
Hand sanitizers
Face shields
Teachers shouldn't be required to supply this to their students or for themselves. If you're reopening your school, this supplies should be available to everyone attending.
You can encourage students and faculty to bring their own masks and protective gear when possible, but if they forget or don't have the proper equipment, be sure you can provide them with everything they need to stay safe. You are not only ensuring their safety, but the safety of others around them.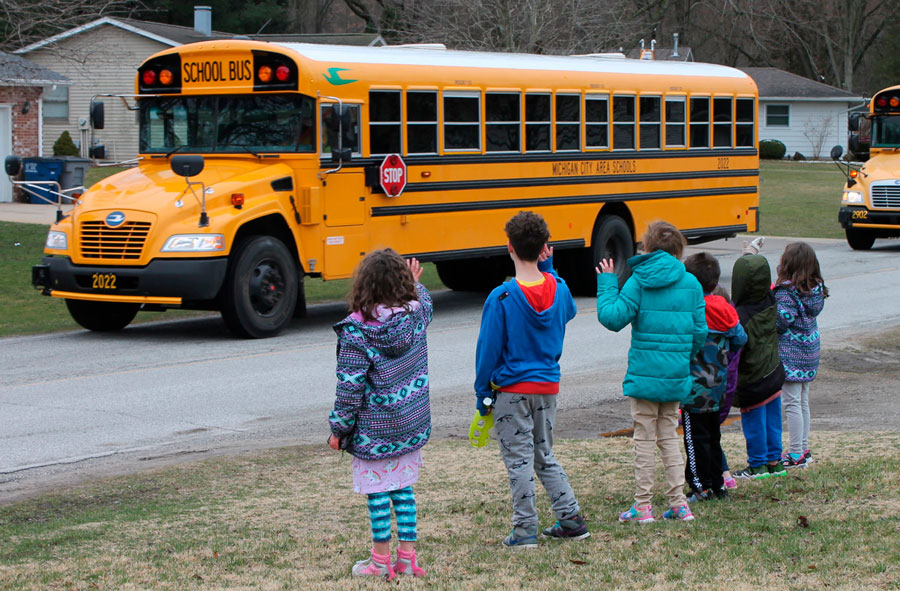 8. Procedures for transporting students to school and waiting areas
Awww, transportation.
Bet you didn't think about that? It seems everything requires some sort of interaction, unfortunately. Students can't always rely on their parents or guardians to bring them to school. Fortunately, with most people still working from home, now might be easier for them to take their kids to school with a more flexible work schedule.
However, you still need procedures in place for students taking the bus or parking on campus.


Social distancing on a school bus
Encourage parents to drive their kids to school. However, if they can't, buses can still be an option.
To create a safe space on a bus, schools need to cut their bus capacities to 50%; either get more parents or volunteers taking students to school or provide more busses that pick up students in shifts.
If you're running mixed/hybrid schedules, then this shouldn't be an issue as fewer students are attending in-person events and at different times. Require bus drivers and students to wear a mask on board, apply hand sanitizer before boarding and sit in every other row.

A safe parking plan for on campus
Ask for parent or faculty volunteers that can monitor parking on campus. Block off parking spaces to create distance between cars to allow students to exit safety without getting close to someone else.
9. A response plan for testing positive for COVID-19
What happens if someone at your school tests positive?
What is your response plan?
It's important you have this in place to prepare yourself for this occurrence, because it's likely to happen. When creating this plan, think about the following concerns or questions that might pop up if someone tested positive; that being students or staff.


Who did they come in contact with? Are those people also going to be required to quarantine?
How are you going to alert students, parents and staff of this occurrence? Via email, PR, letter, etc.
Are you going back to full online lectures to ensure everyone's safety?
Will the entire classroom be required to quarantine?
How many times does this person need to test negative before returning to campus?
Was this person getting their temperature checked before coming to class and following all the required protocols?
Who gave the person the virus? Was it someone from school or interactions outside?
How do cases in your area look at a whole? Are they rising?


10. Ensuring safety for extracurricular and athletic programs
Sports, after-school programs, tutoring, performing arts, drama, volunteer programs… there are a lot of extracurricular programs to think about in terms of daily interactions. What is the protocol for ensuring their safety again after the virus?
It's the school's decisions to allow these programs to continue and to consider whether the benefits outweigh the risks of the virus.
If you continue these events, you can apply the safety protocols we mentioned above to these activities as well. To eliminate crowds at certain events, try your hand at virtual events and streaming these activities so family and friends can watch without physically attending.
For tutoring and mentorship programs, have them interact at the acceptable distance of 6 feet, or conduct their sessions virtually.
11. Touchless events with a school registration software
Something as simple as registering for classes or graduation now needs to take place online to avoid on campus foot-traffic such as at orientations or event lines.
Use an online school registration software to allow students to sign up for classes online, order books, ID cards, school merchandise, etc. Ticketing systems for schools are not just for in-person events, but can eliminate manual work for staff and simplify the registration process online.


Other ways schools are using a ticket registration:
Graduation enrollment
Administering exams
Certification programs
Selling merchandise for seniors or 'spirit' events
Delivering student ID cards
Signing up for virtual events
After school programs
Volunteer signup pages

Consider using a school registration software to keep most things that require heavy traffic or congestion conducted online. Besides hosting online events, a ticketing system can also help regulate allotted tickets for certain events like graduations or ceremonies and reduce the manual work by staff.
A ticketing system for schools
The opening of schools is possible
with the right procedures in place; that
includes a touchless registration process.