A Flexible Live Streaming Solution for Event Planners
Our new live streaming service is coming soon to Purplepass (very soon!), with flexible support and the ability to integrate with any broadcasting service for hosting events.
Keep reading to learn more about the additional feature that will be launched in the coming weeks for virtual event streaming.
Live streaming for beginners (plus equipment!)
Check out our latest podcast on live
streaming advice for newbies. With tips on
what equipment to use, software, etc.
According to Personify Wild Apricot, the number of companies planning virtual events has doubled in 2020. If registrars aren't attending live, they're watching on-demand.
That's why, especially during COVID-19, it was essential that Purplepass' built a robust solution for streaming events.


About Purplepass' new live streaming solution


An integration that is easy to use, offering a quick solution for streaming events

It's compatible with any live-streaming service promoters are working with

Users can implement the stream directly on their website (no coding knowledge needed)

The feature is robust, giving promoters everything they need while creating a simple process
How it works (only two steps!)


Step 1: Create a new ticket type
In your Purplepass account, when creating a new event and ticket type, promoters will be able to select the "Live Stream" option. The "Live Stream" ticket type will function similarly to a regular ticket, with only a few different options to select.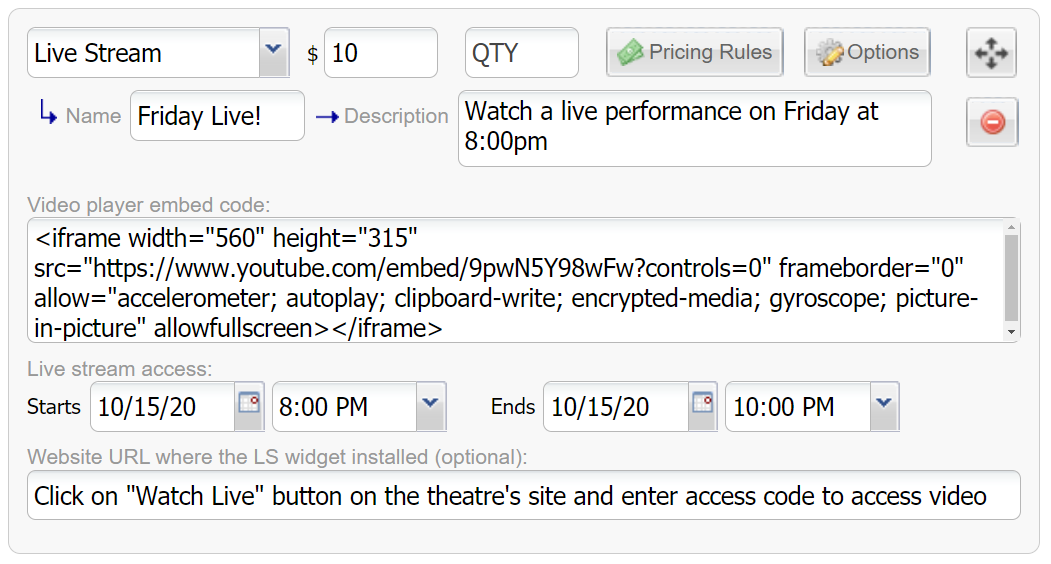 Once selected, promoters will be able to choose from the following options
Load a URL

Embed player code
After, users will need to enter the start and end times of that event (stream access times) to complete the setup process.
Step 2: Create the live streaming widget
Similar to ticket widgets, this widget type will act like a portal, giving guests the ability to access the video stream. The widget will be created and installed the same way the ticket widget is through the Purplepass' admin.
Use this widget to directly embed the streaming experience on to the event website and avoid any redirects or third-party sites.
When guests go to access the event, they will use the widget. Once they click on the widget, the system will ask them to enter their order number or email address for extra security measures. These extra steps are used to verify whether they have access to that event.
If the stream is active, the widget will load the URL within the frame or show the media play code (depending on what option the promoter selected).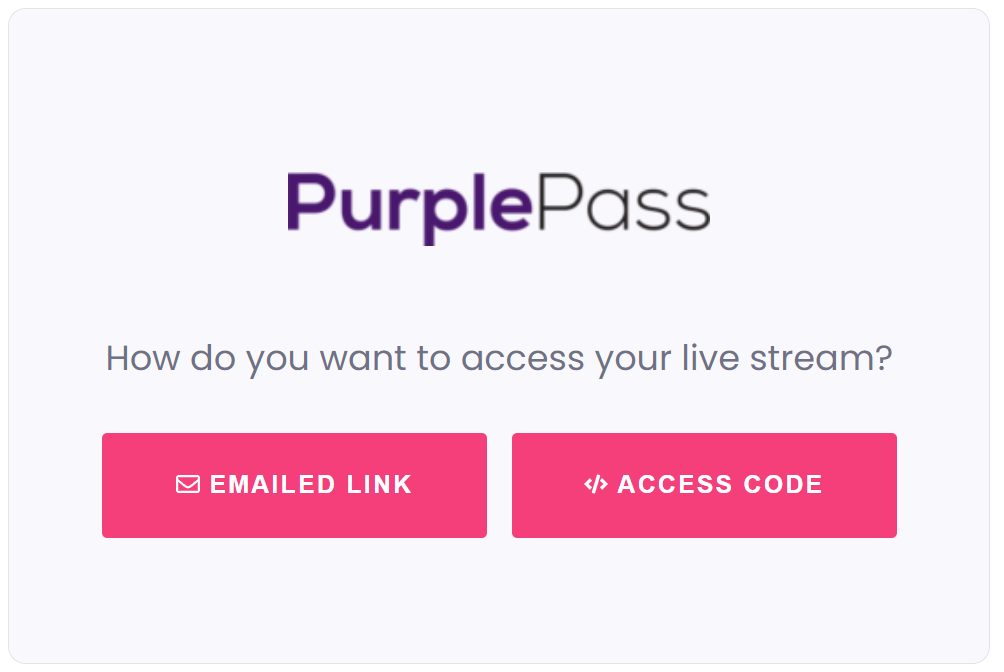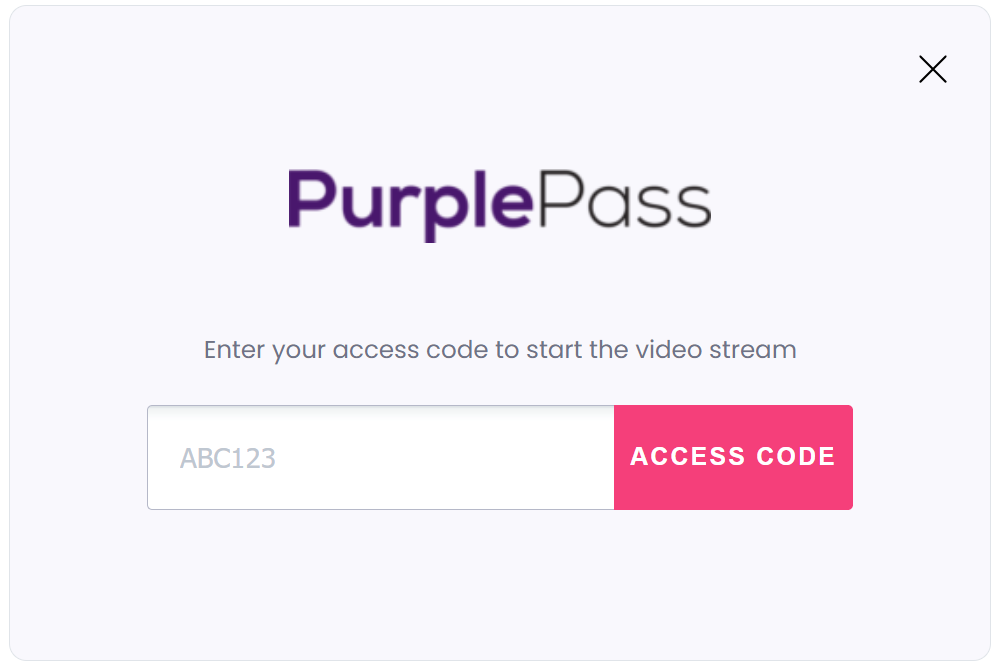 A walk through of how it will work for guests


To purchase tickets, the guest will go to the event page or website

Find tickets they want and make their purchase following the on-screen instructions

When ready to watch the event, users will go to the event website and click on the widget

Guests will be presented with a screen to enter their order number or email (which can be found on their order confirmation sent via email)

The active stream will appear

When the stream is over, their order number will no longer be valid
Other advanced features and benefits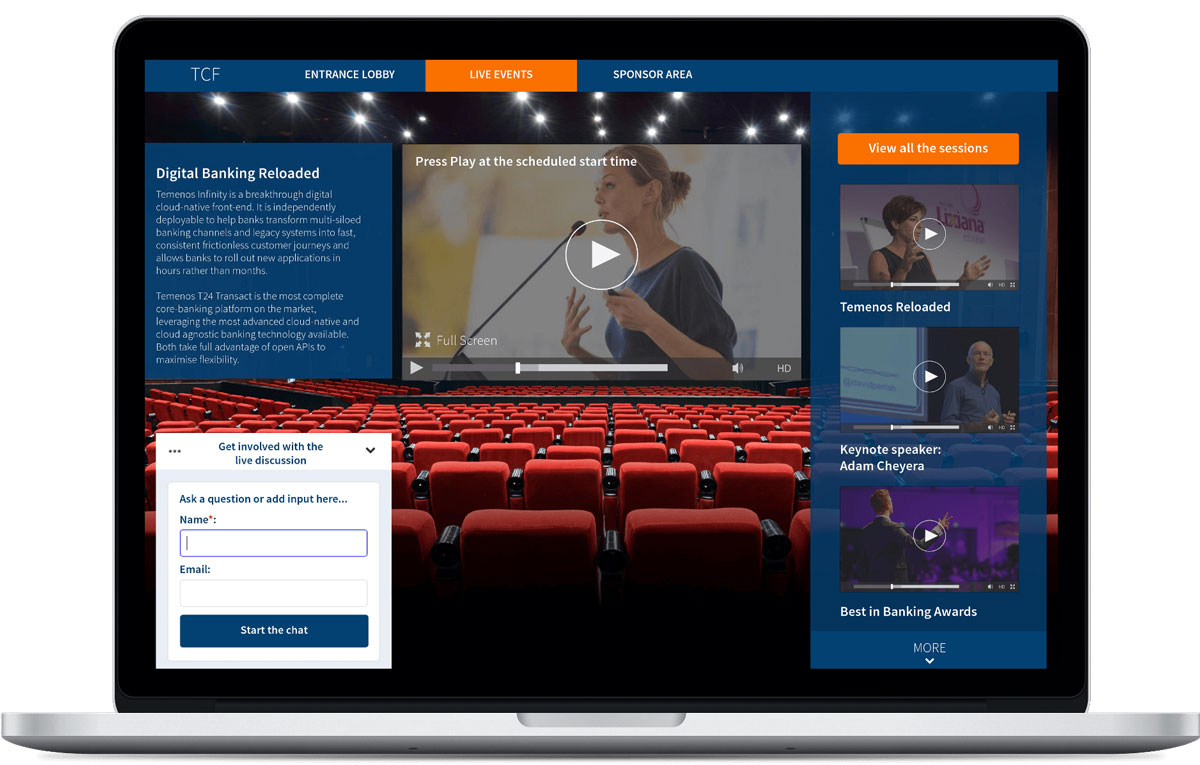 1. Multi-streams (over one active stream)
For promoters that have over one active live stream running, they can present a list to customers of current streams to choose from when purchasing tickets.
Using the widget at the top, there is an option that will allow viewers to switch feeds.
For extra security and session restriction, each order number will be linked to the number of active sessions available for that ticket type. This will prevent people from sharing their order details and giving access to others who did not pay.
If someone else tries to access the stream, but someone else is already viewing it, they will receive an error.
2. Integrated ticketing
Instead of facing redirects and other third-party websites, the entire experience will remain on the promoters' website; from ticketing to steaming the event. This will create a friendly user-experience that guests will enjoy without the extra hassles.
3. Universal support
Promoters will no longer be tied to one streaming provider. With Purplepass' streaming feature and widget, there is universal support and solutions available for all streaming services.


4. No account needed
The streaming tool will not require customers to create an account like other virtual events. Instead, they will be able to use the widget integrated on the promoter's website to access the stream.
5. Onetime installation
Promoters will not have to install a widget for each event they intend to stream. Instead, a single URL can be used for all live streamed events with no extra work after installation.
Examples of how promoters can use the new streaming option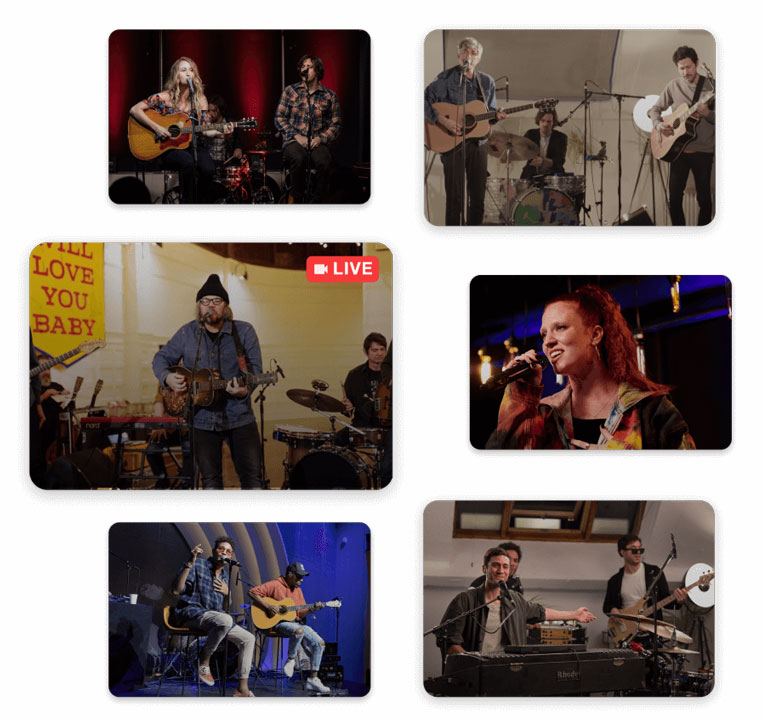 Recording and rebroadcasting


Why would people want to see an event again?
It might sound crazy, but for those that missed out or are just now learning about your event might want access to past events. Copying past events and re-showing them upon request can open up doors for further revenue streams.
Save copies of past events and use them for future events or even throughout your marketing material (video highlights, testimonials, etc.).
For example, by saving past events and re-airing them, this opens up possibilities for multiple streams and broadcasts. Why not monetize your library of past live streams for anyone that may want to tune in, sell them at a discounted rate, while creating an additional revenue stream?
Hybrids + in-person events


Post-COVID, when in-person events are allowed, promoters can still offer the ability to watch the event from home virtually. Whether people remain concerned about the effects of COVID, are out of town, out of the country or can't find the time to attend, offering a hybrid event could be their solution.
This can even be the case for sold-out events.
Did your event sell out, but you still want to make more money or it's in high demand? Sell a live streamed version of it at a discounted rate. Fans that couldn't make it or missed out on tickets can still attend online.
Sell stream quality levels


For an extra boost in revenue or different ticketing tiers, promoters can sell quality options for streams.
For example,
Standard Live stream = $5
HD Live Stream = $7
4k Live Stream = $10
Multiple performers and stages


Think of festivals, conferences, fairs, any event with multiple stages or a variety of presenters and performers. If hosting multi-performer events, promoters can think about selling access to each stage or presenter.
Sell ticket packages that offer one or more active streams when accessing the event. Customers can then switch between live feeds, stages and/or speakers.
Users can expect Purplepass' new streaming ticket type and widget to be released over the next couple of weeks. Look for an announcement of the launch and release of these new tools in your email! For additional questions and inquiries about this live streaming solution for events, contact our support team at support@purplepass.com
Need help getting started?
Not sure where to start? You can
request a free site demo below.