A School Registration Software for Classes and Events during COVID
Ticketing isn't just for concerts, fairs and festivals. The coronavirus has had tremendous effects on how our world functions and progressives post-pandemic. Starting with the event industry.
Mass gatherings are still recommended against by the CDC, while the virtual event space (Zoom, FaceTime, Skype) is experiencing exponential growth.
Not only have typical events turned to live streaming, but schools and educational programs are 100% online. With approximately 1.2 billion children in 186 countries learning online thanks to COVID-19, the landscape of education has drastically changed.
Let's look at some ways current schools are using Purplepass to support their ongoing event ideas and online learning.
A School Registration Software
Hosting virtual lectures,
graduations, sporting events
at your school? Use Purplepass!
Arcadia School District - Registration
Located in Arcadia, California, The Arcadia Unified School District (AUSD)​ is currently ranked in the top 1% of best school districts in America. The district holds 11 schools with approximately 9,500 students.
To continue educating their students, Arcadia has temporarily switched to running their classrooms online and are now using Purplepass as their school's registration software for 2020-2021.
Like we said, ticketing doesn't just have to be for events. Arcadia has outsourced Purplepass' platform as a registration for class enrollment, plus purchasing ticket add-ons such as Grad Night tickets, student ID cards and/or senior shirts.
With an online registration, students can avoid social gatherings while signing up for classes and remain safe at home. With free student registration, all the school requires is a short form before checkout with their name, student ID number and contact information.

"Not only do we have a platform to sell tickets to our theatre but we are able to register students for events around the campus, plus sell merchandise for added sales. Purplepass has been a game changer for ticketing at our school theatre. I look forward to using Purplepass in every one of our schools in the district."​​
– Brittany Noriega, Performing Arts Service Coordinator
Gateway Community College - Classes and Exams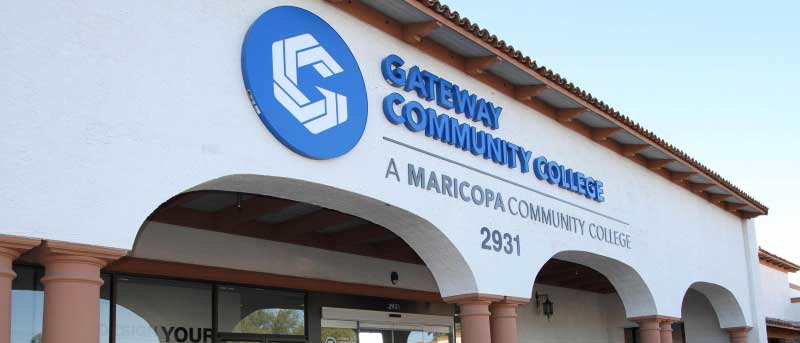 Gateway Community College is home to over 14,000 students and participants annually enrolled in one of the 90 accredited degree and certificate programs or professional development opportunities.
Even before the life-changing pandemic, COVID-19, Gateway was placing their registration online for their different trade certification tests. The school currently provides tests for working professionals getting certified in specific trades like Wastewater Management, Water Treatment Grade, Water Distribution, Collection (trash), etc.
The school also offers a Medical Assistant Certificate exam prep registration online.
One department, GateWay Student Massage Clinic, is utilizing Purplepass as a platform for gaining more participants their students can practice techniques on while achieving the required hours. Participants can select a date and time to receive their student massage, pay online, and receive instructions leading up to their appointment time.
As a result, teachers can focus on their students without the stress of managing payments and booking appointments by using our ticketing system for schools.

"Purplepass takes care of booking our student Massage Therapists so they can practice and frees us up so that we can teach ... in the past teachers spent a lot of time booking appointments and processing them instead of teaching. Purplepass has taken care of all of that so our teachers can teach, our students can learn, and you can get a one-hour massage for just $10!"
– Michael Tapscott, Massage Therapy Instructor
Pensacola Christian College - Commencements and Ceremonies
Community fairs, conferences, conventions, trade shows all fall under the common category of events.
But what about schools?
The education sector is constantly hosting events ranging from different art departments, lecture series, graduations, alumni events, award nights, etc.

Pensacola Christian College offers education to nearly 5,000 plus students annually. Instead of staff physically monitoring the number of tickets each student receives and processing them at the gate, the college uses Purplepass to do the heavy lifting for them.
Pensacola can control the number of tickets students collect using their student IDs as coupon codes.
They can select their seats, date, and use their student ID to get x number of free tickets for their family and friends. If there are additional seats, staff can control the release of them later on for purchasing.

"Since initially using Purplepass, we have transitioned even more events to the system. This has dramatically improved the customer experience. Purplepass allows our students to quickly see in real-time what tickets are available, what the view from the seat looks like, and the cost for the tickets. It has also simplified the process from something that involved dozens of people and multiple departments to prepare for, to only a few ..."
– Josh Pintar, Reservation Office Supervisor
Olympia School District - Athletics
Olympia School District is home to 11,300 students, teachers and staff, hosting a range of sporting events annually.
The school currently uses Purplepass for the following sports registration:

Volleyball
Football
Basketball
Soccer
Drill & Dance
Wrestling
Olympia partnered with Purplepass for the ability to post their sales online and have an online school registration software for events.
For the first time, they are offering flex passes where customers can select a season of events they wish to attend. With a flex pass​, you aren't paying for every event; even the ones you don't wish to attend. But rather, selecting specific events you want to see, creating your own season pass for sports.
If families and students opt out of purchasing a pass, they can select individual tickets with price tiers depending on the criteria they fall under; student, adult, military, senior, elementary, etc.
Other school events they use Purplepass for:
Performing arts
Theater
Lecture series
Choir

"...we can post events days, weeks, or even months in advance ... Purplepass has finally brought us into the digital age of ticket sales. As our ticket booth lines begin to form, we've noticed a trend of customers jumping on their phones and purchasing tickets. Immediately, they will get out of the ticket booth line and into the entrance line. Again, speeding up our admission and keeping lines down."​
– Stephen Lord, Finance Specialist
Accepting donations for your school
Each Purplepass user can include a spot to receive donations on their event page during checkout. Due to the current pandemic, many businesses and organizations are experiencing revenue loss, cancelled shows, events, and lack of funding.
Adding a donation option is a great way to reach out to students and families while their wallets are out.
Purplepass is currently offering the chance to set up and collect donations online without the extra service fees until June 26th, 2020.
To take advantage of this offer, promoters need to use their merchant account or PayPal, add their donation option and send a confirmation message to support@purplepass.com so we can confirm all fees have been waived.


Creating your donation page in Purplepass
Log in to your Purplepass promoter dashboard


Select "Create New Event" in the navigation bar or edit an existing event to add a donation option


Locate the "Ticket Pricing and Options" section


Go to your ticket types and/or add a new ticket type by clicking the green + icon


From the drop down menu, select donations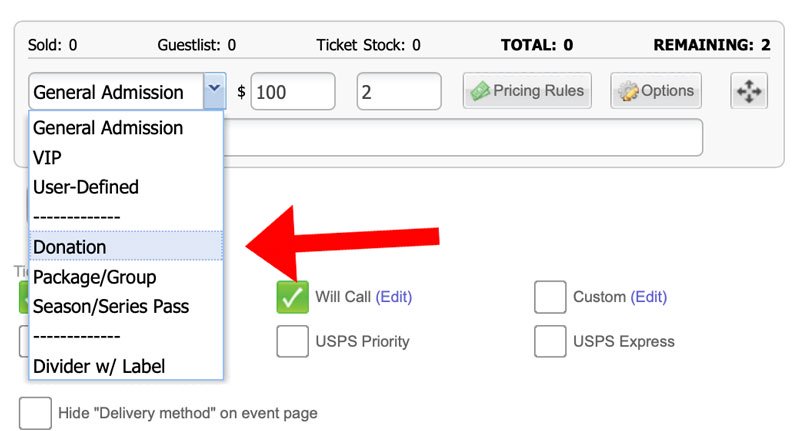 Note: Here is where you can set the minimum donation amount. Set it to $0 if you are accepting any donation amount.
You can also include a name and description where you can add more information about your cause or perks donors might receive.