Using Season Passes for School Events and Activities
Selling tickets to school events can be a challenging and tedious process, especially if you are limited in the type of tickets you have available and the methods by which you offer them. When you choose to use a ticketing platform, you not only gain the ability to sell tickets online and with the use of smartphones, but you can also offer students and parents the opportunity to invest in season passes.
What are Season Passes?
Season passes for school events provide access to hosted events year-round. Season passes can be sold for individual sports and groups or for all of a school's events, depending on the school's calendar and preferences.
These type of passes make it easy for students and their families to attend school events without going through the process of purchasing individual tickets each time an event is happening, incentivizing attendance.
How Do Season Passes Work?
Season passes for schools provide students and their families with the ability to gain access to all events that a school intends to host for a one-time fee. Rather than reserving and purchasing tickets for each sporting event, competition, festival, or talent show, a season pass provides instant year-round access for those who have purchased one.
Promoters can designate them for certain events, or they can include an all-access solution. With a ticketing platform such as Purplepass, the following common types of seasonal passes are typically created by schools:
Flex passes: A flex pass with a digital ticketing system provides customers with the ability to purchase multiple tickets for access to individual events. It also allows school administrators the ability to add as many tickets as they would like, along with events that are unrelated to one another, into the season pass options for buyers.


Competitions and tournaments: Another option for schools is the ability to create season passes that are dedicated to competitions and tournaments exclusively. Rather than requiring reservations from parents and friends ahead of time, seasonal passes for school tournaments help those who plan to attend frequently to do so without a hassle.


All-sports pass: One way to streamline the process of promoting and selling season passes is to offer an all-sports pass. An all-sports pass can provide both students and parents with the ability to attend any and all events that are hosted during a school's academic year. This not only motivates attendance but streamlines the process of managing ticket sales, especially with an intuitive ticketing platform in place.
Benefits of Season Passes
Offering season passes at any school (primary, secondary, or even at a collegiate level) provides numerous benefits that cannot easily be found elsewhere, such as:
Encourage sales: Season passes that provide all-access opportunities can encourage sales and, ultimately, help to increase revenue.


Easily manage logistics: With an integrated ticketing platform, manage season pass purchases and requests from one central location. Manage the logistics of individual events by monitoring ticket sales and the usage of season passes at each event you host.


Improve attendance rates: When students and family members have access to season passes, they are more likely to attend an event, especially if they do not need to purchase a ticket each time or already prepurchased tickets.


Save time: Season passes can help students and family members save time as they can be purchased online and ahead of an event, reducing in-person lines.
Request your venue seating map
We build an unlimited amount of maps for
promoters...for free! Request one below!

Types of Season Pass Events for Schools
If you are considering season passes for schools, you may be wondering what type of school events they can be used for by both students and parents alike.
Some of the most popular school events that can be promoted with a season pass include:
Sporting events/competitions
Athletic program meetings, gatherings, and celebrations (for football, soccer, volleyball, basketball, track, hockey, baseball, and other relevant school sports teams)
Dancing tournaments/events
Debate team events
Cheerleading competitions
Programming games and competitive matches
Trivia tournaments
Math competitions
Spelling bee gatherings
Celebrations such as club meetings
Graduations


The use of season passes for schools can help with generating more sales and boosting overall attendance when it comes to competitions, sporting events, and even local school fundraisers. By offering season passes for year-round attendance at your school, you can ensure that you are reaching as many students and parents as possible at times.


---
Season Passes Vs. Flex Passes
With Purplepass, creating both season and flex passes can provide your customers with complete customization for the events they wish to attend.
With a season pass, users can attend the games or events of their choice throughout the entire season or year. Using a flex pass, customers can select many event dates or types of events within a group of event dates. While a season pass will allow customers to attend any available event throughout the season or year, a flex or group pass can limit the number of events and dates a customer can choose from during checkout and make it a more customizable experience.


Creating A Season Pass
Log into your Purplepass promoter dashboard
Select "Create New Event"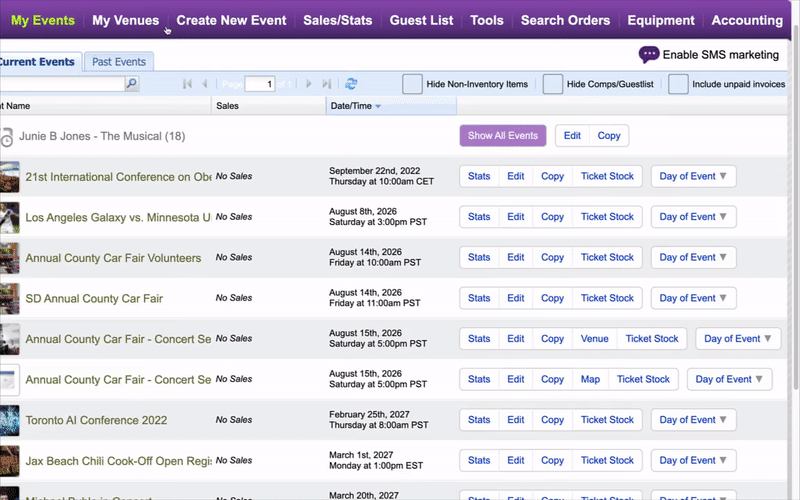 Choose "Passes & Packages" from the pop-up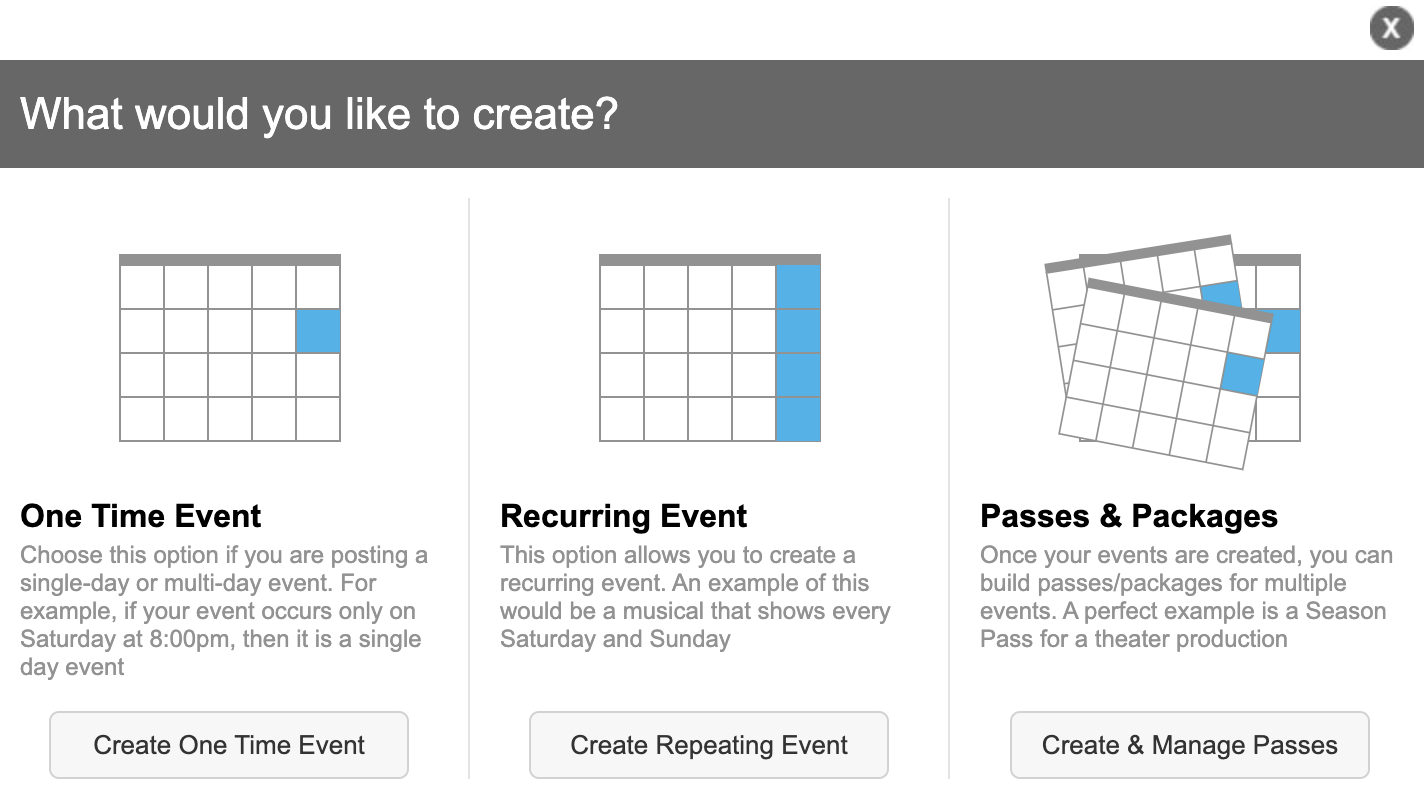 Select "Create & Manage Passes"
Scroll to the header "Passes & Packages" to create your flex pass ("Create new pass/package")
Enter the name of the pass, the price, and the quantity of passes you intend to offer
Enter the description of your pass and which events or event types this pass includes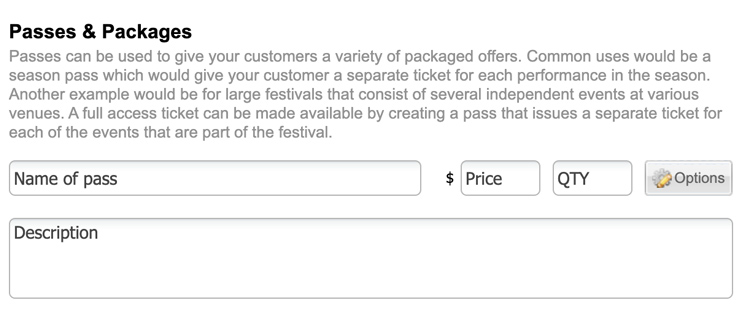 Complete the on-screen questions regarding revenue distribution.
Select which events you would like to include in your pass from the table below, titled "Passes & Packages Tickets"

Choose the specific event and the event type (general admission, VIP, streaming-only, etc.)
Select the number of tickets that come with an individual flex pass purchase