10 Ways to Personalize Your Event Registration Process
You got people to your event page. They clicked to purchase tickets.
You got another sale!!
Actually, not yet. Studies show that if the registration or check-out process turns them off only slightly, they aren't likely to complete that sale and will close out.
When crafting an easy and smooth registration process, it's all about the experience. Here are some ways you can make the ticket purchasing process more personal and capture event sales.
1. An effective event page for ticket purchases
It all starts at the event page. According to Baymard Institute, a variety of factors that happen on an event's page and registration can be the reason visitors are deferred from purchasing tickets.


Reasons for abandonments during checkout on an event page:
16% said if delivery or speed is too slow
17% said if the website had an error or crashes
26% said that they would leave if the checkout process was too long or complicated
34% said if they wanted them to create an account they would leave

It's the little things that count.
Your registration should be as simplified as possible, you shouldn't be making your guests do any extra work.
No additional steps just basic contact information, what ticket types they want, final disclaimers and a quick checkout!
Purplepass for your volunteers
Not just for events! Use Purplepass for
volunteer management, create campaigns, sign up
pages and it's free!
2. Multiple ticketing options and packages
People are more inclined to buy tickets to your event if they have more options. Unconsciously, humans translate having a choice, to mean more control or power.
So giving your guests the power of choice allows them to feel more comfortable when purchasing tickets.
What do they want?
Make this time all about them and their needs. The more flexible you can be the better.
Day pass, weekend, seasonal, VIP, there are a variety of custom packages you can have to make guests feel special.
This also goes for your payment options.Don't limit them to one form if you can offer a variety. It would be unfortunate to lose a customer because they couldn't pay with their preferred method of payment.
6% of people say they abandon their carts if there aren't enough payment methods available, Baymard Institute.
3. Offer coupon codes and discounts
Everyone loves a great deal and coupon codes are hard to resist.
Offer coupon codes on social media, your main website, or even on traditional printed publications such as flyers, newspapers, and bulletins to get people interested in your event.

Here are some benefits to offering these discounts:
1. Boosts ticket sales
2. Attracts new customers and builds loyalty
3. Creates word-of-mouth marketing
4. Makes registration easier for both parties
5. Saves money on marketing
Create unlimited coupon codes
It's easy to add and create codes guests can
use at checkout through your admin.
4. Multiple delivery options
Make your internal purchasing process easier and more convenient for the customer by offering multiple delivery options; meaning how they receive their tickets.
You can make it easy for them to print their ticket or registration receipts if they want a physical copy by including a link to print.
It is also advisable to offer email delivery with a scannable code so they can keep the ticket on their phone and the registration team can easily scan it to access their information.
With Purplepass, you can offer a variety of delivery options that work for your guests.
Print-At-Home
Mobile Tickets
Will Call
Printed and Shipped (first class, priority, express overnight)


You can also customize your delivery options.
For example, instead of using our default "Will Call" following a broad statement telling customers they need to go to the will call window to receive tickets, you can customize it to be more appropriate for your exact event (Please go to the big blue tent marked "tickets" by the west parking lot to pick up your will call tickets ).
5. Customized notes, terms and conditions
Make the service ticketing system more personalized by including a custom note after they make the purchase or register for an event.
This note can be sent immediately via email or appear directly on the landing page afterwards. You can even have a thank you note ready at the registration area when they arrive at the event.
Doing this personalizes the experience for them and lets them know they are special.
We also recommend including your custom terms and conditions specific to the event so they understand the rules and regulations before attending.

6. Include media, videos, testimonies, and related information
SHOW THEM what your event is all about. Use photos, videos, reviews to convince them they will truly miss out by not going to your event.
Including different forms of media makes your process ten times more engaging for your visitors.
Remember you got them to your event page, but they haven't checked-out yet, so you should still be marketing to them.
Research conducted by Biteable shows that 72% of customers would rather learn about a product or service by way of video. Using Videos attaches 300% more traffic and helps to nurture leads into customers. That's huge!!
Whether it's videos or images, incorporating some sort of media on your landing page is going to be the factor that pushes your visitors into purchasing tickets.
7. Include e-mail confirmation and bonus cash for the event
Your ticketing platform should automatically send an email confirming the customer's registration or ticket purchase.
This will allow them to have a physical record of the purchase, giving them a way to access proof if they need it at the registration desk; basically their receipt.
Why not go one step further and personalize this experience as well.
True you already converted them to customer status, but extra work after capturing a new customer is what makes them turn into a loyal one.
Easily customize your confirmation page
It's your event, so you deserve 100% branding.
Customize your confirmation pages through admin.
Thank them for their purchase on their confirmation email and offer other forms of appreciation. One unique idea is to offer a small cash reward or certificate that can be used at your event.
For example, a discount on a beverage, with a vendor, or $10 to spend at the event. It's the thought that counts. You can even give them a chance to be entered into a raffle to receive a prize at the event.
8. Virtual seating maps
When the customer is registering or purchasing a ticket to an event, it helps to include an up-to-date seating chart complete with the sections or seats that already purchased or reserved.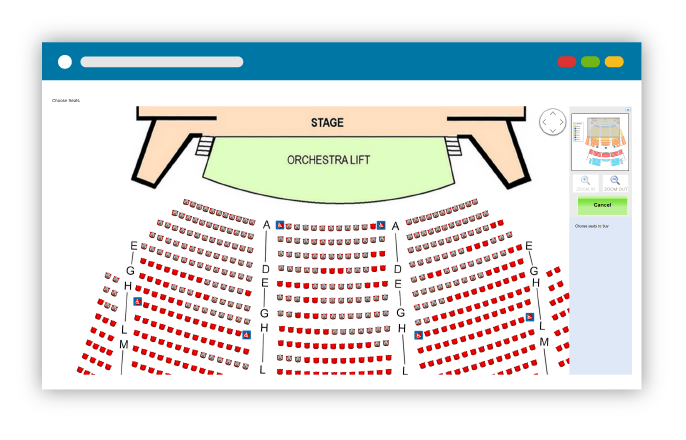 This will allow them to select where they wish to be seated, or, If that isn't possible, it can give people an idea of the venue layout to decide where to sit when they arrive and where the exits are for their convenience.
Purplepass will build interactive seating maps to match your event's layout for free.
These maps give your guests the power to see the exact layout of the venue ahead of time, and plan accordingly. That way, everyone can sit with whom they choose and be happy with their seat selections.
9. Social media sharing options
In today's world, most people are connected to social media which can be highly beneficial for those who are promoting an event.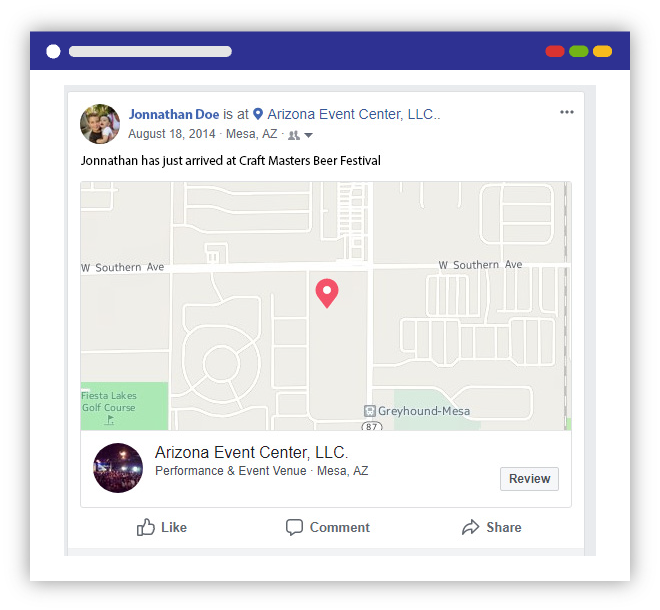 The trick is to make it super easy for the customer to share their ticket purchase before or after the checkout is complete. You want to include a share button right before making the purchase or in the email confirmation.
This will alert their friends and family and help promote attendance at the event.
10. Include the event sponsor's information
Sponsors are a vital part of any event, which is why you should make a special effort to include the event sponsor's information on the registration material and other related media; they are paying for it.
This information or advertising can be put on the main website, registration and ticket purchasing pages, and even tagged in social media posts.
Not only will this boosts your sponsors confidence in partnering with you, but more importantly, if someone recognizes the sponsor they will be more inclined to attend the event.
Think of it this way.
Trust is a huge aspect in gaining new customers.
If they are already loyal or familiar with your event sponsor(s) they might be more inclined to purchase tickets for that reason alone.
According to Fundera's studies, 65% of a company's business comes from existing customers and 43% of U.S. customers spend more with the brands and companies they are loyal to.
Make sure you make efforts to customize all aspects of your registration process to create an experience that will boost attendance and interest for all parties involved.