5 Benefits of Using Coupon Codes for Events
If you are trying to boost attendance and create additional visibility for your event, consider offering coupon codes and discounts for your guests.
You may wonder how offering a coupon code could impact your event attendance and if there are any benefits that come with it? Keep reading to find out how you can positively impact your efforts with this simple and effective technique to boost ticket sales and event attendance.
What is a coupon code?
A coupon code is a digital coupon consisting of letters and/or numbers you can apply when making a ticket purchase.
It is an alphabetical or numerical series of characters that can automatically apply a discount to the customer's checkout order.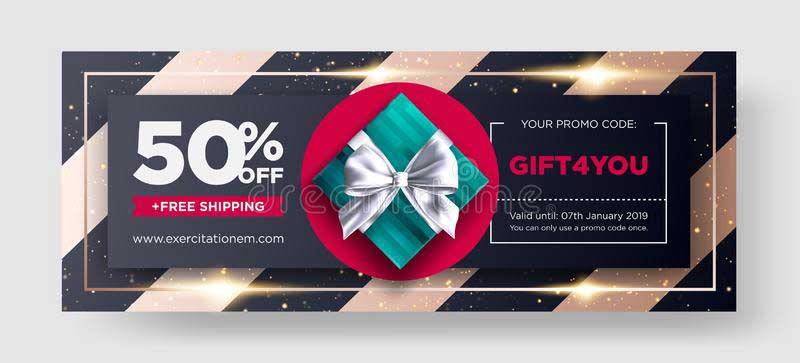 These codes can be easily passed along to the customer in a variety of ways ranging from signing up for an email campaign or subscribing to a blog. You can even offer the coupon code on social media to boost views and ticket sales.
Using coupon codes for your events
If you haven't yet tried to offer a coupon code or discount offer, here are the primary reasons you should make it a part of your next event marketing strategy:
1. Encourage and boost ticket sales
Having good attendance numbers is one of the main ways to gauge the success of any ticketed event. By offering an event coupon code, you can increase your event's buzz and attendance numbers.
Everyone loves a good discount!
These daily deals could be the determining factor for someone on the fence about purchasing tickets to your event. By offering a special code, you are giving them a limited time sale offer they can't refuse.

2. Attract new customers and build loyal ones
Coupons codes could attract the interest of people who would not otherwise attend because they are more willing to spend money on a ticket if they are getting a good deal.
It's basic human psychology!
This is especially important if this is a recurring event, because if they enjoyed it the first time, they are likely to attend next year at full price.
According to Ready Cloud, 68% of customers say coupons generate customer loyalty; "If you were consistently getting great savings from an online retailer, wouldn't you shop there more? Customers say 'yes' to this, according to recent ecoupon statistics."
Coupon codes help you not only gain new customers, but keep them around.
They will keep coming back for more deals and future events, while spreading the word to friends and family. Which brings us to our next point…
3. Harness word of mouth advertising
Those who express interest in an event will tell their friends and family, especially if they are planning on attending, because who wants to go alone?
This word-of-mouth advertisement is one of the strongest forms of marketing, according to Forbes, because it reaches a wider audience of people who would otherwise not know about the event.
"According to Nielsen, 92% of consumers believe recommendations from friends and family over all forms of advertising"- Forbes
Their recent study showed that 64% of marketing executives believe word of mouth is the MOST effective form of marketing.
So what is a clever way to get people to start talking about your event? Coupon Codes!
4. Make registration easy
Having a coupon code can make registration much easier for guests that attend for free.
For example, if you are a teacher putting on a lecture free to your students, but it's $10 for adults and staff, you can use your student's ID as a coupon code to discount their tickets so they can attend for free and have a scannable ticket.
This works great for special guests, performers, artists, volunteers, etc.
5. Save money on marketing costs
Saving money on event marketing and advertising is always a huge benefit.
By using coupon codes, you can expand your reach and reduce costs easily through word-of-mouth practices.
Coupon codes will automatically create buzz and raise public interest in your event. It is a cost-saving method for getting the community interested and encouraging overall attendance.
It can also assist you with your social media campaign by attracting interest to your posts according to Investopedia.
If you are running an email campaign, you will want to include your coupon offers and codes there. Emails containing coupons offer a 48% increase in revenue per email, according to Ready Cloud.
These emails also present a 14% increase in open rate, 34% jump in unique clicks, and a 27% increase in transaction completion rate per email, as compared to those without coupons or promo codes.
Consider adding a promo code if you're looking for a way to boost your email opens or conversion rates.
How to create coupon codes in your Purplepass account


1. Once you are logged into your account, find the event you want to edit or click Create New Event.

2. Find Ticket And Pricing Options and scroll down to where you can add coupon codes.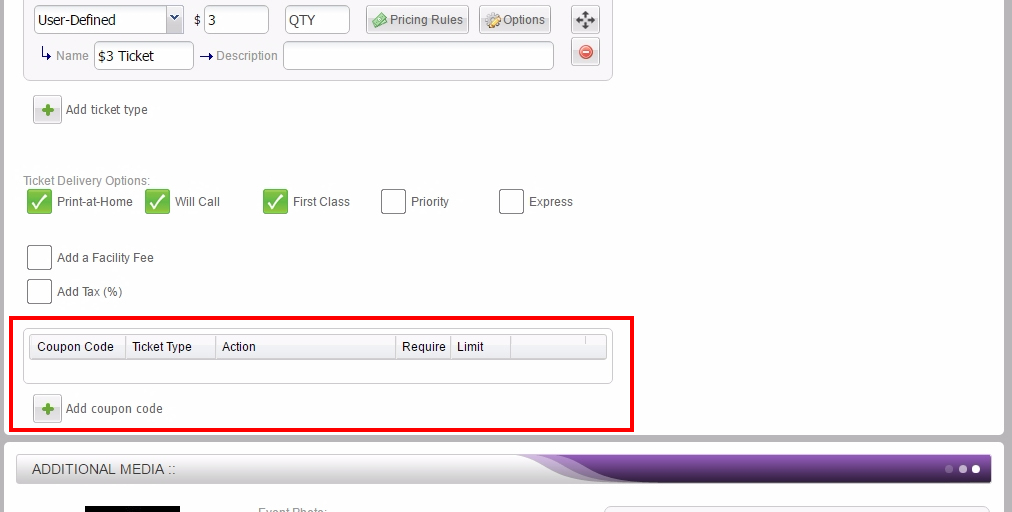 3. Here you can create your coupon code, the number of uses, coupon type, limitations, etc.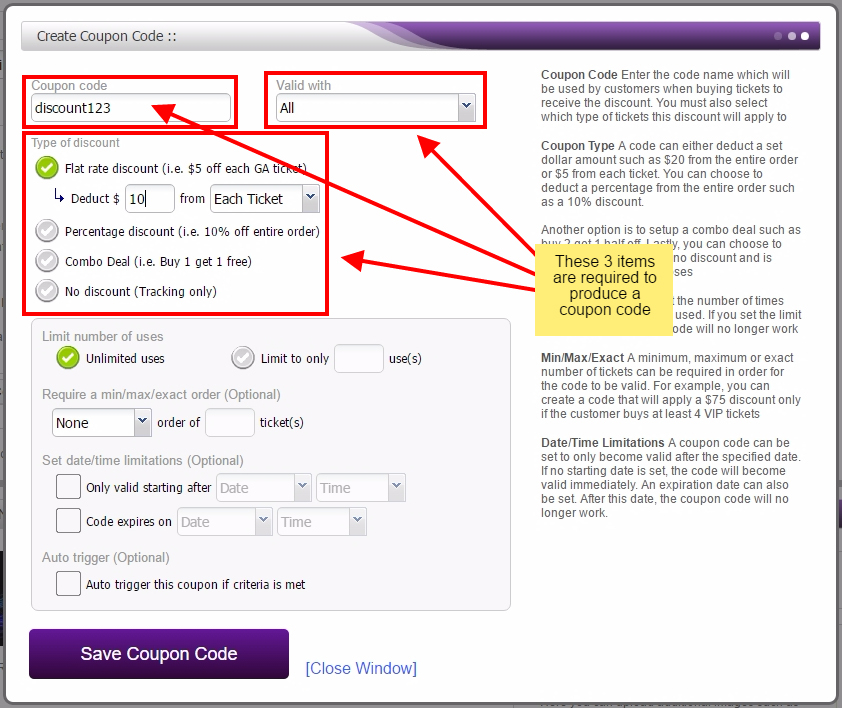 Try using coupon codes for your next event and watch the positive effects ripple through your marketing and sales efforts.
Good luck!