Ticketing for Tournaments and School Competitions
Planning an event for your high school or university can quickly become stressful if you intend to invite hundreds of students and staff. Even if it's a small crowd, coordinating ticket sales can be a daunting task.
If you are looking for a way to better organize the ticketing and registration logistics involved in planning a school event, consider using a ticketing and registration solution.
Benefits of using ticketing for school sports and tournaments
Using an event management solution for school competitions and tournaments offers an array of benefits and advantages over manually tracking attendees yourself.
1. Professionalism for your school and events
A modern ticketing and registration system is helpful in boosting the overall professional appearance of your school events.
Offering advance ticket sales online shows prospective attendees that you're staying updated with the current trends of online purchasing and payments.
When promoting an upcoming event or game, you will probably only have one opportunity to make a positive first impression on those you invite. If the ticket buying experience does not appeal to students and prospective attendees (cash only, long lines and wait times, confusion at the gate, etc.) you will not likely receive the attendance you desire.
By appearing professional and legitimate, you will have more opportunities to captivate and appeal to your audience, thus helping to boost overall attendance at school games, competitions, and tournaments.
2. The use of coupon codes for staff or student entry
With a ticketing and registration platform, it is possible to provide discounts and coupon codes for specific groups of attendees or individuals.
Use coupon codes and discounts for early bird specials or for staff who plan to attend an upcoming game or school competition.
You can also provide discounts for volunteers who help to coordinate and manage the event(s).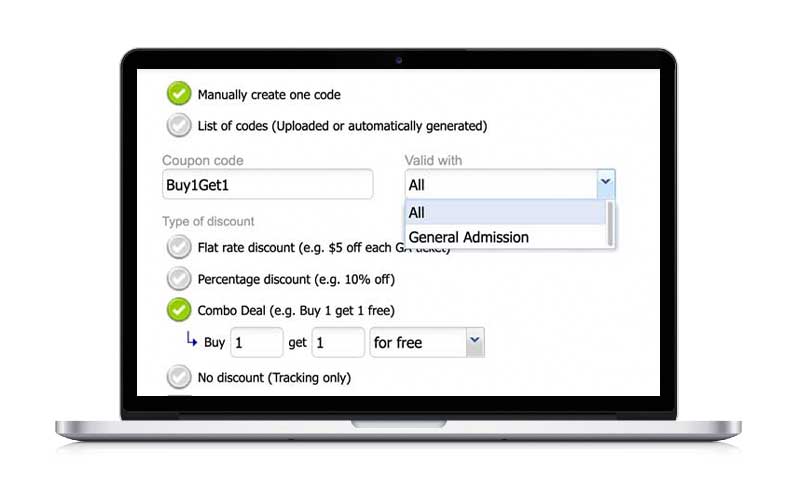 This would also apply if your school offers discounts to certain groups (alumni, students, staff, etc.). They can use either their student ID or personalized codes to purchase tickets online at a discounted rate.
And this way, admin can track how many purchases were made by what group for marketing and tracking reasons.
3. The ability to offer season passes
Create season passes for students and staff who are interested in attending events and games year-round with a ticketing solution in place.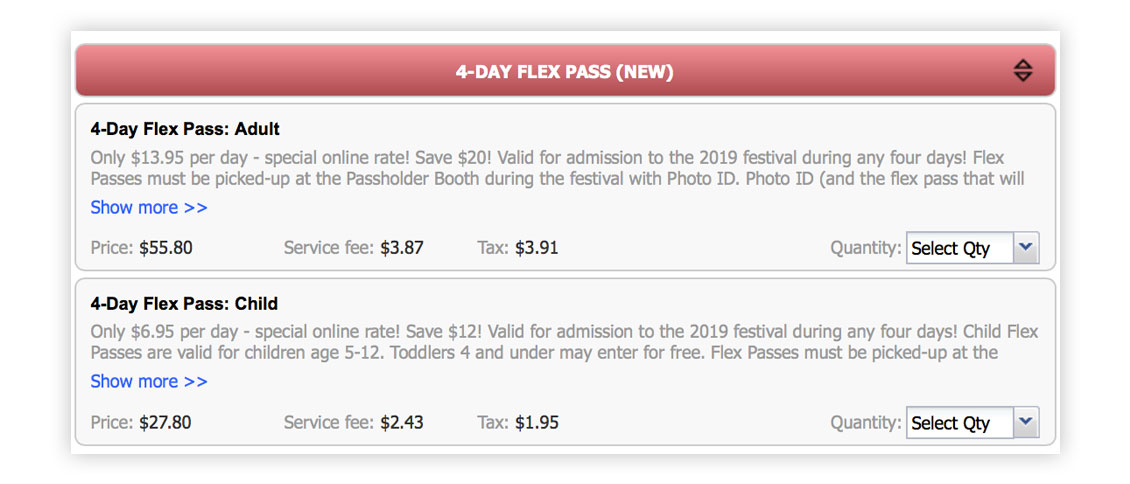 With the right software, you can create and offer passes at a discounted rate to encourage long-term sales and engagement in the events, competitions, and games that occur.
Season passes are a brilliant solution for a very active student body and families, especially if your high school or university has multiple sports teams.
4. Offer assigned seating and build custom maps
Using a ticketing system is a way to implement a seating map for assigned seating. Using assigned seating and/or a seating map is highly advisable if you are hosting a game or a competition in a crowded venue or location.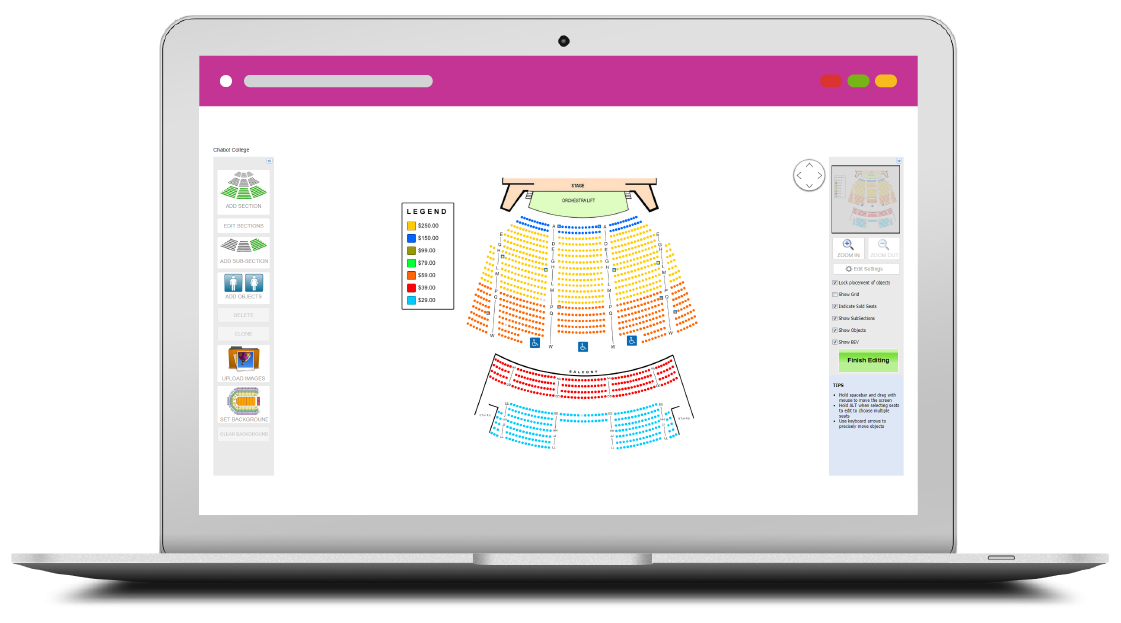 Assigned seating can help with keeping a crowd organized and prevent groups from fighting over seats or causing a negative experience for any other attendee.
Request your venue seating map
We build an unlimited amount of maps for
promoters...for free! Request one below!

Assigned seating is also useful for designated areas, groups of individuals, staff, and even volunteers. You can also use designated seating maps for VIP areas or handicap seating.
5. The ability to stream your event
Are you interested in hosting your event virtually as well as in person (hybrid)?
If so, find a event management platform that not only supports ticket sales, but streaming and ticket options.
Hosting a hybrid event by having it in person and streaming online is a way to garner more attendees, even if you do so virtually. Think of the out-of-town relatives or friends that can't always make the event.
Selling virtual tickets is a great way to generate an additional source of revenue for any school competition or tournament you are hosting.
6. Process payments online and/or in advance
Another benefit of using online ticketing is the ability to process payments online.
Say goodbye to cash only purchases; cash that everyone has to go to an atm to get last minute because they only have a credit card on them (story of everyone's life) !!
Collecting payments ahead of time in advance is another way to ensure you have the seating and capacity available for all of your prospective attendees.
7. Tracking and report options
Say goodbye to counting cash and manually tracking your attendees for each event.
When you can keep better track of a venue's capacity, ticket sales, and overall running reports, it is much easier to remain organized at all times. Staying organized is key to host successful tournaments, games, and competitions for any school, regardless of its size.
Using a ticketing system is one of the best ways to remain organized and on track while avoiding preventable mishaps and unnecessary stressors. It's every accountant's dream!
Using ticketing and registration solutions for tournaments and school competitions helps to streamline the planning process from start to finish. With the right ticketing software and platform, host a myriad of events for your school or university without ever feeling confused, bogged down, or overwhelmed again.