25 Custom Checkout Questions for Event Planners
What would you rate your experience?
How did you hear about us?
Was there anything about this checkout process that needs improvement?
These are all examples of custom checkout questions. Before confirming their orders, surveying your guests with a questionnaire is a great way to gather useful information.
According to Zendesk, 18% of people said they don't mind surveys if kept short. While 96% of consumers don't complain or share feedback, surveys are a great way to learn more about the customer experience and problems they face (if any).

Checkout questions can be useful for:
Learning about buyer demographics
Understanding your target market
Gaining marketing insights
Collecting feedback
Understanding the checkout experience
Collecting data
Identifying any problems or glitches in the system
There are a variety of different approaches to take when surveying your guests. But first, you need to know your goals and objectives.


Why are you asking these questions?
What are you trying to learn from them?


Once you understand your motives for surveying, you can start thinking about effective questions to ask.
Here are a few different question types commonly used in surveys.
Questions for gaining feedback:
1. How did you hear about us?
Website
Radio
News
Press release
Blog
Social media
Email
Google
Event calendar or discovery site
Word-of-mouth
Ad - social media
Ad - search engine
Other


2. Did you invite anyone to attend the event with you?
Friend(s)
Family
Partner
Children
Co-workers
I didn't invite anyone


3. Have you attended any other events through us?
4. Did you receive a discount or use a PROMO code?

5. How far in advance did you purchase your tickets?
1 - 2 weeks
3 - 4 weeks
3 months
6 months
1 year
Other
Open-ended questions:
6. What other information would you like more of?
7. What almost stopped you from purchasing tickets today?
Question for gaining insights to your demographics:
8. What is your age group?
17 or younger
18 - 34
35 - 50
51 - 70
70+
9. What is your gender?
10. What is your highest level of education?
Some high school
High school
Associates
Bachelors
Masters
PhD
Trade School

11. Are you currently a student?
12. Are you currently active duty?
13. Are you currently married?
14. What industry do you work in?
Accounting and legal
Business
Education
Financial services
Food services
Health care
Hospitality
Manufacturing
Marketing
Media
Sales
Services
Technology
Transportation
Retail
Other
15. What best describes your role?
Manager
Specialist
Team member
Associate
Director
Executive
Internship
Assistant
Other


16. Where is your home located?
United States
South America
Europe
Africa
Asia
Astralia
Other

Merchandise and ticket add-on questions:
If you're a Purplepass user, you're familiar with the ability of adding ticket add-ons. This type of questionnaire is important when selling merchandise or add-ons during checkout.
For example, if you're selling t-shirts in advance, you can ask for their t-shirt size, color preference, etc. It doesn't have to be about merchandise; ask whatever is needed to help fulfill the order.
Learn more about ticket add-ons
Our advanced selling mode allows
users to sell more than just tickets!
17. What is your t-shirt size?
x-small
Small
Medium
Large
XL
XXL
18. What color do you prefer? (depends on what color merchandise you're offering)


19. Do you plan on purchasing merchandise at the event?
20. Is there any merchandise you don't see here that you wish we sold online?
21. Why are you purchasing merchandise ahead of time?
22. Do you prefer purchasing food/beverage tickets in advance?
Yes
No
I like having the option



Rating questions:
23. How easy was the checkout process? (1 being super simple, 10 being almost impossible)
24. How would you rate our services? (1 being awful, 10 being amazing)
25. How satisfied are you with our support? (1 being very unsatisfied, 10 being very satisfied)
Sub questions:
Sub questions are additional questions that open up depending on the question you ask and the survey program you are using.
For example, Did you attend any of our past events?.
You can include the following answers:

If they select "Other" this would lead the program to trigger a sub question and/or an open ended text field that they can fill out.


---
Creating checkout questions via Purplepass
Use Purplepass' custom checkout questions to create questionnaires for surveying guests during the checkout process.
Ask a question per order, per ticket type, or per quantity of items. For example, if the customer purchased 5 tickets, you can ask 5 questions in your checkout questionnaire.


Make questions optional or required


Create single, multiple, answers or type in answers, paragraphs, date selector and drop down questions.


Use conditional questions based on the users response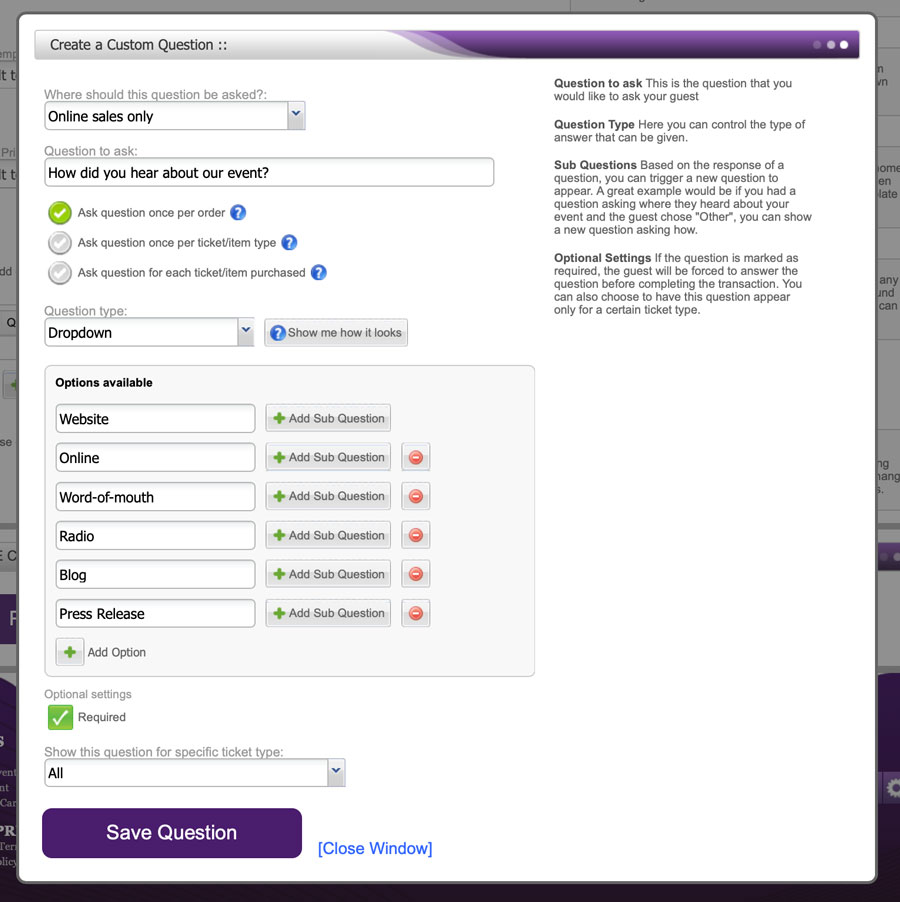 Log in to your Purplepass promoter dashboard


Go to "My Events" in the top navigation bar


Create a new event or edit an existing one


Scroll down to "Additional Options"


Located close to the bottom, check "Add questions to ask during checkout"


Click "Add checkout question"
Need help getting started?
Request a free demo below with a
representative to see how Purplepass works.