How to Create Custom Checkout Questionnaires
Use custom checkout questions to create questionnaires for surveying guests during the checkout process. Questionnaires are a great way to gather more information, such as:
Demographics
Target market
Marketing insights
Experiences and complaints
Direct feedback
How did they hear about us?
Is this the first time attending one of our events?


These are common questions used to learn more about your guests and their experience with your event(s).
Create checkout questions with ease in your Purplepass account.
Ask a question per order, per ticket type, or per quantity of items. For example, if the customer purchased 5 tickets, you can ask 5 questions in your checkout questionnaire.


Make questions optional or required


Ask questions "Online sales only" or "Mobile Box Office only"


Create single, multiple answers or type in answers, paragraphs, date selector and dropdown questions.
Sub or conditional questions are based on the response of the question; you can trigger a new question to appear.
For example, if you asked how they heard about your event and the guest chose "Other", you can show a new question asking how.
A customizable registration experience
Every event is different? That's why
we offer a variety of options for
customizing your registration.
Adding custom checkout questions
Log in to your Purplepass promoter dashboard


Go to "My Events" in the top navigation bar


Create a new event or edit an existing one


Scroll down to "Additional Options"

Located close to the bottom, check "Add questions to ask during checkout"



6. Click "Add checkout question"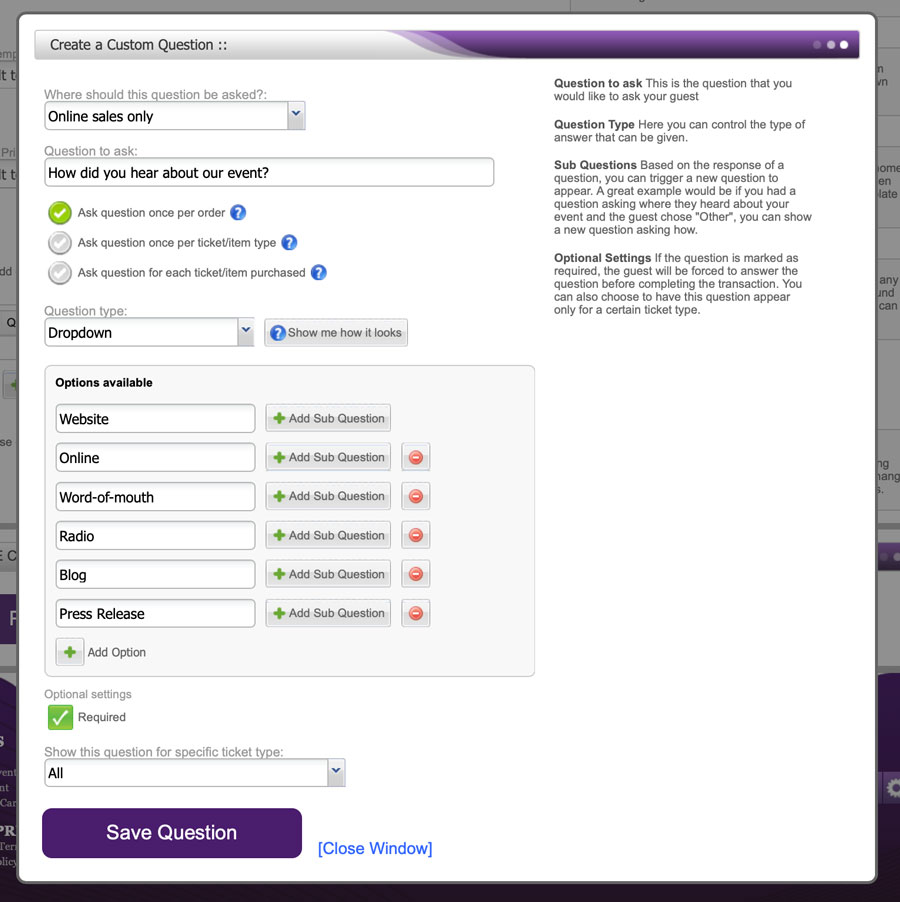 From here, you can start creating your questions.