10 Inexpensive Fundraising Events For Nonprofits
Most nonprofit organizations require funding in some capacity whether it be business or individual donations, drives, etc.
Most times, these organizations will need to have fundraisers to maintain their ability to function as a business and execute their organization's mission.
Having a few inexpensive fundraising ideas on hand is a great way to keep business functioning and avoiding having to plan large annual events for staying afloat each year. Below are some inexpensive ways to promote and fundraise for your nonprofit.
1. Community events and networking
Community sales are a fun way to get your town involved with each other as well as your organization. Yard sales, craft shops, and even bake sales are considered a community sale.
When hosting such event, the way your organization will profit is through the sign up fee.
Anyone tht wants to participate can pay a minimum donation of $5 - $10 to enroll and have the opportunity to sell their products to a bigger audience in a popular, reserved space.
The common goal is to bring together your neighbors and friends for one cause, while allowing them to clean out their extra junk.
A community sale will have more attention because it is a bigger scaled event, thus more items sold and my sign up fees. Before announcing the event, be sure you have all the correct permits and spaces reserved for hosting such activity in your community.
Each location will have their own rules and required paper work so do your homework. There are plenty of ways to make this a profitable and fun way to raise money in the community.
2. Swap meets
Similar to a community sale, a swap meet is another way to get your community in one space benefiting them as well as your business.
You can charge a small fee to allow people to sell their wares or even swap items they no longer want for ones they do.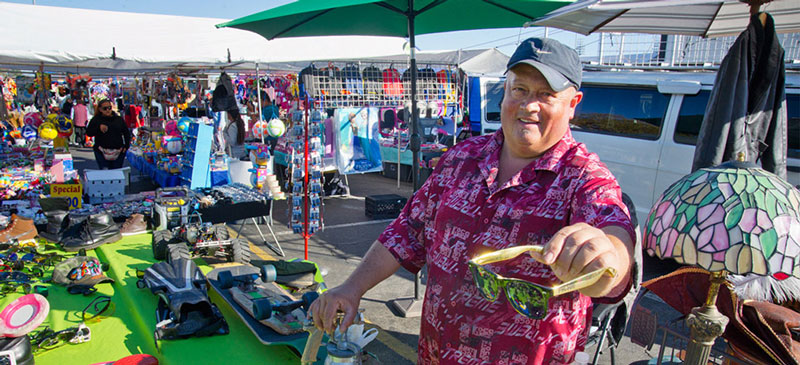 Swap meets can be large or small and don't require effort or any money to host; maybe just the space or if any permits are required.
If you aren't familiar with what a swap meet is, people set up booths of their possessions, similar to a garage sale, except instead of exchanging their items for money they take a different item from someone else.
3. Classic car wash
The classic car wash never goes out of style.
In the warm weather months, you can plan a traditional car wash and have it on a day when most people are off work in a high traffic area. Community members are usually more than willing to participate, especially if it is going to a worthy cause and they have a dirty car.
4. Silent/charity auctions
Hosting a community auction is an excellent way to raise a significant amount of money if done correctly.
The key is convincing local vendors and businesses to donate some of their popular items for small recognition; free marketing for them.
Similar to Groupon, people will want to jump at a chance to purchase some of these products at half price and take part in a little friendly competition.
To raise money on your end, you could charge a small entrance/participation fee, accept donations for hosting the event, and of course you earn whatever price the product is auctioned off for.
5. Free online donation tools
Using free online donation tools is a great and convenient way to allow people from all over to donate to a cause or an organization; plus this is the 21st century, you got to play to win. You can embed the links into social media posts and on a homepage for a website.
This method is a great way to encourage people who may be somewhere else in the world to take part in raising money for your cause.
Some popular online donation tools are:
Fundly
GoFundMe
Razoo
@Pay
Network For Good's DonateNow
Paypal Donations
Qgive
PayPal
AmazonSmile


6. Fun run/walk for the cause
Promoting a healthy, active lifestyle is always a great idea no matter what your cause is. Fun runs and walks are a cool way to get everyone together while remaining active, getting outdoors, and socializing while getting a workout in for the day.
Even if you hate running/walking, you can create a fun event that everyone will enjoy, you just have to get creative.
Depending on your brand and what's appropriate, you can try some of these different themes:
Color run
Tube city/inflatable run
Mud run
Themed runs
Running for a cause
Obstacle challenges
Bubble runs
Team runs/challenges

There are a lot of different ways you could take this event and for a small participation fee, anyone would be willing to get active for the weekend.
These types of events are usually low budget and easy to execute, it just comes with a lot of planning and consideration.


Here are a few aspects you will need to consider:
Run/walk location
Need approval and blocked off areas from the city
Need waivers for participants
Establish an enrollment fee and what's included
Establish what the winner gets
Is this an individual race or can teams form?
What equipment will you need (finish lines, props, merchandise, etc?)
How will you market your nonprofit at the event?
Will there be any other sponsors involved?
7. Trivia nights
Ya baby, bring your game face because it's trivia night!
Trivia nights are incredibly popular and are a good way to raise extra money while putting on an exciting event.
Charge a small fee for each participant and offer a cash pot or a prize for the winners at the end. Once you find a designated location for these events, scheduling trivia nights regularly will help boost attendance and keep a steady flow of donations coming in.
According to Side Hustle Nation, planning a trivia night is straightforward. You charge the venue for the customers you are bringing in through your event, as well as an entry fee.
The venue will be making money through selling extra food and drinks by your players attending.
The most popular areas to host trivia nights are in college towns and major metropolitan areas. Trivia nights aren't as expensive as they lead you to believe.

Equipment you will need are:
Stationary for answering questions (papers, pen, a board to hold up, etc.)
Sound equipment if applicable
Whatever is needed for tracking scores
Prizes
Marketing material
Donation Bank


8. Host a community picnic or carnival
If you want to reach a bigger audience, you need to do an event that gets the entire family involved. Carnivals and picnics are great for for provoking excitement for your attendees.
If a carnival isn't possible, then a great alternative is to have a community picnic.
Each person can pay an entrance fee, for rides, food and beer tickets.


Other steps you need to take for this type of event:
Bring in local vendors
Find sponsors to support heavy expenses for rides and booths
Find a ticket registration that accepts donations upon checkout
Look for nonprofit discounts when outsourcing
Apply for permits with your local government offices
Make sure you have insurance coverage
Set a realistic budget
Staff your carnival through volunteers and interns
Market your vendor's food and alcohol to get parents excited
Create a kid zone and a parent zone
Find local bands and live entertainment
Plan activities for the entire day (face painting, scavenger hunts, hayrides, amusement rides, performances, bake-offs and competitions)
Create promotional material and safety instructions
Consider using wristbands to reduce costs and keep track of payments
Set affordable ticket prices and packages
9. Text-To-Give campaign
Text-to-give has become a convenient tool for all size organizations and causes to raise money.
Donations are easy to give and receive with little effort needed from either side other than promoting the cause and urging people to give money via text messaging.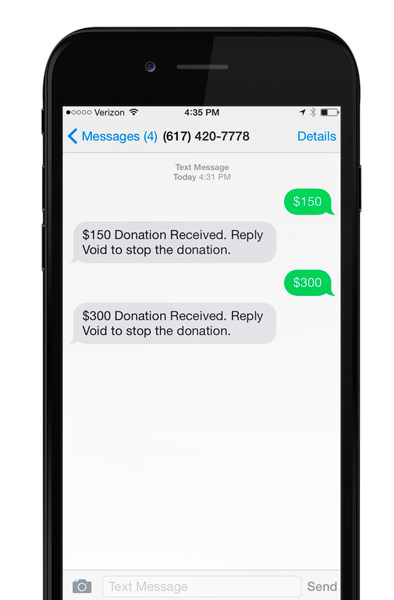 The text message campaign can also run for an extended time and allow people an extended timeframe to donate when they can afford it. Click here for different text-to-give services worth trying.
10. Host a seasonal or annual fundraiser
Having a consistent fundraiser also makes your brand more consistent and memorable for your audience.
This should be your organizations guiding force.
This is also a great way to check your current donation status from the previous year and mark your progress compared to the last event.
It's important when planning that you acknowledge all of your resources and take advantage. For example, your volunteers.
These are your staff, the people that will devote time to your cause for free. They can also help with other outside fundraising tasks. Part of your team may also be made up of board members who you might require to engage in fundraising activities per month.
Before launching into any new events, make sure you know your fundraising and mission goals. By knowing your goals, you are setting yourself up for success instead of failure. You want to base your expectations on reality, and these goals should be backed up by detailed strategies (Who, what, when, where, and how).
Don't ever commit to an impossible goal.