5 Effective Incentives To Boost Employee Morale
Continuously inspiring your employees and keeping them satisfied can become exhausting. This is an excellent goal for any employer and there are so many benefits for boosting employee morale you just need to find incentives that work. When employee retention rates go up, an office environment turns into a positive one, with workers that feel appreciated and purposeful.
Here are 5 effective incentives that boost employee morale in just about any workplace.
Bonuses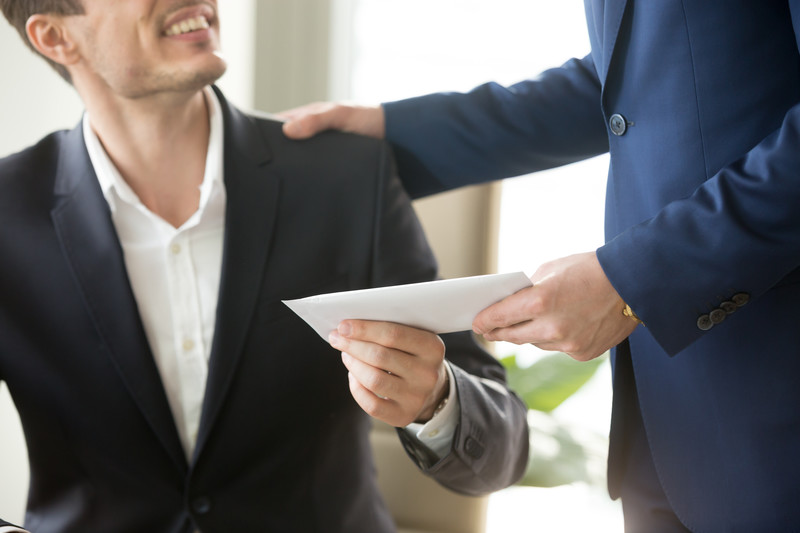 There's a reason why so many employers offer holiday bonuses - nothing says "thanks!" more effectively than an extra bit of cold hard cash in an employee's bank account.
Many employers deposit a bonus directly into employees' accounts during the holiday season or at another time of the year, though many employees feel most appreciated when they receive an actual check or physical cash.
According to Intuit Quickbooks, staff who receive a bonus are more likely to show loyalty to your business.
"Loyal employees are typically content and less inclined to look for other employment opportunities, saving you time and reducing recruitment costs. For example, if you pay a recruiter a 10% fee for each new hire, and your average employee salary is $75,000 per year, you save $7,500 in recruitment fees for each staff member you retain. Offering bonuses help attract the best talent to your business."
Consider implementing a bonus program, or if you have one already, increasing the amount of your bonuses depending on your growth period.
Extra vacation or PTO
If you really want to incentivize your team, extra vacation or PTO (paid time off) is the way to go! Employees of all kinds will take an extra couple days to relax and recharge - and maybe even travel somewhere exotic - when they have a few extra days of vacation or PTO under their belt.
Workers love to take more vacation days when given the opportunity, and your company will benefit in the long run because employees will come back with more zestful energy, recharged and ready to work. Workplaces with the most generous vacation and PTO policies report greater employee satisfaction and positivity overall. Even increasing your company's vacation time or PTO by a couple of days can make a tremendous impact on employee morale.
Giving more vacation days doesn't always mean less money and time for you. A recent study revealed that businesses with healthy work/life solutions such as more PTO found that 93 percent of employees increased their productivity after a vacation and 98% think their vacation time improved their performance.
Gift cards
Amazon, Best Buy, Red Robin, a local grocery store, or per request, anyone would love to receive gift cards to their favorite spots. Gone are the days when gift cards were considered thoughtless presents - now, everyone loves to receive GC because they get to redeem it for exactly
what they want. Take Amazon, for example.
Thousands to millions of items are purchased on their site daily, from the practical to the extravagant and everywhere in-between. It's such a treat to pick out something special for oneself with money you've earned for your hard work. A gift card is always an appreciated gift for all kinds of employees - so add it to your incentive program today and reap real benefits tomorrow.
Most companies use GC as a way to reward someone after a competition such as a sales challenge, or top lead conversions. Figure out what works for your team, talk to them about their favorite places and set a challenge to get them productive; a little friendly competition never hurt.
Employee discounts outside of work
What are the perks of the job? This is one of the first thing you consider before accepting a new job or becoming a loyal employee. We spend the majority of our weeks in the office or at work, so it's your job to make your teams' personal lives as comfortable as possible. Creating a happier work environment means less turnover and more productive employees.
Offering some kind of discount outside of work for goods and services such as a discounted gym membership or pet insurance can mutually benefit both companies and it's employees. Here are some discounts worth considering:
Gym Memberships
Transportation (Uber, public transportation, etc.)
Health Plans
Starbucks
Wellness Stipend
Corporate Merchandise or Swag
Special Clubs
Daycare Discounts
Education and Courses Tuition
Boss for the day
Many employees dream of having a coveted corner office, a personal assistant, and control over their team without the sweat from climbing the corporate ladder. What if you could give employees that for a day?
Implementing a "boss for the day" program for your employees to enjoy on a rotating basis can be beneficial in many ways.
Here is how this program can benefit your staff:
More accountability As a boss for the day, you now get a feel for the responsibility and the deadlines they face. Not only do you respect them more after you day in the light, but feel the pressure of the job. Allowing them to get a taste of a higher position can show them what they need to work on or improve to move up their career ladder.
Making connections. As the new boss you will most likely be working with different people and departments above you. This is a great way to find new connections and network with other department heads.
Learn how to motivate. The duty of a boss is to motivate their team; seeing how our staff member does this in your shoes can give you ideas for when you are back as the boss. It is always great to get the perspective of others and put yourself in their position every now and then.
There are so many other benefits from conducting such a program, the best of all, the next time they sit with their boss the employee will have a better understanding of their daily task and nuances with more appreciate towards them.
Perhaps once or twice a year, each employee will be able to have a turn being the "boss" of the company and enjoying plenty of little perks along the way. You'll be thrilled to see them smiling and enjoying their normal workday routines more after implementing a boss for the day program; probably appreciating their own job after.