matching article(s)
Show content for
Everybody
Organizer
Buyer
Answers
Setting up the Partner Access tool in your account
Setting up the Partner Access tool in your account
If you would like to enable others to access your Purplepass promoter account using their personal login information, follow these steps to set up your Partner Access tool
Log in to the Purplepass promoter dashboard

Click

"Settings"

at the top right-hand corner of the screen

Select

"Partner Access"

from the left navigation bar

In the section titled

"Add Partner"

located to the right of the screen, enter the person's email address in the

"Partner's Email Address:" Note: this person must have a registered account with Purplepass to create a partner account.

Click the

"+ Add Partner"

button below the email address field to add them. The person's information will appear at the top of the page. 
You can allow this person to have access to all events by checking the "All Events" box. You can filter what they have access to by checking the "Specific Events" box.




If you select the "Specific Events" box, a new pop-up window will appear. Select the event they can access by selecting it from the "Event Name" menu.
You can then check the boxes in "View Privileges" and "Edit Privileges" to enable access and editing ability for that event.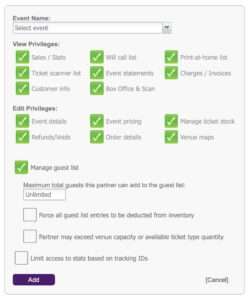 The "Manage guest list" box allows the partner to make changes to the guest list or add people. If you select "Manage guest list", you can control how many people they can add by entering the value in the "Maximum total guests this partner can add to the guest list:". There is also an option for unlimited guests.

If you want to deduct the guest list from the number of ticket inventory, check the "Force all guest list entries to be deducted from inventory".
If you want to allow the guest list to exceed the venue's set capacity, check the box "Partner may exceed venue capacity or available ticket type quantity".  
If you want to allow a partner to view ticket information based on tracking IDs, click the " Limit access to stats based on tracking IDs".

Click the blue link titled

"[Click here to edit Tracking Ids]"

.

Note: be sure to check or uncheck the previous options to customize the level of access the partner has in the View/Edit sections.

Once the link to edit tracking IDs is clicked, you will see a pop-up screen titled

"Filter stats by the following Tracking ID"

Click the drop-down menu to select the tracking IDs you want the partner to be able to access. 

Adding a tracking ID in the Partner Access tool

You can also click the black "Add Tracking ID" button at the bottom of the screen to add a tracking ID.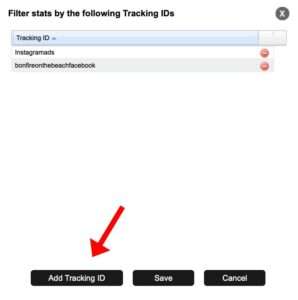 A small pop-up window will appear titled

"Add Tracking ID"

Enter the tracking ID you want to add in the field titled

"Please enter Tracking ID"

Type the ID and click the

"Add"

button

Once you have entered all of the partner information, click the purple

"Add"

button at the bottom of the section to save your work