Why Regular Event Marketing Strategies Won't Work for Trade Shows
It's hard to overstate the value of trade shows. 77% of polled executive "decision-makers" found a new supplier through a trade show just recently and attendees spend a massive 8.3 hours browsing exhibits and meeting suppliers face-to-face.
For people with buying and selling authority, trade shows are lucrative opportunities for face-to-face interaction that have the power to move substantial amounts of products and generate plenty of rich leads.
For event marketers, the trade show market can be tempting.
However, throwing together a trade show isn't the same as creating your typical concert, fair, or festival.
You have to use unique marketing strategies aimed at the trade show audience if you want to generate a stellar trade show ROI and create successful interactions between attendees and exhibitors.
Here's how you can make your next trade show a hit for everyone involved — including you.
Start selling tickets today!
Request a demo now to set up, create and start selling
tickets with Purplepass. An all-in-one event
management hub.
What is a trade show?
Trade shows (also known as expos) are events where attendees (typically business owners) meet exhibitioners (brand ambassadors) to discover and discuss new products and services.
Typically, a trade show will take place in a large area where exhibitioners set up booths for attendees to come and see.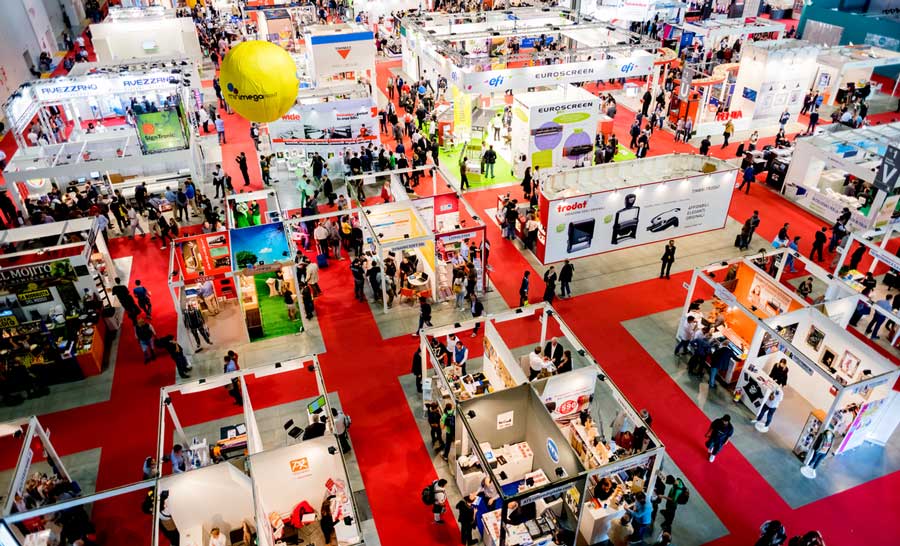 Trade shows typically come in two forms — B2B (or "industry" shows) or B2C (or "consumer" shows). At industry-based trade shows, the market will be primarily B2B brands and business decision-makers, while consumer-based trade shows will involve brands and consumers.
While there are some marketing and setup variations between these two shows, the general premise is the same.
Consumers or business decision-makers visit booths of various vendors to discuss their offerings and educate consumers about their products or services.
What makes trade shows special?
For starters, trade shows require event organizers to market to both the exhibitionists (which are often vendors who are simultaneously sponsoring the event) and attendees (who are the bread-and-butter of the event).
If you have a ton of attendees, but barely any exhibitions, your trade show is going to leave attendees disappointed.
If you have a ton of exhibitions and barely any attendees, your vendors probably will not come back next year. You have to walk a fine line between recruiting the right vendors and attracting the right audience.
Trade shows also require a TON of space.
Between booth space, food and drink vendors, and the space required for attendee traffic flow and booth demonstrations, you have to make smart venue decisions and put forward extra money on acquiring space or creating dynamic, intelligent traffic flows (or both!)


Need to cut costs and find a cheap venue?
Here are ways you can think outside of the box and
find venues that work with any budget.
You also are providing an event service to BOTH vendors and attendees. This means handling extra moving parts and dealing with supply chain logistics for booth setups, supplies, etc.
It's not all complicated. There are some nice pros that come along with trade shows.
For starters, you don't have to look for sponsors.
They're part of the package.
Everyone who pulls up a booth is a potential sponsor.
And, given that 82% of trade show attendees have buying authority, finding willing sponsors probably isn't going to be difficult for trade show organizers. These events are cash-generating machines.
4 marketing strategies to help you sell out your next trade show
Trade shows may be cash cows, but you still have to grow and nurture that calf.
Since trade shows involve two-pronged marketing and unique strategies, many event organizers fail to grab a crowd when they try to plug-and-play their usual event marketing campaigns.
Don't do that.
Here are some trade-show specific strategies you can use to grab a serious trade show crowd.
1. Leverage Intention
People come to trade shows for three reasons:
To discover new products/services
To learn about new products/services
To network with vendors and attendees


Your marketing strategies should focus on all three.
Try to run Facebook campaigns targeting the discovery process and LinkedIn ads to target the network aspect of the trade shows.
You should create AT LEAST three campaigns using the three core intentions of trade shows mentioned above. Some people come to network, some come to buy, and some come to learn. You want them all.
2. Create unique campaigns for both attendees and exhibitors
Run different campaigns for BOTH attendees and exhibitors. They have completely different needs.
Exhibitors want to know that your space will be jam-packed with decision-makers who want to buy.
Attendees want to know that they'll learn and possibly buy useful products or services. 92% of attendees come for one reason — to find new products.
72% of exhibitors attend to score new leads. It's a match made in heaven. Just make sure to segment your audiences and really go after both markets separately.
3. Prioritize value as a message
Never forget value.
Why should attendees come to your show?
Who is going to be there?
What can people expect?
Answer all of those questions with your marketing materials.
So, if you have a notable speaker at your trade show, let people know.
Figure out your "can't miss" elements and leverage them as the theme of some of your campaigns.
4. Who's coming?
Every new exhibitor is a lead magnet for your event. Stick them on your website, add them on social media, and let everyone know who is going to be there.
Attendees come to buy products.
Let them know what kind of products will be at your show. This can quickly snowball. The more exhibitors you get, the more attendees you get.
The more attendees you get, the more exhibitors you get. Once you start posting the details, the money will come rolling in.