Industry Experts Share Their Top Tips on Event Planning
Planning an event or trying to break into the industry?
These event planners and industry experts have shared helpful tips, insights and advice from the experience they have gained from event planning.
Let's see what they had to say.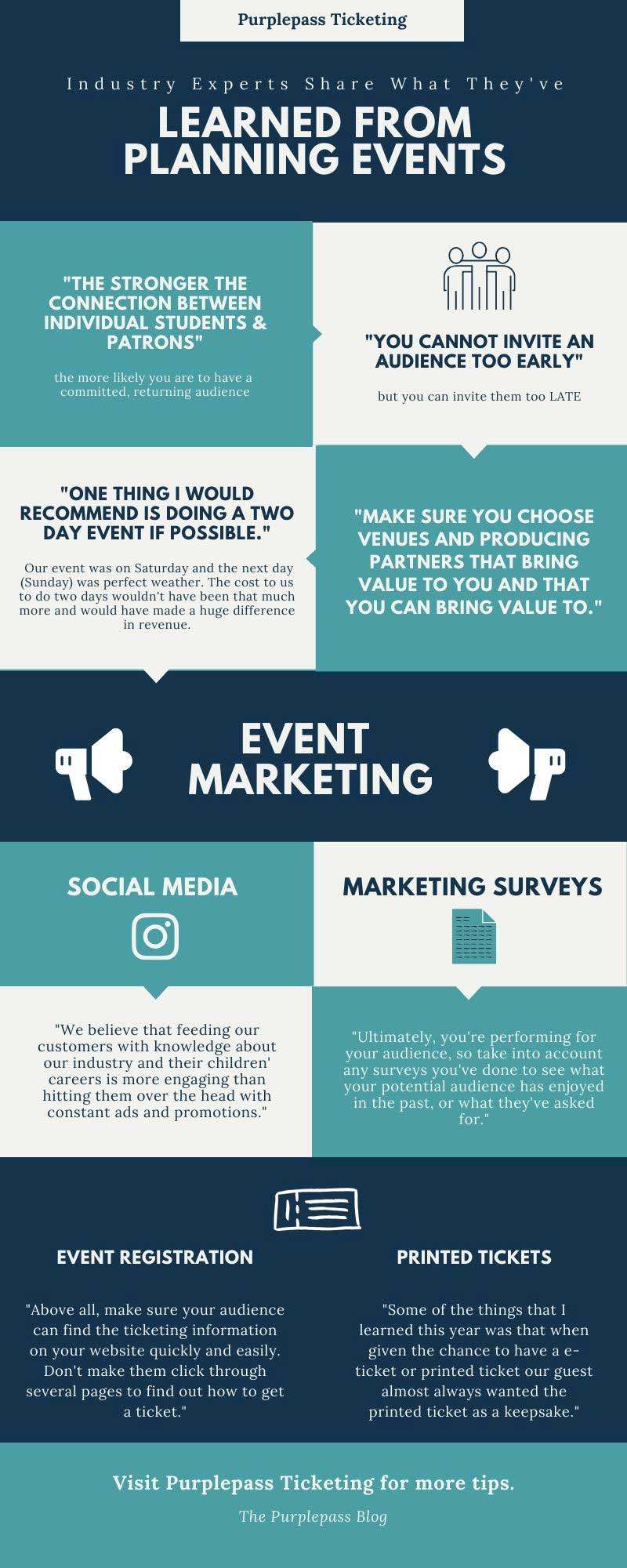 State College of Florida
Allison Baker, Manager of Neel Performing Arts Center

"The stronger the connection between individual students and patrons, the more likely you are to have a committed, returning audience.
To be able to offer a person attending a show the chance to join a student as they grow through an educational program brings patrons into the center of our performances."
The Duplex Cabaret, New York
Thomas Honeck, Booking Manager of The Duplex


"You CANNOT invite an audience too EARLY, but you can invite them too LATE.
There is no Field of Dreams in the entertainment industry, people won't come just because you built a show. They must be invited, cajoled, reminded, and then - reminded again to come.

They're several avenues to marketing an event: Advertising, Social Media, Press Release, Postcards/Flyers, Direct Mail, Event Listing Websites, Engagement Platforms, and last but not least, Personal Invite.
Once you book the venue, you should be prepared to engage your audience at that moment, even if it is simply to say "Save the Date!" At the end of the day this is a business; regardless of the "show" promotion is a huge part of that.
I see performers and producers make the same mistake of waiting to promote the event a week or two before the date; it's a sure-fire way to fail.
If you want to be seen, you better be heard ahead of time."
Dragonfest Renaissance Faire
Matt Carra, Event Director of Dragonfest Renaissance Faire LLC


"We have used many different ticketing platforms for our event over the years and Purplepass was by far the best one yet.
Some of the things that I learned this year was that when given the chance to have an e-ticket or printed ticket our guests almost always wanted the printed ticket as a keepsake.
Our event is outside and so weather can play a factor. We are a rain or shine event and this years event did have some rain however because we chose to have a big entertainer who people wanted to see so it didn't hurt us that much.
Our gate numbers were still good despite the rain because our guests wanted to see our entertainment.
They didn't do much shopping with our vendors because of the rain.
One thing I would recommend is doing a two day event if possible. Our event was on Saturday and the next day (Sunday) was perfect weather. The cost to us to do two days wouldn't have been that much more and would have made a huge difference in revenue."
The Gundo Comedy Festival
David Williamson, Comedian and Comedy Producer of The Gundo Comedy Festival
(every May in El Segundo)


"I've produced individual shows as well as a comedy festival in my community for the past 5 years. I think it's important to keep the scope manageable and not get greedy right out of the gate.
You want to make sure a show is a success for the performers and the patrons, even if it's not financially over the top for you at first.
That will ensure positive word of mouth and credibility moving forward to grow your event.
Make sure you choose venues and producing partners that bring value to you and that you can bring value to.
If I produce a show at a bar or restaurant, I hope to do it on a night that they need help bringing a crowd in. If I'm going to do a free or low cost show at a venue, I hope they promote my entire festival to their mailing list and social media.
Then, it's a win-win for everyone."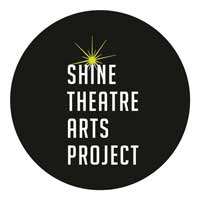 Shine Theatre Arts Project
Leorah Haberfield, Artistic Director of Shine Theatre Arts Project

"As we market our summer arts intensive for children, Shine Theatre Arts Project, we are hyper-conscious of our customer engagement via social media.
We strive to not only advertise, but provide professional opinions and advice to our core customer base.
We believe that feeding our customers with knowledge about our industry and their children's careers is more engaging than hitting them over the head with constant ads and promotions."
Montford Park Players
John Russel, Executive Director of Montford Park Players


"Planning a performing arts event can be either a breeze or a nightmare, depending on you approach it.
Ultimately, you're performing for your audience, so take into account any surveys you've done to see what your potential audience has enjoyed in the past, or what they've asked for.
When you construct your ticketing plan, take a look at from the audience point of view.

Is it easy to make a ticket selection?
Are all the options clearly spelled out?
If you're selling reserved seating, is it easy for your audience to select their seats?
Before you publish it, do a test run. Be sure to fix any problems before you take it live.

Above all, make sure your audience can find the ticketing information on your website quickly and easily. Don't make them click through several pages to find out how to get a ticket.
What about marketing?
In addition to paid advertising, think about all the various social media you can harness. Do you have a Facebook page with lots of followers? If so, promote it heavily with event pages. Send emails to your past customers.
Use your Twitter and Instagram accounts to the max.
Finally, consider earned media...if you're planning a world premiere, or a "once in a lifetime event", talk to your local newspaper, radio and TV stations. Most of them will be glad to cover it, because they're appealing to local audiences with a local focus."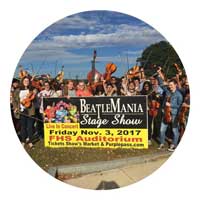 Help Keep Music Education Alive
Paul Lococo, President of Help Keep Music Education Alive


"By working closely with music educators. teachers, band directors in the community we serve we are able to engage music students and their families into our program.
Our program drives repeat concert goers because of the interaction between the music students and the community.
The program supports music education in the class room and every show features the students performing back up instrumentation with our professional production and entertainers.
Our main marketing success comes from networking throughout the communities we serve and giving something back in support of all."
Saco River Theatre
Dana Packard, Event Director of Saco River Theatre


"By working closely with music educators. teachers, band directors in the community we serve we are able to engage music students and their families into our program.
"When choosing plays and booking musical acts, going with what feels right to yourself is often the best choice.
Budget, logistics, price-point considerations, audience feedback and board / staff input are important, but there is always risk involved, however deliberative you try to be.
Remember, plot, plan, dot and cross, but remember to keep your gut in the conversation and during the planning stages."
What about marketing your event, brand or business?
The industry is changing and so should your marketing. In the spirit of receiving industry expert quotes, we wanted to share one from Purplepass' Marketing Director.
Here's her advice on keeping up with the changes in marketing, what's going to get more leads, and further tips on event planning.


Savannah McIntosh
Marketing Director of Purplepass Ticketing


"More marketers are finally starting to move away from sales and into educational content. Not just content about a brand or service, but informative content that is bringing research to the consumer.
We've all seen these CTAs; free eBooks, guides, webinars, case studies, etc.
They are providing leads with comparison posts, reviews, white papers, etc. not necessarily in relation to a service. The goals are changing.
Instead of marketing the product, we need to market the customer.
What are their goals and problems they have?
By providing educational content, you are helping leads figure out the best solution for them, saving them research time, and bringing the answers to them.
Crafting a marketing campaign based on the potential customer and not the product, you're showing them that what you have is something they need to make their lives better, NOT yours.
So we are seeing campaigns move away from featuring a product and now, they are starting to feature the customer and their needs. Something you can try when promoting your next event."
For more marketing advice, planning tips and/or tricks, you can subscribe to receive weekly blog posts from Purplepass below.