What's Next For Event Planners Post COVID-19?
We're living in uncertain times. As an event planner, it's hard to know what's next as the world moves towards recovery from the global pandemic caused by COVID-19.
Let's look at some trends you're most likely to see in the event industry as we all begin to figure out our new normal and move forward.
One of the most important pieces of adjusting to post-pandemic life is to expect the unexpected. There's no precedent for how to go back to the world of events after something like this, and it's important to be flexible and adjust to the new normal.
It will take some time to get back to life as normal, and things may never completely return to the way that they once were. Expect some anxiety and pushback from your employees when they see that even as live events return, they look different from before.
According to Joe Pinsker at The Atlantic, even as the curve flattens,
"More out-of-the-house working and socializing might take place, but this would still be a world with rigorous hand-washing, well-smothered sneezing, and generous amounts of hand sanitizer (and suspicion of anyone who disregards these public-health norms). In all likelihood, people who can work remotely or order food via delivery would still do so instead of leaving the house."
Besides changes in how live events function, the marketing of these events will need to change.
Changes in event strategies and approach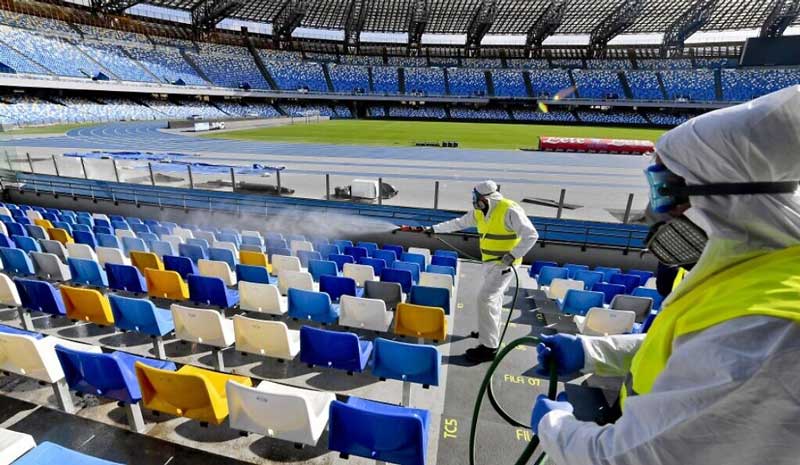 According to Jed Pearsall, President of Rhode Island research firm Performance Research, it would be a mistake for event organizers in the United States to use the same marketing strategies of the past.
Guests will be apprehensive when it comes to going out in public, and you'll need to be up front and transparent about the ways you're keeping them safe.
According to Pearsall,
"I've seen some articles with event organizers saying there's going to be a big pent up demand for live events, but I actually think it's going to be more of a wading back in than diving straight back in."
The return to live events may cause having some difficult conversations with potential attendees.
According to MIT Technology Review Editor in Chief Gideon Lichfield,
"I predict that we'll restore the ability to socialize safely by developing more sophisticated ways to identify who is a disease risk and who isn't, and discriminating—legally—against those who are."
If this harrowing prediction rings true, it means that event space may not simply be limited by the number of seats and the distance that must be between those seats - things may need to go a step further to keep attendees safe.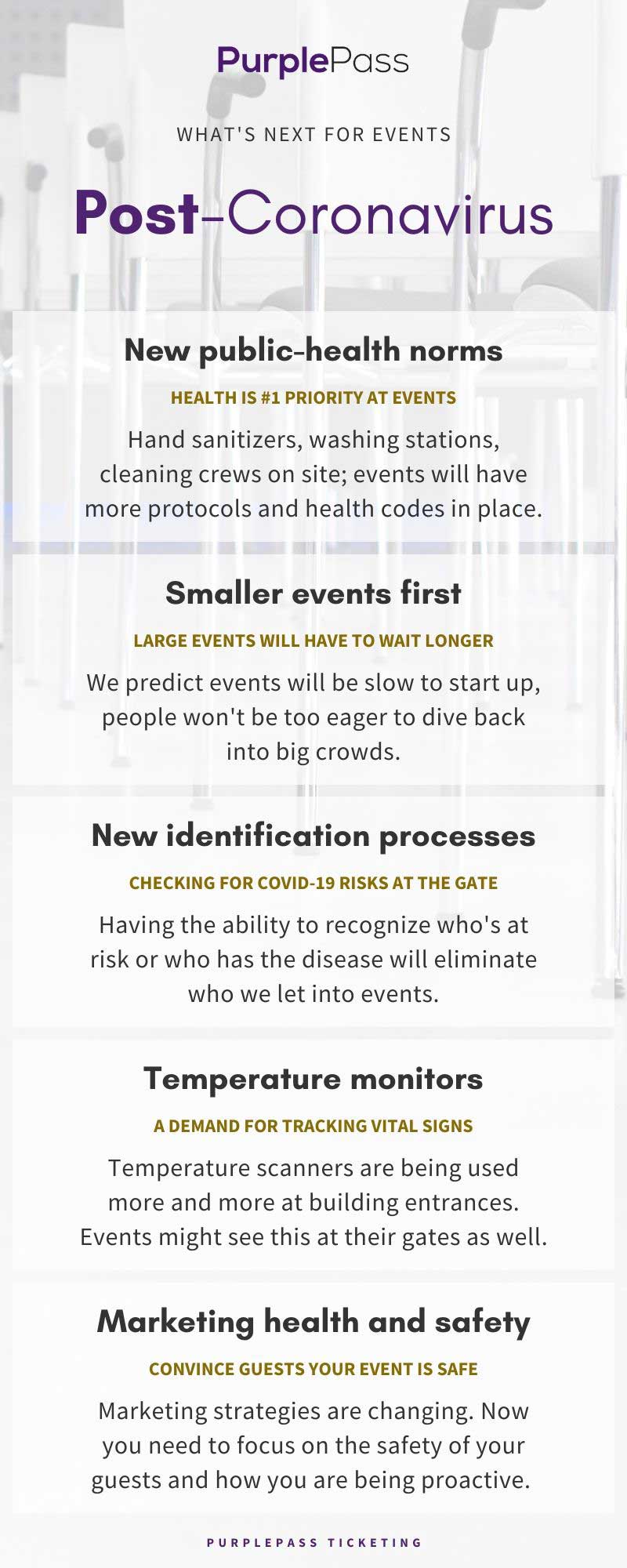 Lichfield also discusses a world in which we track movements in a way that's new to most people in the United States. He discusses a world in which phones keep track of movements, and relay that information to airlines in order to let them know who can and cannot fly.
Of large events, Lichfield says,
"There'd be similar requirements at the entrance to large venues, government buildings, or public transport hubs. There would be temperature scanners everywhere, and your workplace might demand you wear a monitor that tracks your temperature or other vital signs."
He also mentions that as a vaccine is developed, some events may ask for proof of immunity, much like a school requires a vaccination record for new students.
As we wait for the world to return to its new normal, as event planners, it's important to continue doing what we've always done - albeit in a different way.
We provide people with a welcome distraction from the hustle, bustle and stress of daily life. We welcome people into our world and give them an escape from the grind of work and home.
What we're doing right now looks different, but our ability to uplift and lower stress for the population at large is more important than ever.
While our jobs are changing, they're certainly not going anywhere.
Need to postpone your event? We make it easy
Rescheduling your event can be done within
your Purplepass account; it only takes a few
seconds!