What to Include in Your Registration for a Food Festival
Hosting a food festival is a great way to bring people together over delicious foods and unique cuisines. If you are planning to host a food festival, and you are using your event ticketing software to help streamline the process, there are a few things to include in the registration for your food festival.
Customizing the registration process of purchasing tickets and registering for your food festival event can help to maximize your reach and, ultimately, the number of tickets you can sell.
1. Program Outline
When planning a food festival, it is important to include your program's outline in the registration itself. Include a detailed page or link with info on
Food options
Drinks
Schedules and shows
Participating vendors
Parking guides

and any other details that apply to the food festival itself.
2. Custom Passes
Offer the option of purchasing custom passes for your food festival, depending on the type of foods you are serving, as well as the various cuisines or specialty items that are being presented.
Offering early access passes, festival/multi-day passes, and even special access to beer gardens or wine tastings are all possibilities for custom passes.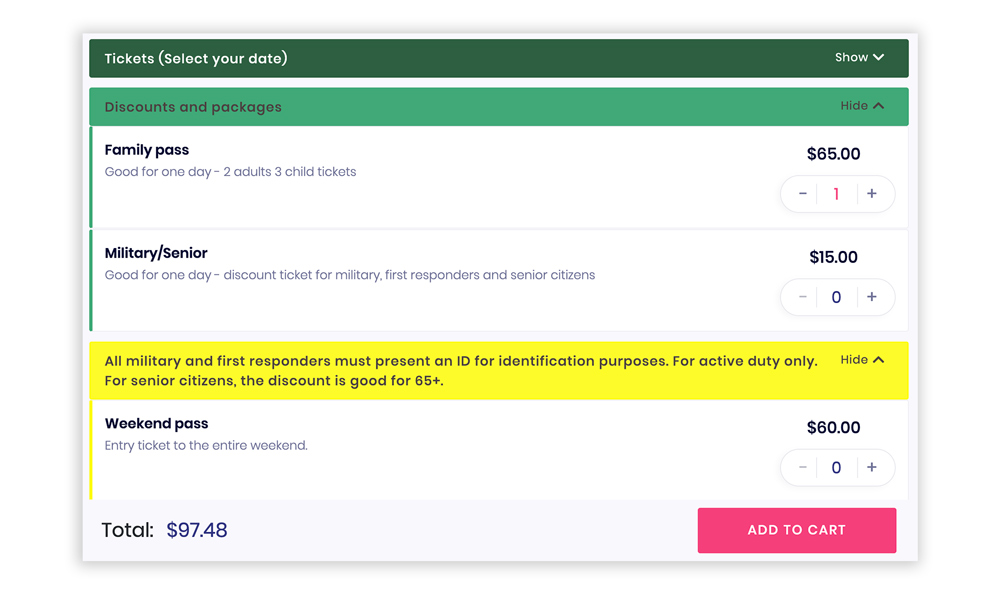 Offer custom passes to military members, veterans, seniors, and even children. Other pass ideas may include
Discounts for purchasing tickets online and in advance
VIP tickets
Weekend passes, depending on the duration of your food festival
Single day passes (if multi-day)

3. Multiple Showings/Viewings
If you are hosting tastings and specialty shows throughout the festival, ensure that there are multiple time slots available (if possible). Offering multiple time slots for different socialite shows, access to the beer garden, or even access to wine tastings can increase attendance and overall engagement.
Because not all of your guests will be able to attend every event, it makes sense to guarantee many time slots for any of the specialty sections or sub-events hosted at your food festival.
4. Terms and Conditions
When creating the registration for a food festival you are hosting, always include terms and conditions that are required of any guests and attendees in your event app or on your event's official website or landing page.
Providing potential and expected guests with an overview of rules and terms and conditions for attending and partaking in the event can help with protecting you as an event organizer. If your event requires vaccinations or a COVID-19 vaccine card as proof, be sure to include this information when creating the registration for a food festival.
5. Transportation and Parking Options
Always include transportation and parking options when planning any event, whether you are planning an intimate gathering or a massive outdoor festival, such as a food festival.
Offer information regarding public transportation options, parking solutions (both public and private), as well as any parking passes that may be available in the nearby areas.
6. Social Media and Follow Links
Include your organization's social media and follow links when developing the registration for a food festival you are hosting.
Garnering followers via social media and online can significantly increase the overall reach you can get when promoting your upcoming food festival. Use special event-specific hashtags to encourage others to spread the word about your festival while providing you with free marketing and advertising across many platforms.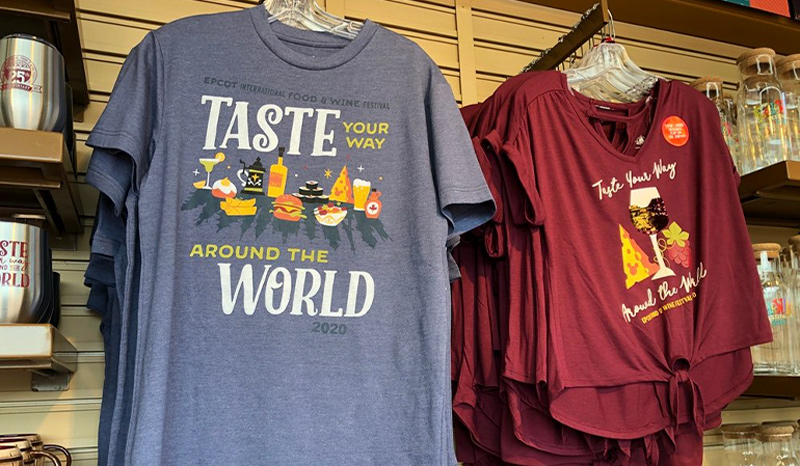 7. Concession and Merchandise Sales Online
If you plan to sell merchandise and event goodies for your food festival, you might offer concession and merchandise sales online via an online ordering portal or event ticketing system.
Selling concessions and merchandise online will drastically cut down on purchase wait times and the length of lines near the actual merchandise booths available. You can also provide the option of purchasing items with the use of an event app to pick up merchandise and concessions in person to help streamline the process.
8. Links to Sponsors/Vendors
When hosting a food festival, provide a link to sponsors and vendors who are working the festival and who are presenting their own foods and drinks.
Providing an in-depth directory of sponsors and vendors can also help incentivize users to purchase tickets and attend the festival themselves, especially if your vendors are in high demand or extremely popular in your region.
9. A Volunteer Sign-Up
If you are interested in enlisting help to plan and manage your event, consider offering a volunteer sign-up for those in your local community. Creating a volunteer sign-up is ideal if your food festival features an array of food vendors and sponsors from the local area.
Those in the local community will be more likely to volunteer to give back if they believe that the efforts they are providing will help those near them. Volunteers can help with everything from managing logistics to coordinating the setup and management process of the festival you are hosting on the day of the event itself.
10. Your Refund Policy
Anytime you are hosting an event or a food festival (regardless of size), it is highly advisable to include information about your refund policy when creating the registration for a food festival. Including refund policies and information can prevent confusion and upset, especially if someone requests a refund for a festival ticket when there are no refunds available.
Always include refund policies and information directly on any event or festival page you have created to cover your own bases and to minimize disruptions in the flow of hosting the event itself.
Developing event registration for a food festival does not have to be complicated or stressful, especially with a basic outline to help get you started. Creating your registration for a food festival and implementing a personalized experience has never been easier than with event ticketing software such as Purplepass.