Allow Customers to Upload Files at Checkout (Proof of Vaccination, Liability Waivers, Permits, etc.)
If you have ever hosted an event that requires proof of ID or even a vaccination card, you are likely to understand the hassles that come with the process.
When you want to streamline collecting additional data, images, or files from customers, you can do so within minutes using the latest tool released by Purplepass.
Purplepass introduces new tool for uploading files

The File Upload tool by Purplepass was designed with convenience in mind. With today's various travel restrictions and limitations for COVID-19 and vaccine status, the mere thought of planning and coordinating an event can cause you to feel stressed out.
With the File Upload tool from Purplepass, you can request customers to upload proof of vaccination, proof of a negative test, or any other type of information or identification that you request at checkout.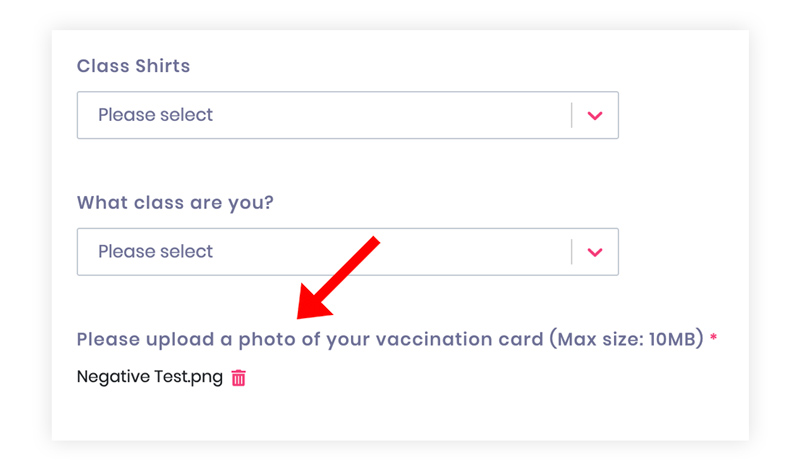 Ability to upload files at checkout (benefits)

Using the File Upload tool is extremely beneficial for those who are living under quarantine restrictions, or for those who are interested in taking additional precautions when hosting events or requesting proof of COVID-19 vaccination.
Some more notable benefits of the File Upload tool for event planners include:
The ability to request proof of identification, vaccination, or a negative COVID-19
Collecting waivers for sporting events or special activities
Collecting photos/images for badges and volunteers
Access to all uploaded files in advance (less to do at the gate and fewer interactions)
The ability to collect, store, and organize all files that have been uploaded and shared with you in one central location.


Adding the file upload feature to your event checkout page

Adding the File Upload tool to an event you are hosting via Purplepass is easy and only requires a few steps.
Login to your Purplepass dashboard

Click "My Events" in the top navigation bar if not already there

Select "Edit" or create a new event


Scroll down your event's page to the section labeled "Additional Options"

Locate the header "Add questions to ask during checkout"

Check the box and select "Add check out question", a pop-up window will appear



Choose where you would like the question to be asked and enter the question or statement

Choose between "Ask question once per order", "Ask question once per ticket item type" or "Ask question for each ticket item purchased" from the options presented based on the type of event(s) you are hosting and your individual requirements.

Select "File Upload" from the "Question type" dropdown menu


Check the box next to "Required" to require guests to upload a file in order to complete the order
Select "Save Question" to add the question to your checkout process
Viewing files uploaded for an event
After guests complete their order, you can view the files they uploaded by
Selecting "Tools" from the main navigation (located in the top navigation bar)
Click the "Custom Questions" icon to load the Custom Questions subsection, where all of your events with custom questions/file requests will appear

Choose the event you would like to review from the "Select Events" dropdown bar
Select and/or deselect the questions you would like to see the answers for based on the files and information you are tracking

Click "Choose Answers" to generate a list of all answers and/or uploads provided
Scroll to the right of the pop-up that includes your generated answers to view more information regarding the types of files that were uploaded, as well as the number of uploaded files available.
Click on the file type or file name that has been uploaded and submitted during the checkout process to view more information or to view the image enlarged and at its original size.
You can also view order details under "Search Orders" in your account.

Whether you would like your event's guests to provide additional proof of identification for an upcoming event, you are hosting or if you simply want to remain in compliance with COVID-19 mandates, the File Upload feature from Purplepass cannot be overlooked.
With the Purplepass File Upload feature, create an event process that is not only robust and thorough, but one that can be seamlessly integrated into any event type you are planning to host.