7 Essential Tips for Managing Your Volunteers
Volunteers can be the backbone of an event; with enough training, practice and work ethic, they can turn an event into a successful one.
However, good volunteer management creates a good volunteer, so it's important for you to know all the essentials for training your staff and how to correctly transform them into the ultimate event team!
Use Purplepass for volunteer registration
We don't just do events. You can create a volunteer
signup page, assign jobs and manage schedules.
1. Have a designated leader at the event gate
It can get chaotic once the crowd starts rolls in, so it's important that you have one person controlling the chaos.
Having a designated leader at the gate is crucial so your volunteers know who to turn to when problems arise or any questions they may face along the way.
That being said, everyone will rely on this person, meaning they need to have the most training and experience on the system to provide quick support to the other volunteers.
The job of this leader is to support the volunteers, but more importantly to deal with any issues the customers face along the way or troubleshooting.
2. Don't skip out on training
However time you think it should take to train your volunteers, triple it!!
Not saying ticketing softwares are complex and hard to learn, but you should take advantage of any chance you have to train your volunteers for a smoother experience at the gate.
The more practice the better.
Share with them anything and everything you can; maps, training material to take home, practice applying wristbands, troubleshooting, etc.
You can never be over prepared.

Tip: If you are on team Purplepass, we offer full on-boarding support to you and your volunteers. We have online training videos, a help center, 24/7 support, onsite help, etc.
To make it even easier on you, Purplepass also includes quick start guides that are printed out and provided with equipment that is ordered for the event.
This way, your staff can skim through the guides before the start of their shift to get a quick refresher on using the system or software, including a list of tips on how to be a ticketing pro.
I highly recommend outsourcing a ticketing company that provides printed instructional material to make training easier on your end.
3. Train again before the event
Did you think you were done training?
You should always briefly go over everything about 15 minutes before the gate opens.
This training can be more focused on reviewing the final event details, rules, ticket prices, policies etc. as a refresher.
You want everyone to be on the same page once those doors open. Even if someone has been doing the job for years, the moment the doors open and a big line of people come rushing in, stress goes up.
Remember, better training = better performance.
4. Set your arrival times
Volunteers should arrive NO LATER than 30 minutes before the doors open so they can get settled in, use the bathrooms, hydrate, head to their stations, while still having time to review and get that 15 minute briefing.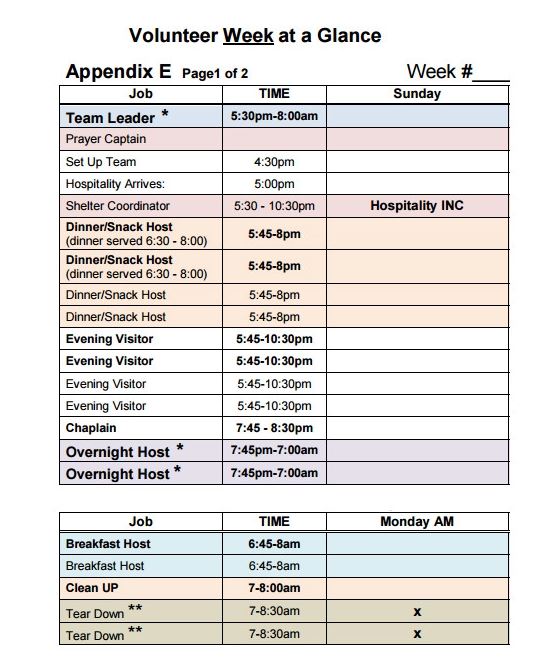 Tip: I would recommend sending out confirmation emails the night before with each volunteer's tasks and arrival times.
Make sure everyone replies and confirms so they know when they are expected to arrive.
5. Review all the rules with the volunteers
It's important that the volunteers understand all the rules and are on the same page with what they are telling the guests.


Some rules they should know before the event:
Age Restrictions
Ticketing prices and packages
Senior prices/discounts
Entry rules for children? Are they free? What age?
What's allowed in the event
Is alcohol sold inside?
Are pets allowed? Emotional support?
Military discounts?


Make sure to review everything; it looks bad on you if your volunteers are telling your customer the wrong information and you have to correct them.
6. Coordinate shift changes
For every break and shift change between volunteers, make sure you have them scheduled with another volunteer prepared to take their places.
For shift changes, make sure the next shift arrives 15 minutes before the shift stops so they can shadow the first shift and transition in.
This way you can guarantee all your positions will be filled throughout the entire event, and everyone arrives on time.
7. Track sales by terminal not as a group
For your volunteers sake, I would recommend tracking all your sales by terminal so it's easier for them to close their station and clock out after their shifts.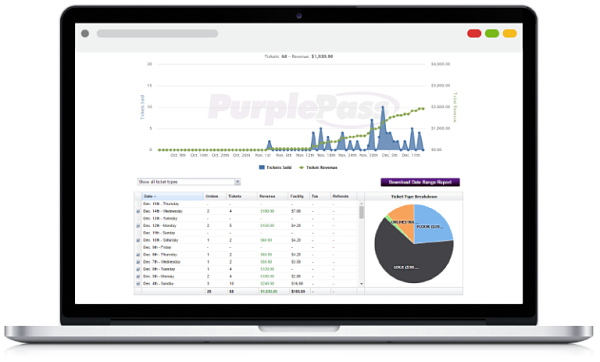 Tip:
Purplepass offers a per-terminal tracking for cash and credit card option on their systems. Along with cash drawer support to help keep your staff organized for check out.
Volunteer management doesn't come easy, especially if you are handling a large staff.
Practice makes perfect right? Practice and try out these tips at your next event and check out other advice we have on managing volunteer teams and parents.
You got this!!
Check registration off your list
Request a demo now to set up, create and start selling
tickets with Purplepass. An all-in-one event
management hub.