Ticket Solution: Selling Assigned Seating Tickets At The Gate
Having a venue with assigned seats can be your solution to eliminating the chaos of guests searching for seats or creating long wait times while they look. With assigned seats, your guests don't have to panic for a good spot because they already have one reserved.
If you really what to impress your guests, consider hosting an event where you present your guests with hard copy tickets instead of
digital ones.
Now, if you are going to hand out physical
assigned seating tickets
at your event gate, it might be tricky knowing where to start. There are
three different ways
we recommend setting up and selling on-demand tickets for assigned seating at your event while staying organized.

1) Print on-demand tickets using a printer at the venue.
Purplepass supports printing on-demand to Boca ticket printers and Epson receipt printers at your event gate or box office. This can be done through our web-based box office for desktop/laptop use; this feature will also be available soon on our mobile iPad-based POS terminals for events.
The pros and cons of printing your assigned seating tickets at the gate:


PROS:
- You print what you need, when you need it.
- You can easily continue selling online while selling at the box office without interfering with each other.
- Easy for issuing will call tickets.
- Works for people that prefer a hard copy of their ticket and not digital.

CONS:
- The cost since you need to purchase/lease/rent a printer.
- Setup. You will have to install and configure the printers.
- You might face issues or have to do troubleshooting while people are waiting for their tickets.
---


2) Order pre-printed tickets for all unsold seats with seating info printed on them
Purplepass can print and ship the unsold seats to the promoter and they sell these tickets at the door. You need to decide if you want the reserved seating tickets we print to remain onsale online or if they will no longer be available.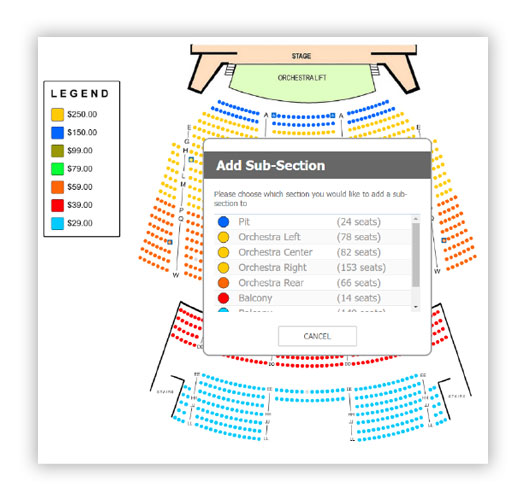 For example, let's say today is Monday and your event is coming up on Saturday. We can print all UNSOLD SEATS. So ask yourself, should those seats still be available to purchase by customers online during the week or no? If yes, then you will have hard printed tickets in your hand that may have been sold during the week.
By doing this option, before you start selling in person, you have to do an audit of sales between the time tickets were printed and the time you start selling to pull out any seats that were sold online.


If you choose NOT to make them available online, you may lose out on potential sales (People don't want to show up to an event without tickets if they don't know what is available or seeing it sold out).
Pros and cons of pre-ording any/all unsold seats:

PROS:
- Cheap and relatively low involvement.
- Don't have to worry about printing at the event, everything you need will be in hand.

CONS:
- Has complications as explained above.
- Slower to process sales as you need to go through hard tickets and find and pick out seats.
- Slower gate time because you have to locate that hard ticket.
- Might deter people from attending because the event looks sold out.


---


3) Order unassigned hard tickets with space to hand-write seating info
This is a hybrid solution to selling reserved seating tickets. You can order the pre-printed tickets, but they don't have seating info on them. Instead, they have something like this:



SECTION:_______ ROW:_______ SEAT:________

Then when you sell seats using the web-based or mobile box office, you hand write the seating info on the tickets in current time.
Pros and cons of selling unmarked, pre-printed seating tickets:

PROS:
-It's easy because you can still sell on-demand using our box office.
-It won't interfere with online sales like #2 above does.
-It's easy, cheap, no special equipment needed like printers.

CONS:
- May appear unprofessional to hand-write seating info.
- It becomes a less personalized experience for your guests.