The Sarasota Medieval Fair Returns Triumphantly After an Eventless Year
Hail fellow!! After an eventless year because of COVID-19, the Sarasota Medieval Fair is back and celebrating their 17th annual fair.
The fair is not only embracing a new location for their fellow Knights and Queens to gather, but is creating a safe space for all jousting, wresting, archery and other medieval events taking place.
The Sarasota Medieval Fair is back!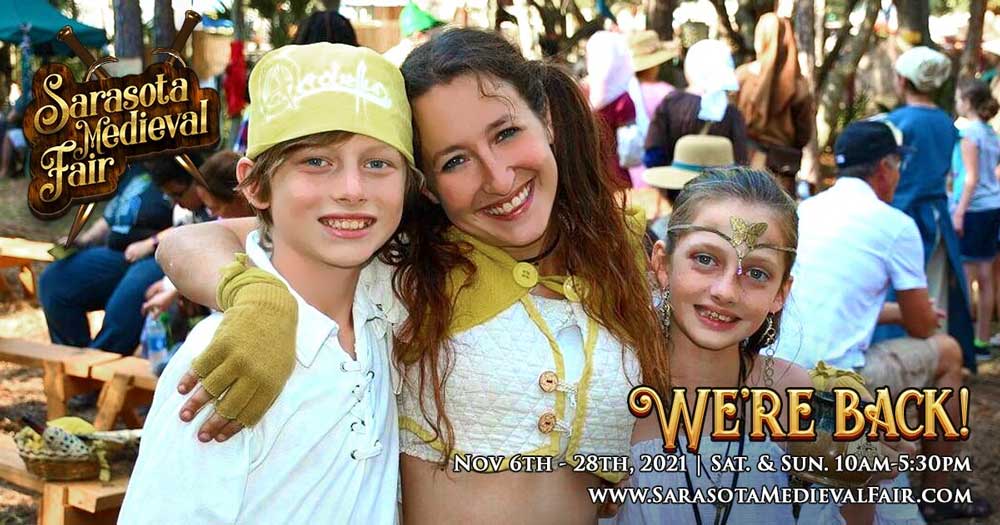 To welcome back the medieval fair with a bang, this year's theme is embracing the Scottish, setting the scene for the year of 1298 AD!
When: November 6th-28th (every weekend on Saturday and Sunday)
Time: 10am to 5:30pm, rain or shine
Where: Woods of Mallaranny. 29847 FL-70 E. Myakka City, FL 34251
The new location announced along with the return of the fair this year is being used to better support the historic medieval atmosphere of the event. The Woods of Mallarany is an inspirational setting of 47-acres filled with endless grass meadows, winding creeks and sublime oak trees.
Finally, local artisans, vendors, performers and guests can be brought back together again!
For directions to the fair's new location, the Woods of Mallaranny is located right on SR-70, approximately 13 miles east of I-75 (moments past Lakewood Ranch and across from Dakin Farms). Visit the Map & Directions page for more details.
Exciting Entertainment and Themes
The stage is set for Scottish vs English, Battle of Falkirk, 1298 AD. Plus, themed weekends!
Weekend themes include Plaid Parade, Highland Hijinks, Tapestry of Tales, and Papa Noel Celebration. In short, it is encouraged to in costume!
For more info on weekend themes, click here.
Guests can also expect multiple medieval-themed shows throughout the weekends including jousting, combat, Wheel of Death, Ronin Taiko, rope-walking with Jesters, Celtic tunes and so much more! Plus special appearances each weekend from performers, crafters, artisans, etc.
It's safe to say the Sarasota Medieval Fair is coming back strong and ready to celebrate the new year.
Health and Safety (Medieval-style)
The 2020 fair was canceled, like most events that year, because of health and safety concerns from the coronavirus.
This year the multi-weekend fair will take place at a new, outdoor location. All guests are encouraged to keep a safe distanced between other parties when possible.
All crew will maintain cleanliness and sanitation throughout the entire festival; following protocols for running a touchless event! Huzzah!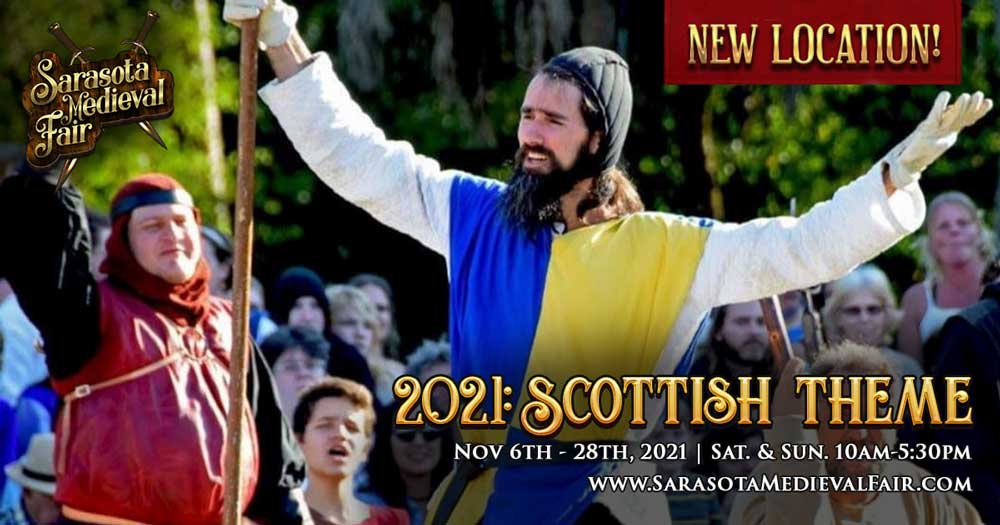 Non-profit partners and fundraisers
The Sarasota Medieval Fair is not only bringing together local performers, vendors and medieval enthusiasts, but serves as a fundraiser for multiple non-profits.


These nonprofits include:
· Streets of Paradise
· Humane Society of Manatee County
· Tickets for Kids Charities
Tickets can be used for any single day, or you can catch all the fun and excitement by purchasing multi-day flex passes to the Sarasota Medieval Fair.