Planner's Guide for Hosting a Virtual Tasting Experience
That's right, you heard me. A VIRTUAL tasting event; beer, wine, dessert, whatever guests will be experiencing at your event.
Before we get in to the whole aspect of being virtual, let's define what we would consider a tasting experience. A tasting event is defined as a gathering of people that are sampling or evaluating food and/or drinks. The point of the event is to have guests learn about the different combination of flavors and ways they can enjoy what they are sampling at home.
Stream your event with new widget!
Keep the streaming process on your page
using Purplepass' new live stream widget.
For example, common tasting events could comprise:
Alcohol
Desserts
Exotic foods and delicacies
Coffee
Tea
Chef specialties and family dishes
A signature brand

With our current state of the pandemic, event planners are limited to either very little capacity at events with strict protocols or virtual events. While tastings are usually a in-person group activity, consider bring the experience to your guests…and here's how.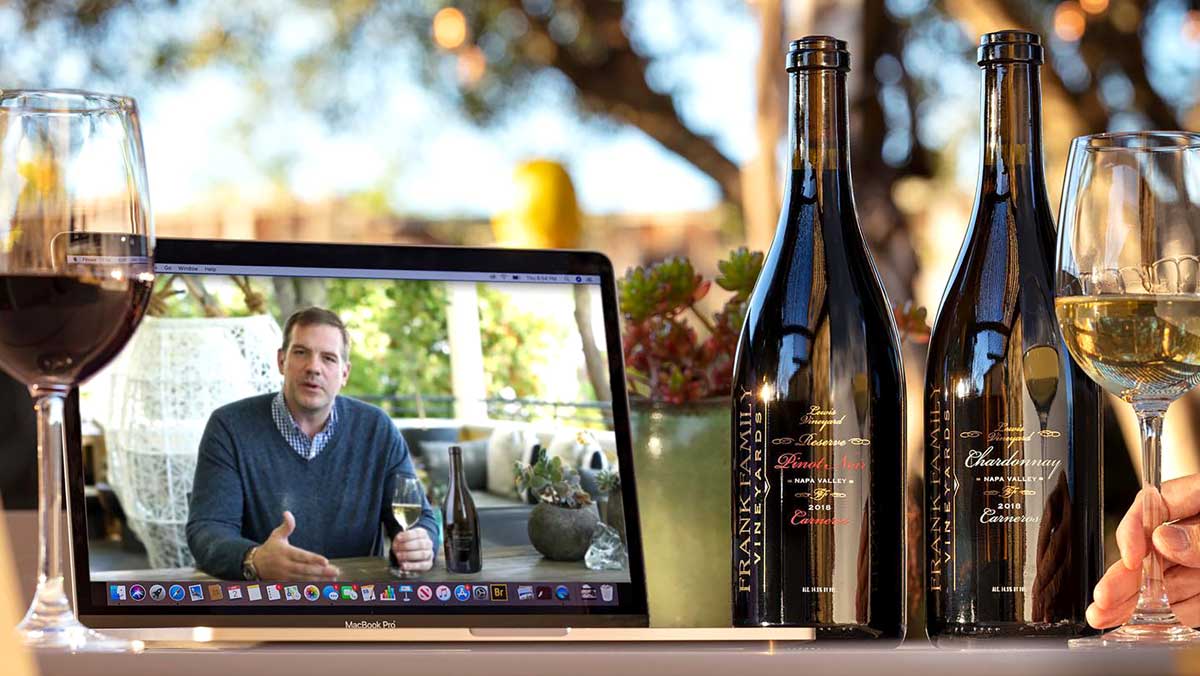 1. Start by finding the right streaming software
Of course, before beginning, every promoter needs to make sure they can stream which all comes down to the right software. Now, I can't tell you the exact software to use because every event is different.
When picking your streaming service, start by creating a list of features and online support your event will require. For example, having a live chat, providing breakout rooms, support for multiple streams, etc.


Start your research with the following software:
Once you select your software, experiment with the unique features to ensure you aren't missing out on any helpful tool. Do some test runs with friends and rehearsals at least a few times before the actual event.
2. Find the right venue
It's time to set the stage.
When choosing your venue, think about where you would usually host the event in-person. Most likely at a restaurant table top, kitchen or from behind the bar.
Once you know your setting, try to recreate that in your stream. If it's a beer tasting, position your host behind the counter as if they were actually serving their guests. Whether it's in-person or online, the venue and backdrop can help contribute to the overall experience.
3. Delivering the tasting experience
How are you going to the deliver this tasting event?
Yes, I'm talking about your action-plan and agenda for the day, but also physical deliveries. Let's start with my first point.
Planning your virtual tasting
Just like an in-person event, the host needs to plan out the entire time they are with the guests. What they will sample, in what order, other extra activities, their introduction to themselves and the business, etc. Leave a buffer room in the program if guests need to log in online or are new to virtual events.
Tip: Along with a confirmation, provide guests with an instructional guide for logging in to the event on the day. Even if it's a simple process to you, it might be difficult for others.
Delivering the experience
What are your guests going to be trying; beer, wine, desserts, fancy cheeses?! Whatever it is, don't forget they aren't actually with you.
You can't hand out each entrée in person. Instead, prior to the event, guests should get sent all the items they will need to participate in the event. If it's wine tasting, they will require a sample of each wine being presented, plus any food items and parings to go with it.
The sample box can be sent at anytime with instructions of how to store the products before the event. Take into consideration when your online sales will end depending the shipping speed.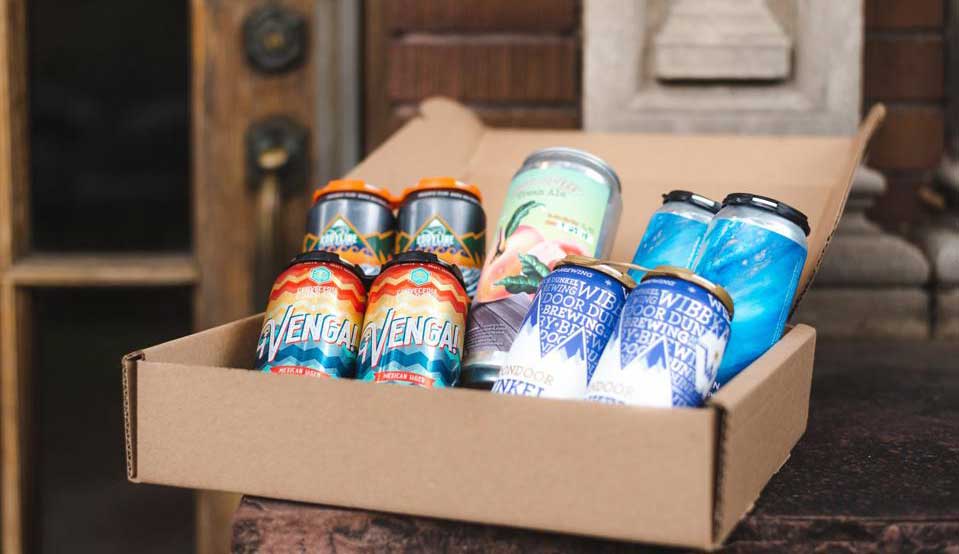 Tip: You might not be able to deliver everywhere or maybe this is just a local event. Before registering, provide a list of zip codes that qualify to participate in the event and clearly state the shipping times.
Remember, this is also your chance to brand the experience and really personalize it. Use the space in your sample box to include any marketing materials; for example, business cards, event flyers, discounts and promo codes, etc.
Use this opportunity to convert this buyer into a loyal returning customer.
4. Selecting a host
The right host is more important than you may realize.
Part of the experience is the interaction with the presenter. If you had a suitable host for your in-person events, well, they need to be even better for virtual ones.


Necessary skills for virtually hosting:
A confident speaker
Personable and relatable
Tech savvy or at least comfortable using it
A sense of humor
Experienced and has vast knowledge on the subject they are presenting
Energetic and fun!
While you might already seek out these qualities, it's important to emphasize how crucial they are for events online. Your guests may already feel a disconnect because of talking through screens, so you don't want to further that with a mediocre host.
5. Create the ultimate ticket tasting packages
Whether you're offering a onetime event or recurring experiences, there is more revenue to be made starting with your registration. Why settle for a flat-rate ticket option when you can offer more?
Obviously, the ticket deals you offer depends on your event type and the options you have available, but I encourage you to be innovative.
Get creative! And you might find ways you pull in some extra revenue.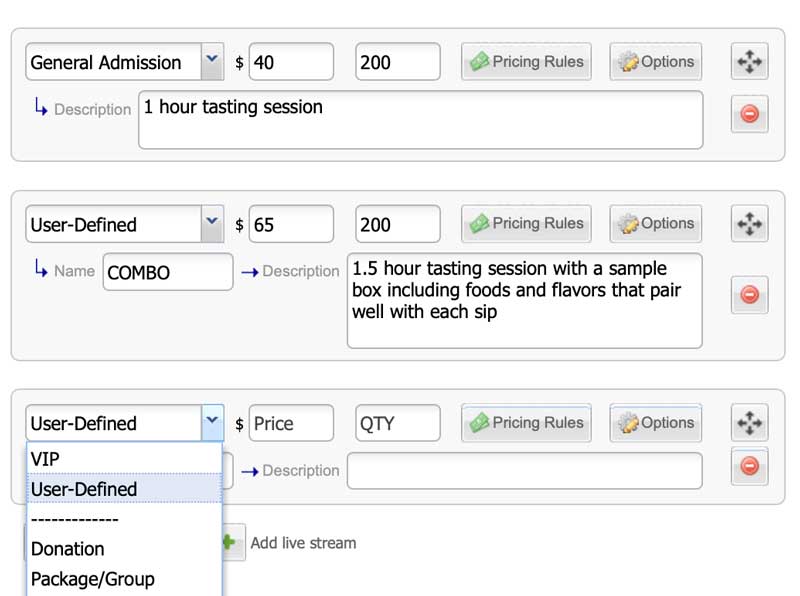 The ticket packages below are based on a virtual wine tasting event:
General admission - an hour tasting session sampling five best sellers


General admission + pairings - an hour tasting session with a sample box including foods and flavors that pair well with each sip


Group discounts - offer a discounted rate (buy 5 tickets get the next one free, etc.)


Membership opportunities - give customers the option to also purchase a membership or sign up for a wine club at checkout


VIP tasting - exclusive wine samples, a bottle to keep after the event, also pairings included
6. How to market your virtual tasting
Although it may seem like COVID has been around for a while, we as a society are still adjusting. People are constantly exploring their options, looking for safe ways to enjoy events. With that in mind, it shouldn't be too hard to get people excited about a virtual tasting experience.
You just have to market it right.
Marketing is an enormous world! So keeping it short and get to the point. Here is a list of ideas to get the ball rolling and get the word out about your tasting rooms online.
Start with social media. Post stories, sneak peeks, videos, create a hashtag and get your current followers excited about the event


Create a sharable video. This can include content on selecting wine, food and drink combos, cooking with wine, DIY accessories, you name it! Get creative, make it unique and worth sharing. In the video you can include a link or mention your virtual tasting rooms at the end as a call-to-action.


Make your content sharable. For example, if you create a video on selecting wine, post it on platforms where people can share it. YouTube, Twitter, Instagram, Facebook, luckily for you, in today's world, you have a lot of options. If you don't know where to start, do some market research to understand where your niche hangs out and post to those sites.


Do some PR. Traditional ways of marketing aren't dead. Press releases, radio shoutouts, newspapers, fliers and printed material are still as effective if not more depending on your audience.


Share how your event is unique. This shouldn't be too hard, as virtual tastings and delivery services are still pretty new! However, that doesn't mean you're the only one doing it. Start by researching your competition and find out how they're running their events, what they offer, and maybe even attend an event. Then, figure out how you can improve on your own online experiences; unique ticket packages, cheaper delivery options, exclusive deals, special guest presenters, etc.


Work with influencers. Influencers are the people we see on social media, in commercials and ads every day. This is someone famous or recognizable by the public, holding a product in their hands or endorsing an event online. Companies work with influencers to tap into their marketplace and expand their audience reach. If you're interested in working with influencers, check out this blog.


Start a blog and start writing! If your business is all about imported cheeses, for example, then cover a range of topics related to what you're selling. Some ideas might be
A guide to pairing your cheese with wine
3 reasons to buy homemade cheese
The ultimate guide to cheese and wine pairing
9 ways to sell more cheese at farmers markets

Of course, you'll need to know more than these 6 tips when it comes to hosting events online. Use this guide as a starting point when planning your event. If you need to brush up on your technical skills, here are a few articles with tips on streaming an event:
Live streaming ticket type and widget for virtual events
5 reasons you should be streaming past events
30 quick tips for hosting a virtual event
Understanding virtual events and how to plan them
Master list of virtual event ideas for the top 6 industries
Need help getting started?
A representative can help get your account
ready, show you beneficial features and
make recommendations for your event.