10 Revenue-Boosting Ideas for Online Fitness Instructors
Looking for more ways to up your income while instructing classes online? We've compiled 13 revenue-boosting ideas that work for any health and wellness or fitness course online. Anything from boxing and Zumba to a course on nutrition or mastering the art of meditation.
An alternative to Eventbrite
Need an inexpensive ticketing solution
with double the features and creation tools?
Request a site demo with Purplepass below.

1. Offer limited time deals


So, what really happens to a potential customer when they see the words "Limited time offer"? If they're like me, a few questions might be crossing their minds.
How much could I potentially save?
Would I be missing out on a great deal?
Originally I would not try this, but since it's only being offered for a limited time, should I go for it?
Do I need to do this now in order to save money later?

If they're like me, the typical customer will question everything when they see those three powerful words...that and "Sale". It's called FOMO, fear of missing out, and it's real! Using these types of offers instills a sense of urgency for customers to either get in or get out.
With the right offer, it could be the one part that converts that indecisive lead into a customer.


A few examples of limited time offers:
Early bird specials - An exclusive offer that expires on a certain date and is usually released in advance
Combo deals - For example, if a customer signs up in the next week for a class, they will get the next one free
First X amount to sign up - Another way to create urgency. "First 50 to register will receive a free t-shirt" or something along those lines.
You get the idea.
2. Use referral programs


The second best way to encourage sales and lure in new leads…referral programs. If you aren't familiar with this marketing tactic, there's a pretty high percentage participated in one without realizing it.

"Refer a friend and get a $50 discount on your next purchase if they sign up" - it's usually something along those lines. Uber uses this type of program to encourage social shares among friends. Any avid user of Uber would never pass up the opportunity to receive a discount on their next ride if all they had to do was share a code.
It's as simple as that.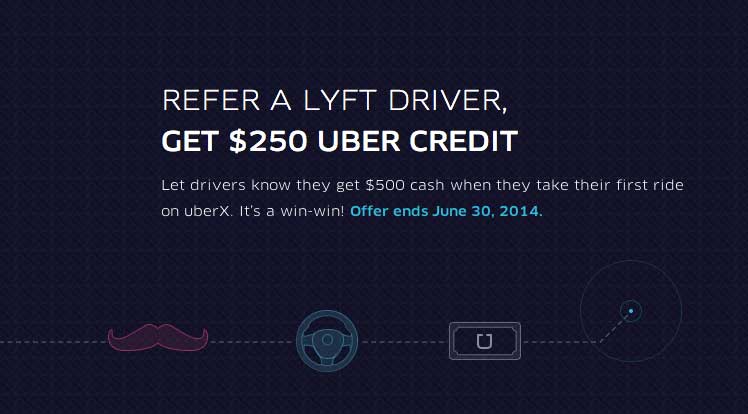 If you're looking to fill up your virtual workouts, offer a referral program at checkout. After someone signs up for a class or package, offer them the option to send a code to a friend or workout buddy.
If a friend uses their referral, the customer can receive something in exchange (gift cards, merchandise, gear, class discounts, etc.).
Creating tracking links for referrals
Use customer tracking links to track referral
programs, influencers, partnerships and more.
Request a free demo to learn more.


3. Create custom packages


Time to get creative! What are some enticing package deals you can offer at registration?


Examples of customer packages for virtual workout sessions or courses:
The ultimate class pass: Rather than paying for one class at a time, offer a package deal of 5+ classes at a discounted rate.
The monthly deal: Gives participants the option to pay upfront for an entire month at a discounted rate. This will encourage a better turnout rate and likely result in a loyal customer.
The MVP: Whatever you choose to name it, this package should be the ultimate deal! Customers can pay for the royal treatment with an exclusive package consisting of all the works. Merchandise and equipment gear, private online training, a nutrition course, and whatever else you want to add.


However, in order to craft such deals, you need a registration that offers the flexibility to do so. Start by determining what packages you want to create, plus what unique features and tools you might need from a ticketing software.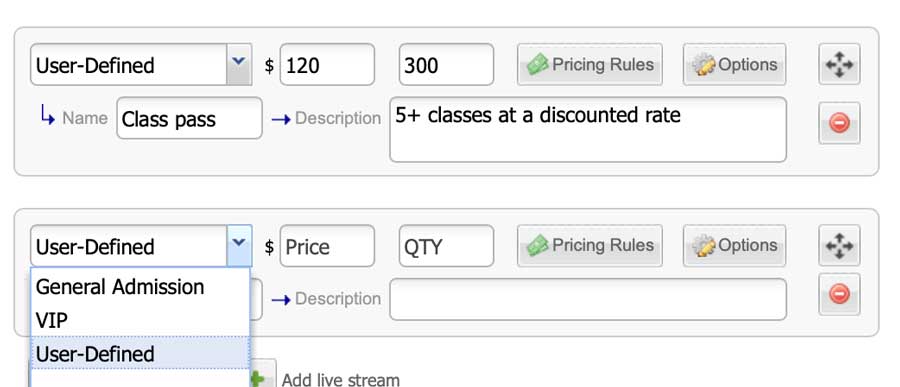 Tip: Loyalty programs might not be something you sell, but it can be something you build. Reward programs are a straightforward way to show customers you care and thank them for their continuous support, while building a loyal fan base.
4. Stream pre-recorded workouts


If your classes are in high demand, consider selling pre-recorded sessions. It doesn't always have to be live as not everyone's schedules are the same.
For those who missed out, consider selling past recorded events at a discounted rate. Streaming pre-recorded events requires no extra work from the instructor, and it opens up an additional revenue stream.
5. Create an online training program


Aside from your weekly classes online, offering certification programs, trainings and workshops can extend your business and revenue. First, determine what you can specialize in for teaching programs; a subject that you or your instructors are also certified in with experience and hours teaching.


Here's where to start when building your online program:
Define the program's objectives and purpose

Define the need for the certification or training program

Select your program by determining your service and creating a course around that. The training should be niche specific, not overly broad.

Determine the 5 Ws plus a Y! Who, what, when, where, why and how.

Develop a course or curriculum similar to a syllabus given out at the start of a class.

Determine how many hours will be required by participates to earn their certificate and/or complete the course.

How are you offering this program? Most likely online until in-person events are allowed again. If online, every virtual class, testing, training and the final exams will need to be considered.

How many members are you accepting into your program? Is there a maximum?

Will this be live or pre-recorded sessions?


We recommend that the entire course be pre-recorded with instructors standing by to answer questions and grade the work. Also consider hybrid sessions. By limiting yourself to only live classes, this will require more time and the amount of students that can be accepted will be limited.
6. Try offering specialty classes


Let's pretend you're a yoga instructor teaching classes online.
General yoga, intro, beginner, and advanced classes are all offered at a flat rate of $10 per session. Now, why not add in some speciality classes?
Yoga for athletes, meditation and breath work, hot yoga, personal sessions and offer them at a higher enrollment price. Not only could this bump up the weekly cash flow, but draw in more interest. By offering specialty classes, you can broaden your reach to other yogis out there looking for more options online.


7. Do live workout sessions
It's important to note, there is a big difference between live and pre-recorded events. Don't worry, it's not a bad thing, they both work! Recorded classes are going to save the instructor time, giving them the ability to put out more classes online. However, don't just stick to pre-recorded sessions. Instead, switch it up now and then by offering live classes (maybe for an extra fee).
There's something special about being in a live virtual workout class. Nothing really has changed, but you feel more connected and in the moment.
With live workout classes, instructors can include a virtual chat or show all the active participants online giving them a chance to instruct them directly. Imagine joining in on a live workout session and hearing your instructor call out your name on the screen!
8. Sell merchandise and equipment online
Need some extra cash on top of your weekly classes? Consider merchandise sales or equipment for classes. Partner with sports brands, equipment companies, or create your own brand and include a place to shop online. Anything from protein powders and bars to t-shirts or yoga mats.
Sell merchandise with Purplepass!
We offer an advanced selling mode
for merchandise sales and ticket add-ons.
9. Build a partnership (influencers)
One of the fastest ways to bump up your participants and overall engagement is by forming relationships and partnerships with other brands. According to a study conducted in 2015, 67% of marketers engage with influencers for their content creations and further promotions.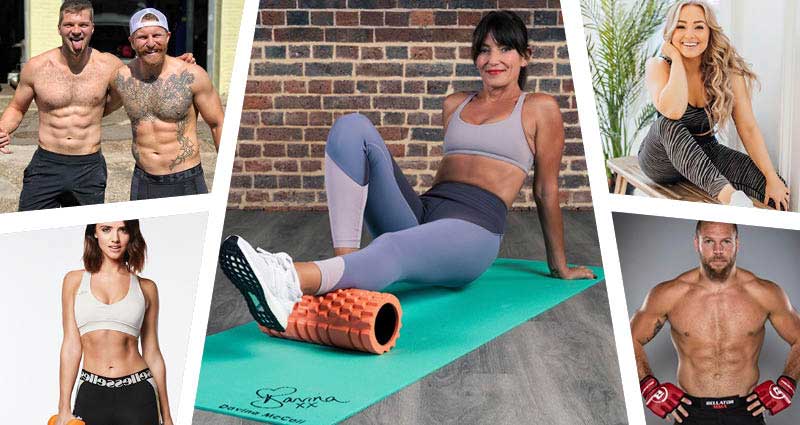 Imagine a powerful influencer on Instagram with 100k followers. They take your workout class online and share a post-workout selfie on their feed tagging your account. That's an extra 100k of people who were introduced to your business followed by a glowing recommendation of someone they trust.
As they say, curiosity killed the cat. Trust me when I say, the odds of their followers checking out your business after their shoutout are high probably.

10. Bring in other instructors
Speaking of partnerships, working with other fitness instructors and coaches out there could potentially create a symbiotic relationship. Both businesses can benefit from one other.
For example, bringing in a special guest instructor each week could offer more diversity to your range of classes and switch up what is being offered that week.
In the same breath, the guest instructor would be benefiting from the exposure of their business and any additional classes they might offer on their end, thus expanding their reach. This could also work vice versa, as they might carry over some of their students to your classes or if you were a guest coach for them.
We might be quarantined to this new virtual world, but that doesn't mean we are limited. By moving online, businesses are faced with the decision to evolve with the changing environment or fight it. The fitness and health industry faces this internal struggle as in-person workouts are no longer safe. We suggest using these ideas to help grow your business online and possibly uncover new revenue streams!