How to Use Partner Access | Give Access to Multiple Users with Purplepass
The Partner Access tool by Purplepass is recommended for promoters that have one event account and want to give access to multiple users while limiting what they can edit, view, etc.
With Partner Access, the domain account holder can grant access to as many users as they want while controlling how they use the account. They have full control over what a user can do, view, and their overall account privileges.
How to use your Partner Access tool

Make sure the person you are adding already has an account registered. To create a promoter account, click here.


How to add a partner in "Settings"
Log into your Purplepass account

Select "Settings" in the top right corner

Select "Partner Access" in the left navigation bar

You will see the option to add an email. Enter the email and click the green plus icon to submit

Once submitted, you will be able to manage their privileges by checking the boxes.

Select "Update" when done.

You can grant access to all events or specific ones.

As well as monitoring how many guests they can add to the guest list.
How to add partners when creating an event
Log into your Purplepass account

"Create a new event"

Select the event type

Scroll down the last section labeled "Additional options"

Click "Assign partners and 3rd party payout options"

In the box, fill in the person's email you want to give access to (you can add multiple partners)

You can select the different privileges and access you want to grant them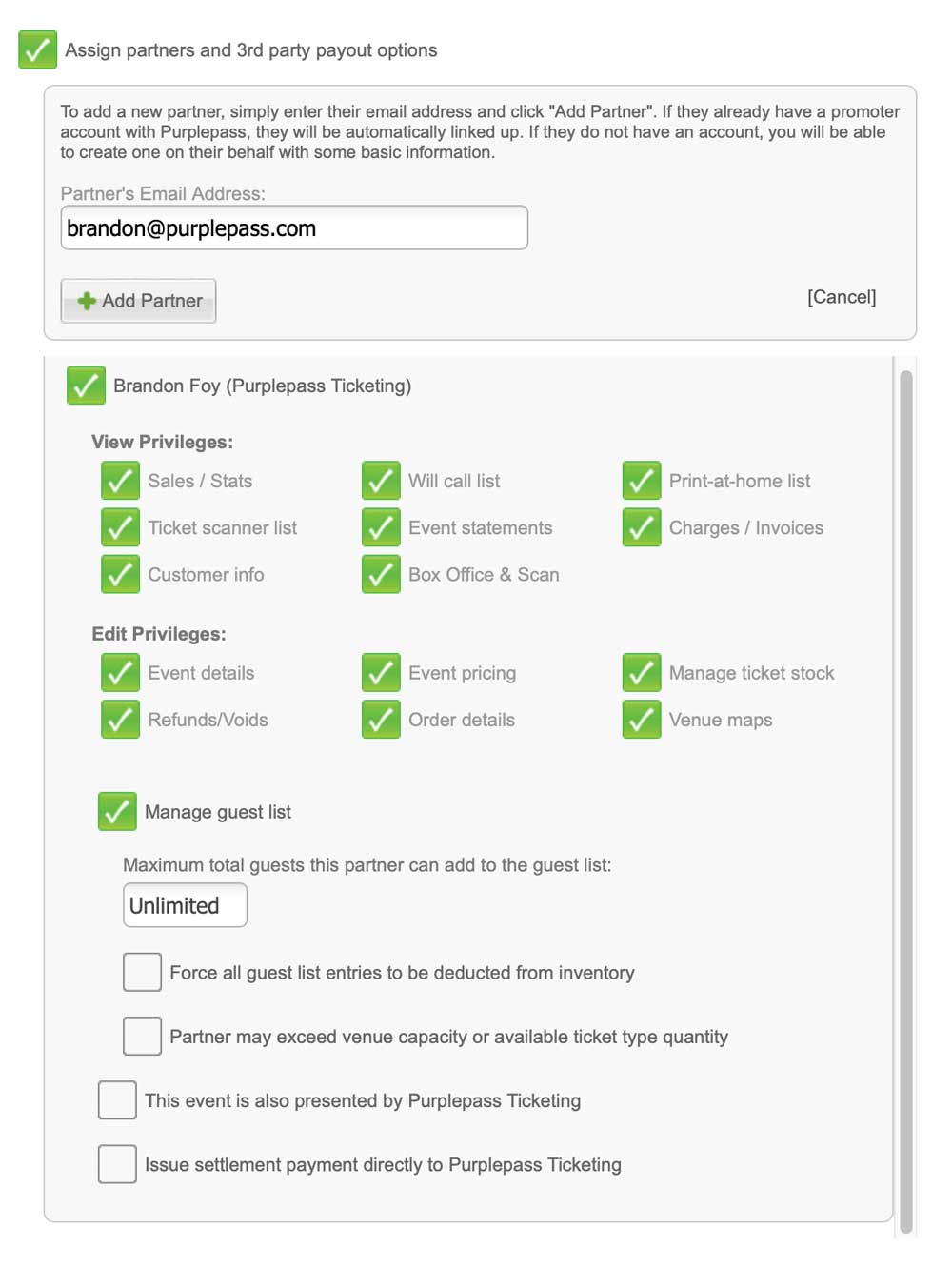 If you add partners when creating an event, they will only be able to access that event.
In Settings, you can give them access to more or specific events.
*** If adding a new partner, they will receive an email asking them to set up their password and account.
Partner access options include:
Privileges
Edit privileges

Sales/stats

Will call list

Print-at-home list

Ticket scanner list

Customer info

Event statements

Box office & scan

Print-at-home list

Charges and invoices

event details

Event pricing

Manage ticket stock

refunds/voids

Order details

Venue maps
Guest list management:
Maximum total guests this partner can add to the guest list:
Force all guest list entries to be deducted from inventory
Partner may exceed venue capacity or available ticket type quantity
This event is also presented by Purplepass Ticketing
Issue settlement payment directly to Purplepass Ticketing