7 Ideas for a Virtual Office Halloween Party
Just because your team is remote, whether that be temporarily or permanently, does not mean the holidays should go unnoticed. It's important to attempt to not only celebrate the holidays but your employees as well.
*** Give people the option to partake in the festivities; if they don't want to celebrate the holiday, give them the option to keep working while others join the party. Don't force people to celebrate a holiday that they might not celebrate themselves.
7 Ideas for throwing a virtual office Halloween party
According to a recent survey by Seamless.com, most employees look forward to their office holiday parties and 51% said they would be disappointed if their office party was canceled.
1. Fun with virtual backgrounds
Whether it's Zoom or another video platform that supports themed backgrounds, kick off the party with a good backdrop. Encourage everyone to set their screens up to embrace the spooky spirit and get the party started.
Just like an office would be decorated for the holidays, why not decorate your screen?
If you're using Zoom - click here to learn how to add and customize backgrounds.
2. Host Halloween trivia
Everyone loves a good trivia!
Depending on the size of the group, you can slip into teams or compete as individuals. You will need a host to read off the questions and keep score for each team. Determine the number of questions, categories, and rounds you will be conducting.
To add in some healthy competition, offer a desirable prize to the winner; like a gift card, cash, or even vacation days!
Popular Halloween trivia categories include:
Candy

Halloween movie classics

Superstitions

History of Halloween

Trick or Treat

3. Send a physical gift or treat!
Who doesn't like gifts!
Send something to everyone participating - maybe something they can use during the party to unify the group. If they know they will receive something, this can give them something to look forward to and boost morale.
Employee gift ideas for Halloween:
Customized cups or 'goblets'

Alcohol, if permitted; people can sip along at the party

Desserts or treats to eat during the party

Gift baskets

Gift cards
These items can also include your company branding for marketing purposes.
4. Halloween costume contest
Yes, just because it's virtual, people can still take part in a costume contest and there are a few ways to do it.
Everyone planning to attend the virtual office Halloween party can either dress in costume or send a picture of them dressed up in advance. During the party, people can vote on their favorite look and the winner gets a prize!
5. Play a game or activity on the screen
This can be a virtual, plugin game depending on the software OR a physical activity and/or game played among everyone in the party.


Here are some activity ideas for a virtual office party:
Murder mystery
Pumpkin carving
Virtual bingo
Potions mixology class
Scary movies or clips
6. Split into department groups
If you have a big office, you can use breakout rooms on Zoom to split up the party into smaller groups. It will be easy to communicate and enjoy the company in smaller groups versus fighting for the ability to talk in the larger ones (depending on company size).
This can be broken up by department or switched around during the event.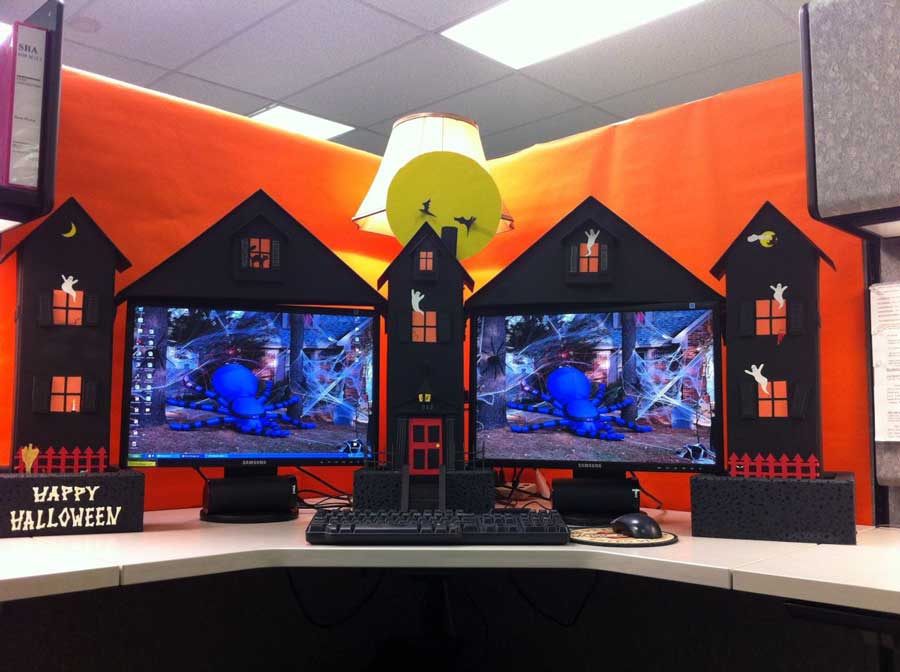 7. Desk decoration contest!
Another contest, yes!! Means another prize as well.
Encourage employees to get into the holiday spirit and decorate their desks; pumpkins, cobwebs, orange and black, whatever they think represents the holiday.
Those that want to participate in the contest can take a picture of their decorated desk and submit the image before the virtual Halloween office party. These images can be displayed on a presentation during the party and be voted on.
Winner (s) will receive a prize!!