Catering vs Buffet: The Pros and Cons for Serving Food at Events
Food and beverage expenses for an event can get quite costly, ranging anywhere from 30% to 50% of an event's budget. Successful event planning requires careful attention to every detail. This is particularly true when serving food at events.
Every choice will directly affect the bottom line.
Once you've decided on a venue, it's time to roll up your sleeves and have some fun. One of the most important decisions you'll make is what and how you'll feed your guests.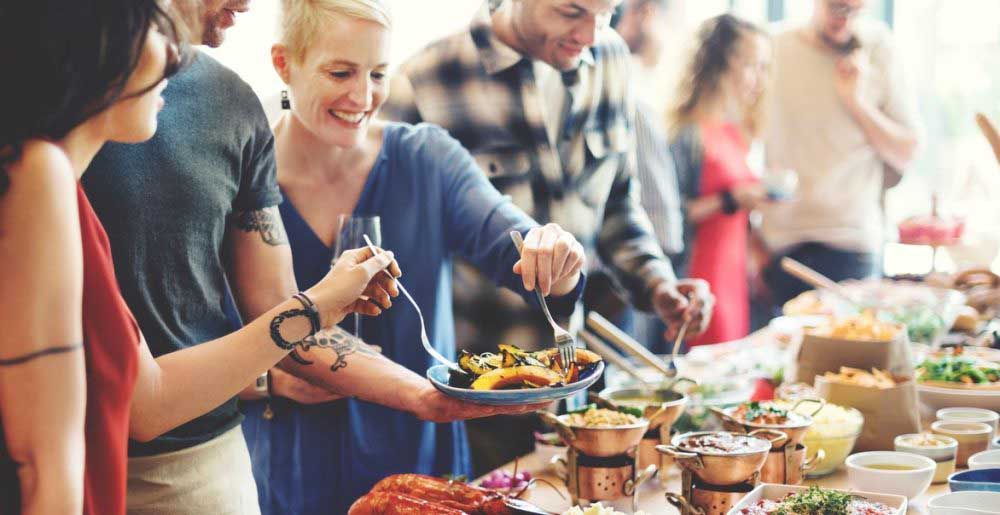 Before you plan the menu, you'll need to determine whether sit-down catering or buffet style will work best for your event. This decision lays the groundwork for a well-orchestrated event. It defines your food and drink choices, influences the floor plan for the event, and affects the final budget.
Plated meals, also known as sit-down catering, as well as buffets, both come with their own sets of pros and cons.
But how do you know which one will work?
Read through our list of advantages and disadvantages to help determine which style works best for your event.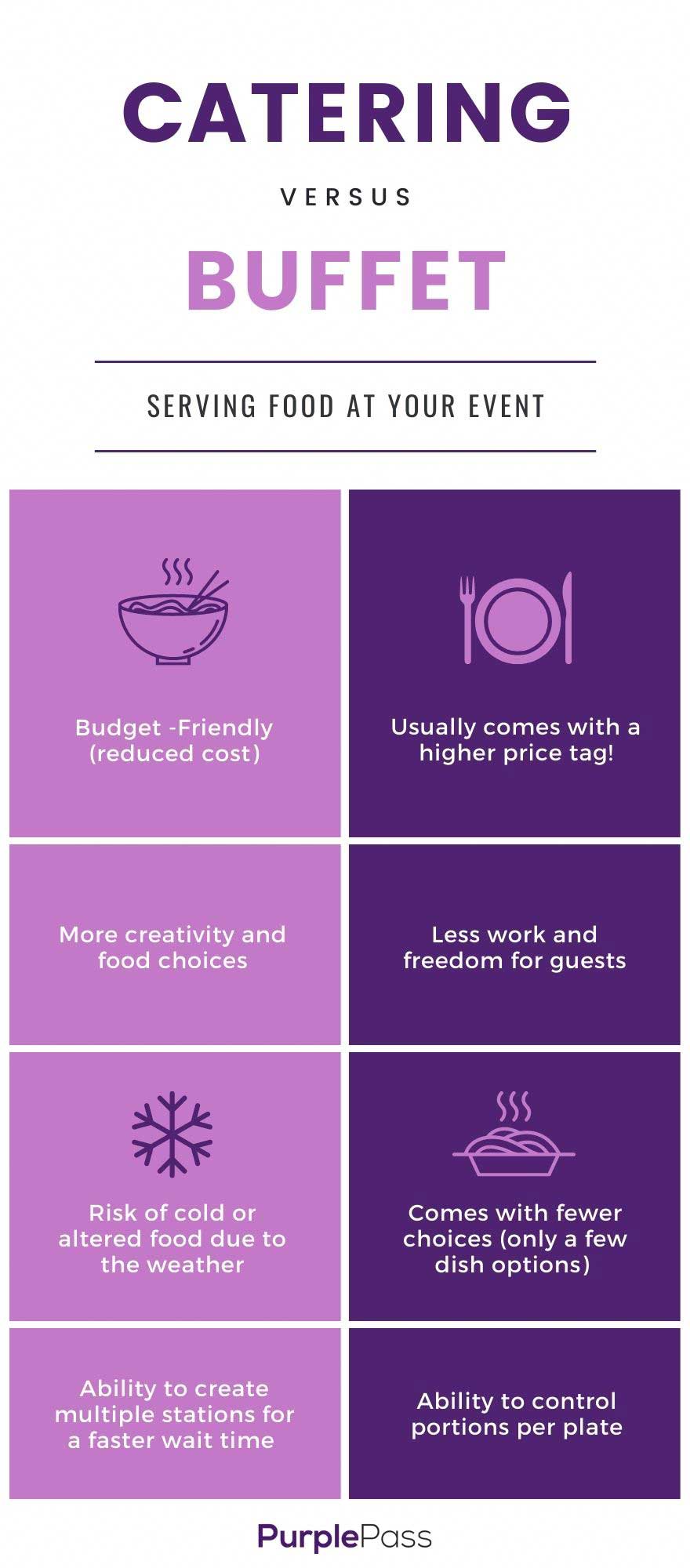 Sit-Down Catering
Sit-down catering is a catering option where wait staff serves guests at their assigned seats. Prior to the event, menu cards go out to each guest.
They select which plated meal they would like and send the card back to you for a final meal count. This is also an opportunity for guests to notify you regarding any special dietary needs.
Pros:
More formal: Treating your guests to a plated meal adds a more formal feel to the occasion. This is an excellent option if elegance is what you're trying to achieve.

More organized: If you have an event schedule to adhere to, sit-down catering can help in managing the flow of your event.

Less work for your guests: The wait staff delivers each course to guests at their assigned seats. This gives them more time to connect with others at their table. It's also a great way to make everyone feel special.

Controlled portioning: Every event planner's worst nightmare is to run out of food. Since each guest selected their meal ahead of time, your caterer should have exactly the right amount of food. No worrying about having too much or too little!
Cons:
More expensive: Serving plated meals typically comes with a higher price tag. This doesn't have to be the case, however. If a sit-down meal is important to you, work with your caterer to select cost-efficient menu options.

Fewer choices: While this option helps control portions, it limits your guests' choices. When selecting the menu options, be sure to choose items that most people enjoy and accommodate dietary restrictions.

More advanced work: Meal cards must be sent out prior to the event. As each card comes in, you'll record their choices. The caterer collects these numbers a few days before the event.

Unexpected guests: Did someone's plus one realize they can attend at the last minute? Sit-down seating leaves less room for guest count fluctuations.
If your goal is to deliver a more elegant guest experience, sit-down catering may be the best option for your event. Don't get discouraged by the disadvantages. An experienced caterer prepares for the unexpected and can offer some tips to help ensure a memorable evening.
Buffet or Stations
Unlike sit-down catering, buffets present food on banquet tables or by station.
Guests walk along the table(s) and select the dishes they want. In most cases, the catering staff is there to serve the guests and answer questions.
Pros:
Reduced cost: In most cases, buffets are the more budget-friendly option. Historically, buffets are 30-50% cheaper than plated meals.

More informal: Buffets are usually more informal. If you're leaning towards this catering option, don't let this discourage you. You don't have to sacrifice elegance with a buffeted event.

More choices: This is a great opportunity to get creative with the menu. You can offer a variety of food choices, ensuring everyone gets the food they want. So, if you have your heart set on a taco bar and chicken and waffles, a buffet enables you to select both.

Guests can go for seconds: Once everyone's visited the buffet, they can go for round two of their favorites if available.

Guest interaction: Buffets allow guests to get up, stretch their legs, and mingle with other guests.
Cons:
Slower process: Buffets can lead to lines, which slows down the entire event timeline. You can control this by calling a couple of tables at a time and having double-sided buffet tables.

Risk of cold food: The larger the event, the more you risk the food getting cold. Work with the caterer to ensure they have a plan for keeping everything at their desired temperatures.

Food waste: Most buffets end up with leftover food. Make a plan for leftovers ahead of time. Not sure what to do with the food? Consider donating it to a local homeless shelter, church, or nursing home.
As with the sit-down catering option, most of the buffet's disadvantages can be turned around as a positive. The key is to partner with an experienced and flexible caterer for serving food at events.
Both catering options are sure to deliver a fun and unique guest experience. When planning the menu, collaborate with your caterer. They can help you come up with a plan that meets the needs of your guests, and delivers the desired outcome for the event.