Collecting Guest Data Before, During, and After an Event
Hosting an event for your business or organization is a great way to draw attention to your brand while spreading awareness about your mission or goals. Whether you are hosting a sporting event for a university or planning an event for vendors and potential business associates, collecting as much data about your attendees as possible can go a long way.
The more data you can collect before, during, and after an event you are planning, the easier it will become to hone in on your target audience for marketing and in future events you host.
Extensive reports for events
Every account holder has access to a range
of reports for tracking event activity.
Collecting Data Before The Event
Before your next event takes place, there are a few ways to collect data that will help to guide you through the planning process of the event itself. The more familiar you are with your intended audience and the demographics you intend to reach, the more likely it is for your event to succeed.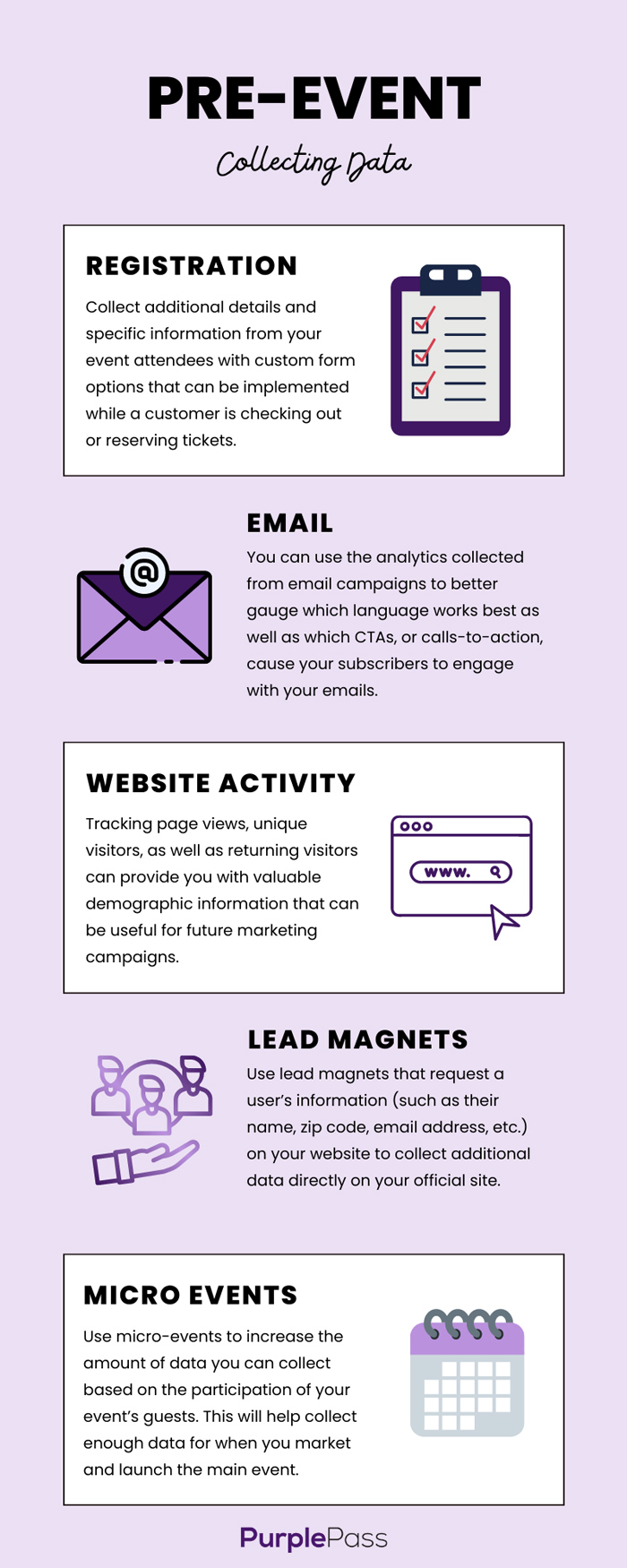 Some ways to help collect data before an event even begins include:
Registration/Custom Forms: Include what is required while purchasing tickets with your preferred ticket registration platform. You can also collect additional details and specific information from your event attendees with custom form options that can be implemented while a customer is checking out or reserving tickets.



Email campaign funnels: Use email campaign funnels to target your prospective guest speakers, sponsors, and attendees ahead of time. You can use the analytics collected from email campaigns to better gauge which language works best as well as which CTAs, or calls-to-action, cause your subscribers to engage with your emails.



Tracking website activity: Always use data collection services to track your website's traffic. Tracking page views, unique visitors, as well as returning visitors can provide you with valuable demographic information that can be useful for future marketing campaigns.



Use lead magnets: Use lead magnets that request a user's information (such as their name, zip code, email address, etc.) on your website to collect additional data directly on your official site.



Use a CRM system for data collection: If possible, use a CRM, or Customer Relationship Management software to keep track of all of your event attendees and their contact information from the data you collect.



Social media analytics: Take advantage of analytics provided by social media platforms, such as Facebook, Instagram, and Twitter to see what demographics are interacting with your posts.



Micro-event participants: Use micro-events to increase the amount of data you can collect based on the participation of your event's guests.
Collecting Data During The Event
While it is important to collect information before an event to help with streamlining the planning process of the event, it is also possible to collect data during the actual event itself.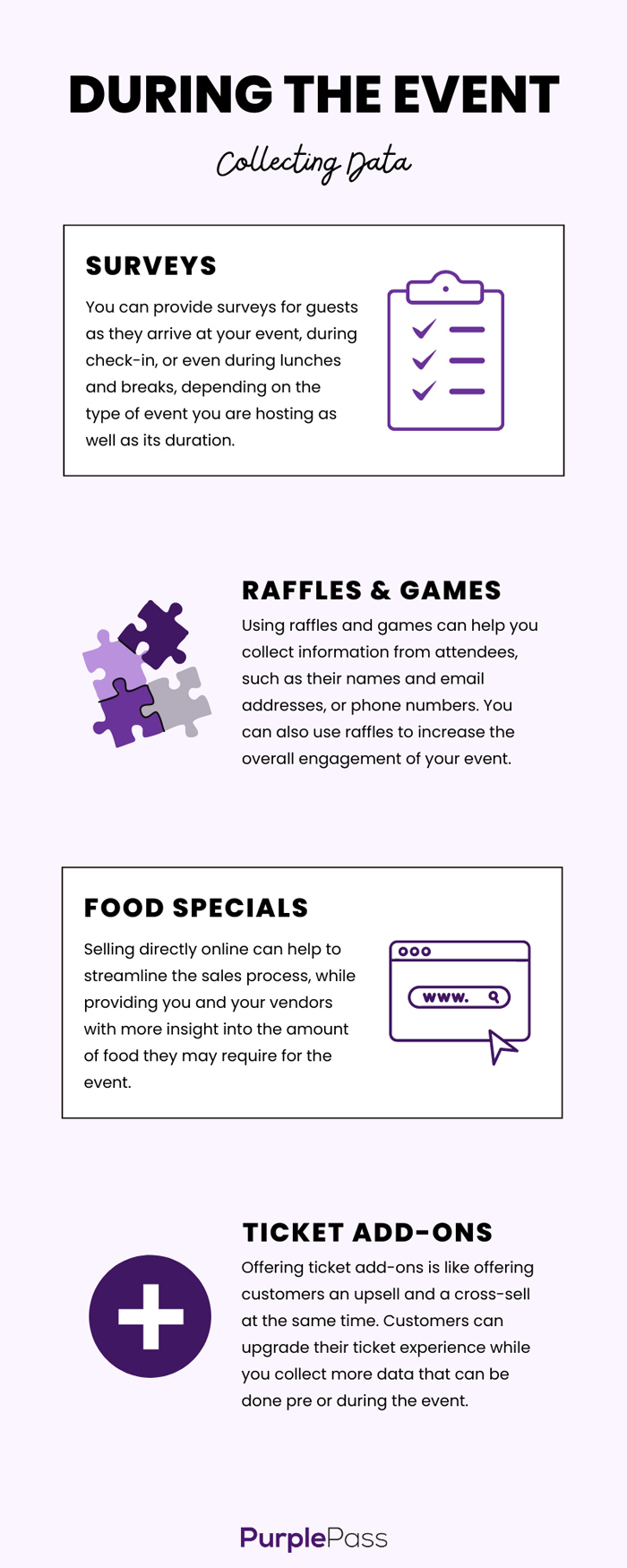 Some ways to consider collecting data on the day of your event might include:
Surveys: You can provide surveys for guests as they arrive at your event, during check-in, or even during lunches and breaks, depending on the type of event you are hosting as well as its duration. If you are hosting a multi-day event, you can also include surveys daily to check on the overall experience of your guests periodically.



Raffles/Games/Competitions: Hosting raffles, games, and various competitions is another way to collect data from your event's guests and attendees while also providing another form of entertainment. Using raffles and games can help you collect information from attendees, such as their names and email addresses, or phone numbers. You can also use raffles, games, and competitions to increase the overall engagement of your event while helping to spread brand awareness, especially if you are giving away branded or sponsored prizes. If you are using a ticketing platform, consider selling virtual tickets for raffles and competitions you intend to host directly on the platform itself. This can help you with preparation for the raffle, while also providing you with insight into how many attendees you may expect during the raffle.



Food/Cocktail Specials: Depending on the type of event you are hosting, you can also provide special foods and cocktails using digital POS systems or by selling tickets for special items in advance. If you are using a ticketing platform, you can sell additional or specific cocktails, main entrées, and appetizer coupons or vouchers directly online, which can help to streamline the sales process while providing you and your vendors with more insight into the amount of food they may require for the event.
Collecting Data After The Event
After your event has ended, you may think that collecting data is no longer useful. However, this is not the case.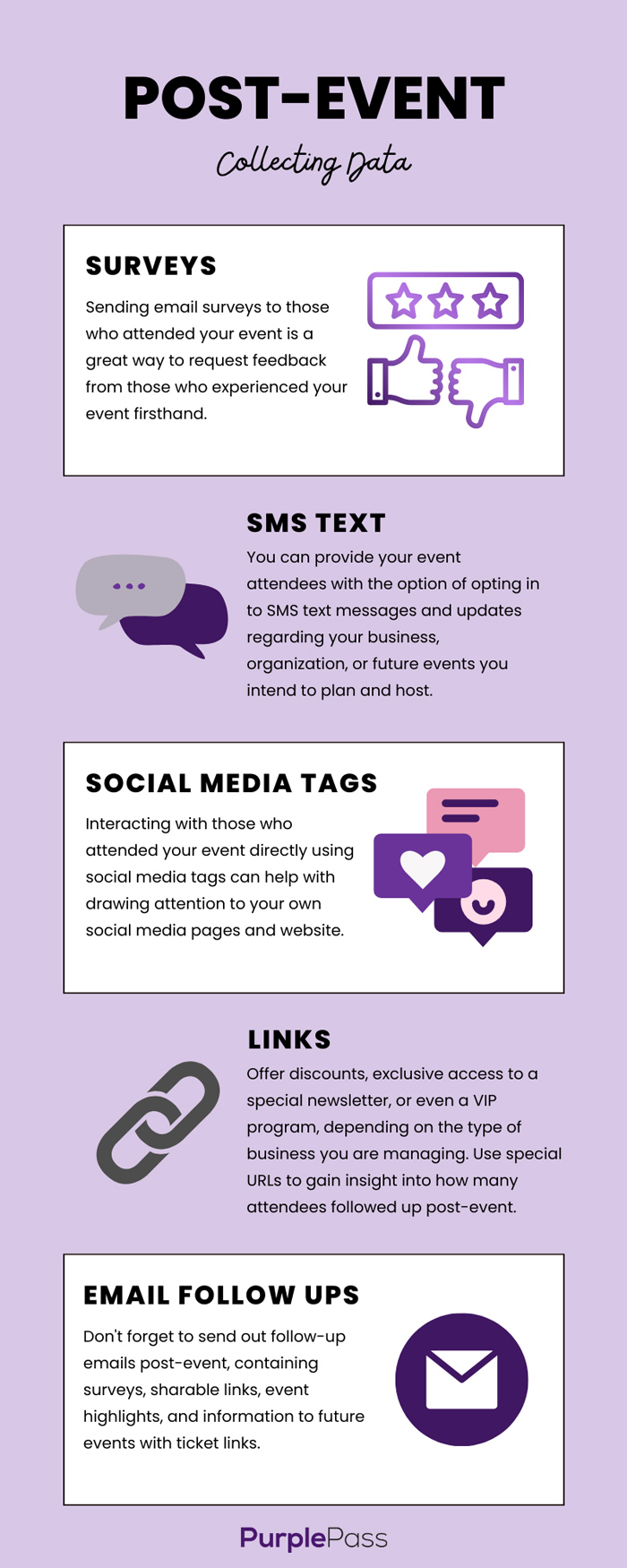 Some of the most notable ways to collect data after hosting an event might include:
Surveys: Sending email surveys to those who attended your event is a great way to request feedback from those who experienced your event firsthand. Surveys can also provide you with more insight into what guests enjoyed most about your event and what they might change if they were to attend another one of your planned events in the future. Using surveys periodically is also a way to gauge how satisfied or dissatisfied event guests are after they have left your event.



SMS: You can provide your event attendees with the option of opting in to SMS text messages and updates regarding your business, organization, or future events you intend to plan and host.



Social media tags: Use social media to track any mention of your event, organization, or business after your event. Interacting with those who attended your event directly using social media can help with drawing attention to your own social media pages and website. You can also use social media to share event-specific hashtags your guests can use and share during and after your event that to increase overall engagement.



Special links: Provide your event guests with a parting gift that includes a link to a special page on your website. You can offer discounts, exclusive access to a special newsletter, or even a VIP program, depending on the type of business or organization you are managing. Use special URLs to gain insight into how many attendees followed up with your event even after it is over.


Collecting data before, during, and after an event you host is one of the best ways to gain valuable insights into your invited attendees and those who showed up.
From understanding the spending power of your attendees to the overall number of tickets that are sold for individual activities you have at your event, data collection is one of the most important elements of managing an event of any kind. With the right tools, streamline your data collection efforts, so you can focus on hosting events that are exactly what your target demographics want.