Port of San Diego's U.S Sand Sculpting Challenge Is The Ultimate Family Event!
What if I told you your labor day weekend could consist of gourmet food, beer, wine, exceptional art, out-of-this-world sand sculptors, an event everyone in the family can enjoy? Port of San Diego's U.S Sand Sculpting Challenge and Dimensional Art Exposition is celebrating their annual Labor Day Event by introducing new features.
Saturday, August 31st - Monday, September 2nd, San Diego's largest Labor Day weekend celebration will be taking place, drawing in over 200,000 visitors from all around.
Sculptures At Night
This year, guests will be able to watch their favorite sculptures come alive through the illuminating colors of San Diego's sunsets on the Broadway Pier landing on the Big Bay in downtown. Before the sunsets, families can watch these master sculptors create amazing pieces out of nothing but sand and water; the event consists of 300 tons of sand, with some sculptures reaching up to 15ft tall and weighting over 20,000 Ibs.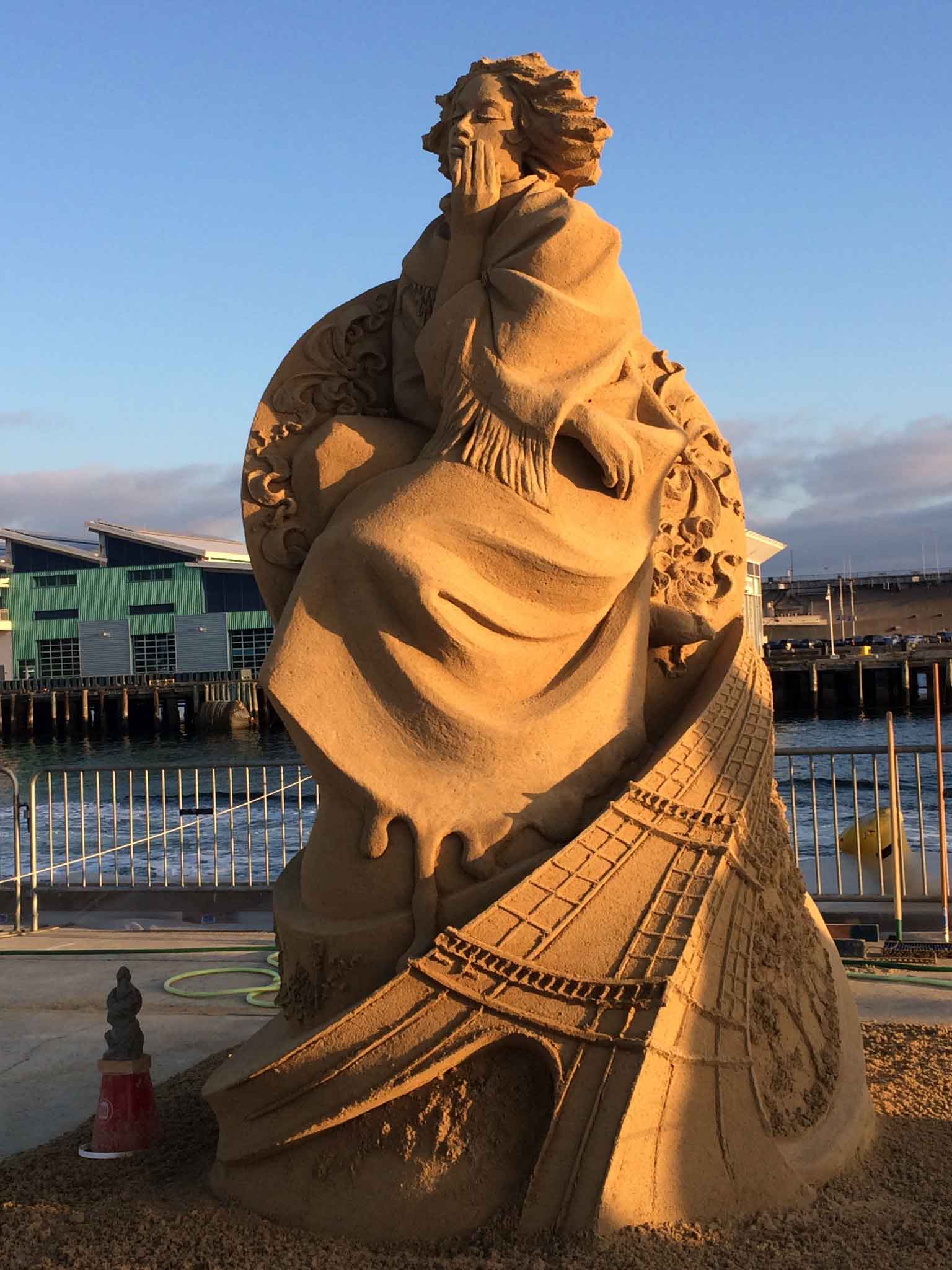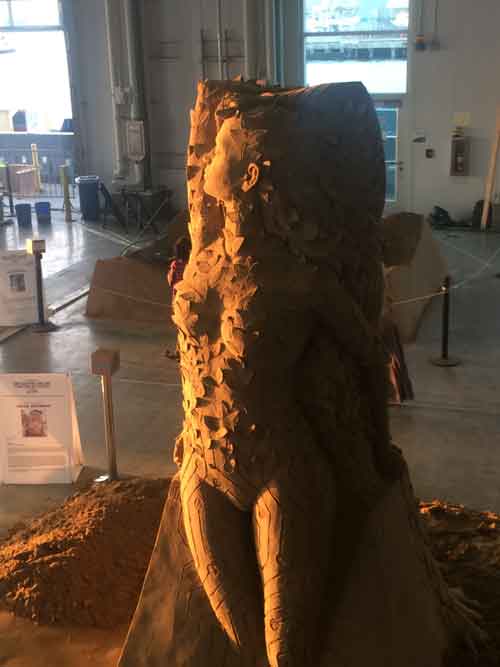 Dimensional Art Exposition
It's not just about sand. With the master class sand sculptures, you will also be joined by a variety of artists in the Southwest from as far away as New Mexico and Montana to exhibit their art pieces and one-of-a-kind creations. Expect to see anything from clothing, wood carvings, and metal designs to glass art, jewelry, ceramics and more!
What will you bring home?

About The Event Updates

Parking:
This year, the U.S Sand Sculpting event has new transportation and user-friendly parking options to make arriving much easier for guests.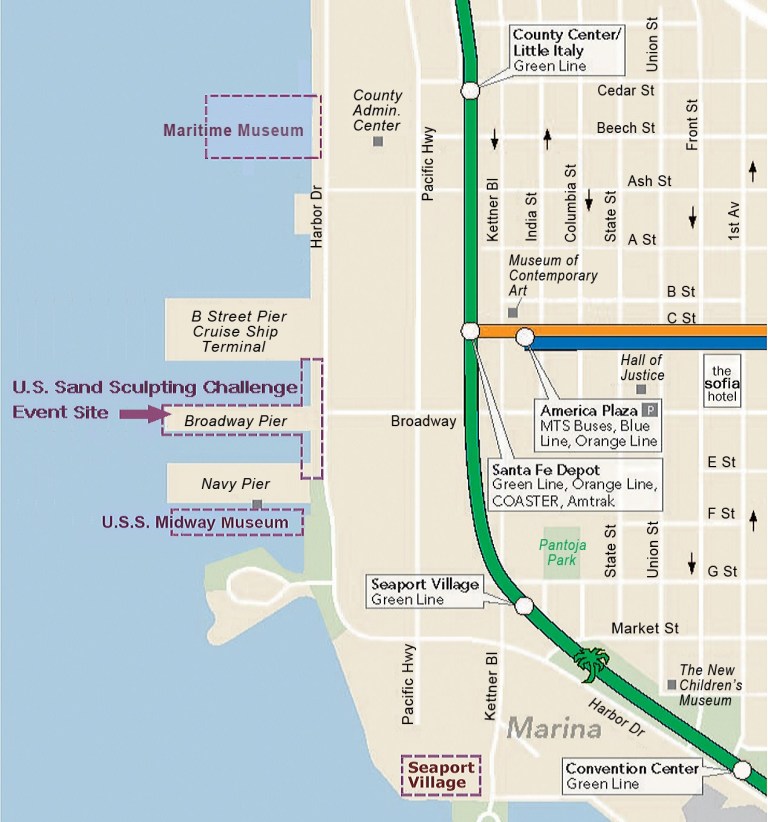 MTS trolleys and buses, the North County Coaster and Amtrak trains all take event goers within 2 blocks of the Broadway Pier.
The Coronado Ferry disembarks next door! Lyft and Uber drop event goers at the festival'sfront door. So you have a variety of options if you don't want to battle for a parking spot.
For those who wish to drive, they may park at the U.S.S. Midway or 'B' Street pier, both within 2 blocks of the event, or just across Harbor Drive at the Lane Field hotels or Windham Bayside. Lots of other lots are available nearby, including the Waterfront Park/County Administration Building on West A.
On-street parking is FREE on Sunday and Monday– meters don't have to be fed. (On those days, parking is okay at yellow or green curbs. But blue curb spaces are for handicapped only, and red and white spaces are a no-no.)
For those who want to park remotely and enjoy a fun ride along the Bay, the Port of San Diego's Waterfront Shuttle runs every 20 minutes in a loop from Sheraton Marina across from the airport on the North to Harbor Drive Bridge near the convention center on the South. Cost is just $3.
For those who live or work downtown and have an app called FRED (Free Ride Everywhere Downtown), they just need to call for a ride and tell the driver to take them to the Broadway Pier (1000 North Harbor Drive).

Special Guests:
San Diego Seals Lacrosse stars are making a special appearance to take photos with their fans!
Kid Zones:
The Kid Zone at the event is being expanded to include more great activities such as lessons from sculptors, and rides such as European Bungie, Bubble Fun, Bounce Houses and more!
Saturday, August 31– Monday, September 2
Saturday, August 31 10am– 8pm
Sunday, September 1 10am– 8pm
Monday, September 2 10am– 7pm
Broadway Pier and Pavilion
1000 N. Harbor Dr., San Diego, CA 92101
Adults (13-62) --$12 online thru 8/10; $15 after and at gate
Seniors (62+) --$10 online thru 8/10; $13 after and at gate
Kids (2 – 12 years) --$8 online thru 8/10; $10 after and at gate
Toddlers (under 2 years) --FREE
Active duty military, EMT's, fire and police --FREE with valid ID (individual only)
VIP Package (all ages) --Includes weekend-long admission, cut-the-line privileges, very special shaded seating section in the middle of the bay, 2 free drinks, free Habit Burger post-event coupon, and upgraded facilities (value up to $70) --$35 thru 8/10; $40 after and at gate