7 Tips for Marketing A Valentine's Day Event
Valentine's Day provides a great opportunity for companies to take advantage of the romantic holiday, especially if they intend to reach couples or singles who are searching for love.
If you are hosting a Valentine's Day event such as a speed dating gathering, a conference, or even a local networking party, there are a few marketing tips to keep in mind as you navigate the planning of the event from start to finish.
Request your venue seating map
We build an unlimited amount of maps for
promoters...for free! Request one below!

1. Consider Your Target Audience and Intended Demographics
Before hosting any Valentine's Day-themed event, it is important to first establish the target audience and demographics you intend to reach. When marketing a Valentine's event, consider the following:
Purpose of the event: Are you trying to attract single individuals for an opportunity to mingle with other singles in your community? Are you hoping to bring small business owners together to promote local sales with support from residents in the city? Defining the purpose of your Valentine's Day event is essential before you can begin looking into the logistics of the venue, timing, and the number of attendees you plan to invite.


Demographics: With your upcoming Valentine's Day event, who are you targeting? Are you appealing to strictly single straight couples, bi-sexual couples, or those who are open to an LGBT+ event? Consider the type of attendees who will be most likely to attend before seeking out entertainment, vendors, and other activities that are suitable for the occasion.


Venue: Location, location, location. Location matters when choosing a Valentine's Day event, especially if you are doing so during colder weather or in the evening. The right location can mean the difference between a massive turnout and falling short of your expectations.


Date and time: Will you be hosting a Valentine's event on Valentine's Day? If so, does the date fall on a weekend? When planning your event, consider other plans, obligations, and even work that individuals may need to tend to depending on when you are planning to host the event itself.
2. Offer Valentine-Theme Coupon Codes ("LOVERS", "2-FOR-1")
One way to garner attention when marketing a Valentine's event is to offer special ticket discounts and coupon codes, depending on who is planning to attend.
A few ticket-type options and discount codes that can be provided ahead of time for any event you are planning include:
Singles/solos: Provide discounts for those who are attending your Valentine's Day event single and ready to mingle
Group: Provide group discounts for those who are traveling in groups of 5/6 or more
Senior/Veteran: Offer discounts for those who are senior citizens as well as those who are veterans or serving as active military personnel
Student: You can also offer student discounts if you are hosting a Valentine's dating event near a local college or university
3. Create Unique Valentine's Day-themed Experiences
If you want to bring your event to life, consider incorporating Valentine's Day-themed experiences, activities, and entertainment. A few ideas for a Valentine's Day event might include:
Solo hearts events
Speed dating sessions
Local music concerts/intimate showcasing
Miniature parties scattered throughout your event with a Valentine's Day theme
When creating a Valentine's Day-themed atmosphere for your event, consider the following elements:
Anything Cupid-themed
Red, white, and pink-themed items
Flowers, hearts, and traditional streamers are useful to help bring an event to life
Consider using or renting a photo booth for attendees to enjoy
4. Launch a Website and an Online Registration Page
One of the easiest ways to launch and manage any type of event, including a Valentine's event, is to launch an online registration page and presence for your upcoming event.
Using a virtual registration page such as Purplepass helps to streamline the process of creating events, managing ticket sales, and even monitoring the overall engagement each of your events and/or campaigns receives.
Start selling tickets within minutes!
With Purplepass, it's easy to create events,
publish, and start selling tickets online.
5. Partner With Guest Speakers, Affiliates, Business Owners, and Celebrities
Whenever possible, partner with guest speakers, business owners, local vendors, and even celebrities you have access to when hosting your events. Marketing a Valentine's Day event is not always easy, especially with the highly competitive industry involving romantic dinners and celebrations around the world.
However, if you have access to a bit of star power that is likely to appeal to your target audience, your guests may opt to stop in at your event instead of heading somewhere else. Consider reaching out to local business owners as well as local organizations such as nonprofit organizations to help garner attention and generate buzz surrounding your event.
If you can also work in a fundraiser to donate to a particular cause, it is also helpful to maximize your reach and ultimately, the turnout of your event.


6. Work Together With Local Vendors
Working together with local food and drink vendors is highly recommended whenever you are hosting a community-wide event, especially during holidays such as Valentine's Day. Not only does working with local food and beverage vendors help to provide more entertainment and satisfaction for guests while they are attending the event, but it is a great way to drum up attention surrounding the gathering.
Vendors are more likely to tell their regular customers about where they are hosting with the hopes of generating more sales even during the Valentine's Day event itself.
7. Consider Experiential Marketing Tactics to Maximize In-Person Engagement
Guerilla marketing or word-of-mouth marketing is challenging, yet can result in some of the most successful campaigns.
Working with local business owners and those who are supportive of your upcoming event can help to spread the word among other singles and members of your community. Work together with local theaters, studios, schools, and colleges to promote your Valentine's Day event, depending on the demographic you intend to reach and appeal to at the gathering.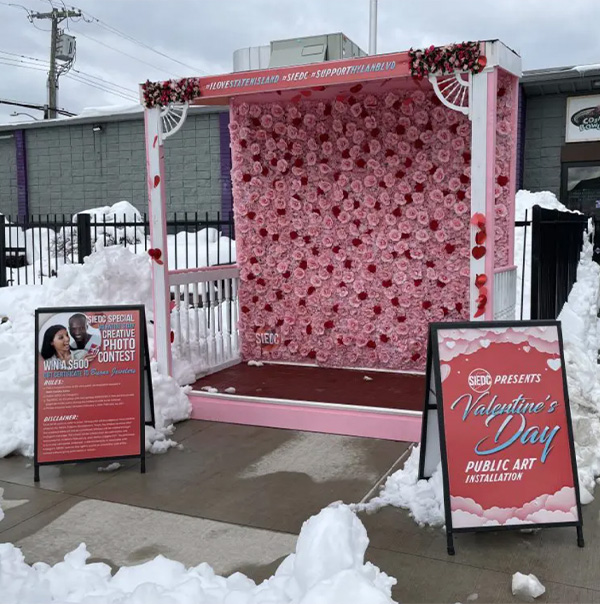 Marketing a Valentine's Day event does not require extensive investments or the hiring of professionals to get the job done right. With the right ticketing platform, online presence, and messaging, optimize any Valentine's marketing campaign you have in mind, both online and off.