15 Steps for Organizing a Community Concert
Organizing a community concert can bring locals together to celebrate artistry and musicians near you. When hosting a community concert, it is possible to promote small businesses, brands, or even products and services of your own.
Before you get started with organizing a community concert, there are a few steps to keep in mind along the way.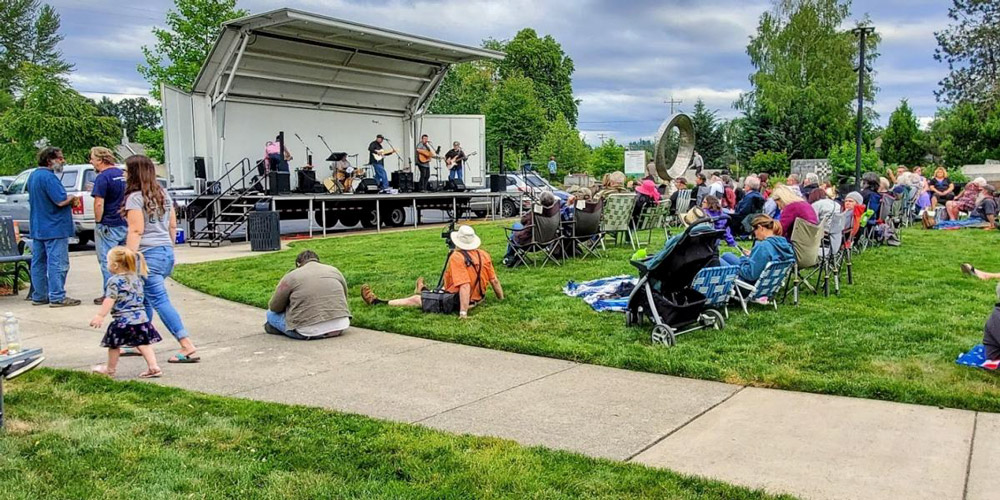 1. Outline Purpose, Goals, and Mission
Take the time to outline the goals of your community concert along with your objective for the event as a whole. Consider what mission you wish to accomplish and which objectives you intend to achieve throughout the actual concert itself.
Having goals, a mission, and a purpose in mind is essential before getting started with the official planning process of any sized community concert.
Are you fundraising or connected to a cause?
Are you trying to spread brand awareness?
Is this concert to create another revenue stream for the community?
Is there a popular artist coming into town?
Is this to promote local talent or bring in celebrities from outside the community?
2. Seek Out Talent
Before you can begin promoting a local concert event that you are hosting, you will need to seek out talent to help draw attention to the gathering.
Seek out local artists, musicians, and talent that are most likely to bring in a crowd once your event begins. The more appealing the talent you are able to obtain for your event, the easier it will become to convince others to purchase tickets and to attend the concert themselves.
3. Create an Online Registration Platform
Organizing ticket sales has never been easier or more accessible than with an online platform. Set up online registration to provide prospective attendees with the opportunity to browse and purchase tickets with any device that has access to the internet.
Using online registration for RSVP purposes, ticket purchases, and reservations can also provide valuable insight into the metrics of any concert or event you plan to host. Collecting and storing analytics can also help to optimize and plan future events you have in mind.
Ticket types for concerts:
Groups
Family and/or children
Active duty/first responders
Senior
Back-stage passes
VIP
Meet-and-greet
4. Obtain Permits and Licenses
Although hosting a community concert event is a popular practice for both locals as well as business owners alike, you will likely require a permit or license in order to do so legally.
Obtaining proper permits and licensing for your concert event is possible by contacting city officials and by researching requirements for your specific town, region, and zone. Not all cities and states operate under the same laws, which is why it is important to conduct research before obtaining permits and licenses that are suitable for your upcoming event.
5. Hiring Staff and/or Seeking Volunteers
Whenever you are hosting and planning a local community concert, consider who you will be hiring to help and assist with managing the event. Determine if you will be hiring staff members (and how many employees you will require), or if you will be seeking volunteers from residents in your community.
A registration page for volunteers
Not just for ticketing, but you can use Purplepass
to manage volunteers and staff as well.
6. Reach Out to Local Vendors
Working together with local vendors is a must when you are planning a community concert. Bringing members of the community together requires more than just great music and a welcoming atmosphere.
Showcasing the food, beverages, products, and services available from local vendors can help add to the experience of your attendees. Additionally, local vendors who sponsor and/or support your event will have the opportunity to garner attention to their own businesses and brands among locals who have a genuine interest in what they are offering.
7. Implement Your Marketing Strategy
Consider the marketing strategy that you intend to implement to promote your upcoming community concert. If you intend to host popular talent, you may consider turning to both local and online platforms to maximize your reach and, ultimately, your concert's attendance.
A few ways to market locally and online when promoting a community concert might include:
Placing local flyers around town (in heavily trafficked locations)
Using printed business cards and posters
Promoting the concert with the use of social media
Inventing and implementing a unique and relevant hashtag
Promoting the event using traditional PPC, or pay-per-click advertisements online
Reaching out to local newspapers and radio stations for local concerts and artists
8. Give Back to Your Community
Are you giving back to your local community? Is your concert being hosted for a good cause? Give those in your community a reason to attend your concert and why it is beneficial for them to do so.
Consider using a platform that allows you to also collect donations at checkout if you're partnering with a cause or nonprofit campaign.
9. Hosting Guest Speakers
Hosting a successful concert can often require more than high-quality music. Consider whether you will be hiring a guest speaker or host for your community concert or if you will simply be introducing the musical acts and artists yourself.
Working together with a host can help to streamline your concert event while also adding star power to the concert itself, resulting in a higher turnout and additional ticket sales (depending on the host that is selected).
10. Obtain Proper Equipment
Before getting started with working with vendors or seeking sponsors and promoters, it is essential to verify that the venue you've chosen for your concert is suitable for the equipment you intend to use.
Once you have a venue that is prepped for your equipment, you can then begin to look for the sound, stage, and equipment support necessary to host your event. Consider the type of entertainment or the type of concert you are intending to host to find the equipment provider or service that is right for your event.
11. Consider a Merchandise Booth
One way to diversify your revenue stream when hosting a community concert is to consider hosting a merchandise booth of your own.
Promote your company or brand using a merchandise booth along with relevant merchandise that is visible to all who enter your venue. One of the advantages of hosting a major event such as a community concert is the ability to oversee the placement of merchandise booths, including your own.
Run merchandise sales online
Use ticket add-ons to sell merch at checkout
along with ticket sales!
12. Ensure Safety and Security Remain Top Priorities
Safety and security should always remain top priorities when planning a community event, especially a highly populated event such as a community concert.
Ensure that you not only have access to the security you need for your concert but also to first aid professionals and first responders as needed (based on the estimated number of guests who will be attending the concert).
13. Offer Different Ticket Options
Offering different ticketing options is another way to increase ticket sales and incentivize those who may be on the fence to go through with their purchase.
Different ticket options might include tickets that offer upgrades, access to beer gardens, or even unlimited drinks and access to food, depending on the type of amenities you plan to offer to your event's guests.
14. Create a Family-Friendly Kid Zone for All Ages
One way to appeal to a wider audience that includes entire families, as well as children, is to create a family-friendly "Kid Zone" that is available for all children who attend your concert.
Hosting a kid-friendly zone that includes security, monitoring, and additional safety measures can help parents to keep their minds at ease while enjoying the music and surrounding ambiance.
15. Hosts Contests and Giveaways
If you want to broaden your reach when hosting a community concert in your local town, consider hosting contests and giveaways. Giveaways and contests that provide prizes can encourage attendance and the sale of tickets to any event, including local concerts.
Organizing and hosting a community concert does not have to feel overwhelming, especially once you are aware of your options and the requirements necessary to do so in your town. Hosting a community concert can provide excellent opportunities for networking and getting to know other members of the community at any time of year.