7 Halloween Themed Fundraiser Event Ideas
Consider hosting a Halloween-themed fundraiser event this year to introduce some spooky entertainment into the mix. Using the list below, brainstorm your own Halloween-themed fundraising event that is sure to draw in the crowds this year.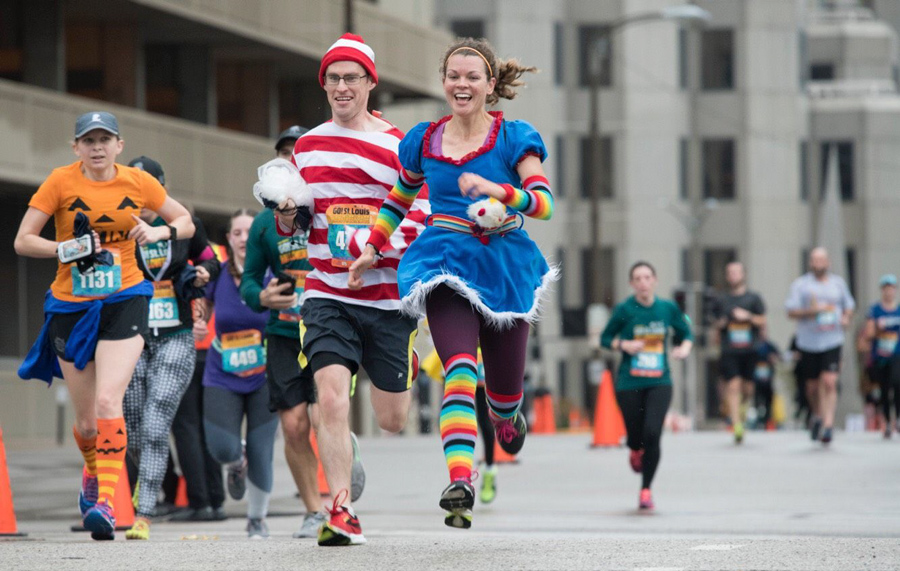 1. Murder Mystery Fundraiser
For true lovers of Halloween, hosting a murder mystery-themed fundraiser is the way to go. If you enjoy the idea of a long-lasting charity event that is engaging, interactive, and a bit on the creepy side, a murder mystery fundraiser is a must.
You can sell tickets to your murder mystery party to cover expenses and to go directly to a charity. Additionally, you can also promote that all registration fees that are incurred will go directly to a charity as well.
2. Fun Runs (Halloween-Themed)
For a more active and classic fundraising event, consider hosting a Halloween-themed fun run, or a traditional 5K. Fun runs that are Halloween-themed can include volunteers who are dressed up in costume, and they can also be hosted at night to add to the creepy factor.
You can offer those who participate in the fun run the opportunity to raise money for the cause you are supporting. For those who raise the most money for the charity being promoted, you can also offer gift cards or other prizes that have been donated or purchased by volunteers.
3. Trick or Treat for Cans
Hosting a trick-or-treat event that is a can donation event can significantly help to provide non-perishable foods to local food banks, churches, and charity organizations you are trying to support.
Canned food charity donation drives can be held in public parking lots, near schools (with proper permission), or even in your own place of business. Requesting canned goods from those who wish to attend your event in order to donate them to the appropriate cause(s).
4. Halloween-Themed Silent Auctions
Another classic fundraiser event that can be hosted with a bit of a twist is a Halloween-themed silent auction. While the concept of hosting a silent auction is nothing new, doing so with a Halloween theme in place is a way to help your event stand out, especially when it is being hosted on or extremely near the actual date of Halloween itself.
Silent auction tickets can be sold using an online ticketing platform, where you can also request additional donations or even applications from those who are interested in assisting or volunteering for the event. A silent auction can include Halloween-themed items, gifts, and mystery boxes to help boost the intrigue surrounding the event, resulting in a bigger turnout once the date of the auction arrives.
5. Spooky Art Show
If you are searching for a unique way to connect with the locals in your area while hosting your Halloween-fundraiser event, consider hosting a spooky local art show. Art shows can attract artists and entertainers from all walks of life, providing an opportunity to showcase some of the strangest pieces of art and styles around you, especially during Halloween. With a spooky art show, you can rent an entire gallery to host artists, sponsors, and vendors.
Provide locals in the community with the ability to purchase tickets online using your online registration page, or offer the option to make a donation to the show while in the process of purchasing tickets to the event.
6. Horror Film Festival
Are you looking for a way to truly set your Halloween-themed fundraising event apart from the rest of this year?
If so, consider putting on and hosting your very own horror film festival. Horror film festivals provide an opportunity for moviegoers to enjoy classics, terrible B-movie slasher films, and even some new releases, depending on the venue in which you are hosting the film festival. Each purchase of a ticket to the film festival can be donated to the charity or because you are promoting and supporting with the event.
7. Halloween Craft Fair
A Halloween craft fair is an excellent event idea for communities that are rife with creative individuals and small local businesses. Craft fairs that are Halloween-themed give those who have an affinity for the macabre a chance to truly express themselves creatively, through art, and through making new purchases. You can also use a Halloween craft fair that you are hosting to raise funds for charities through ticket sales and event-specific merchandise that you are promoting and selling.
When choosing to host any Halloween-themed fundraiser event, consider how you will be giving back to charity and how those who wish to attend will know your intentions and/or goals. Including details of any Halloween-themed event you intend to host on your registration page is highly advisable to help minimize confusion among those who are contemplating purchasing a ticket, attending your event, or even making a simple monetary donation.
Hosting a Halloween-themed fundraising event is a great way to celebrate the spooky season while raising money for a good cause. Whether you are hosting a fundraising event for a small local charity or for a nationwide organization, doing so with a Halloween-themed event can help to bring members of your community together during the scariest time of the season!