7 Food Festival Event Ideas to Do In Your Community
If you are searching for a way to bring members of your community together through their love of food, consider hosting a local food festival event.
Food festivals can include beverage tastings, potluck-style dinners, and even eating contests for the most adventurous in nature. Introducing a food festival into your own community may be one of the most surprising ways to bring citizens together.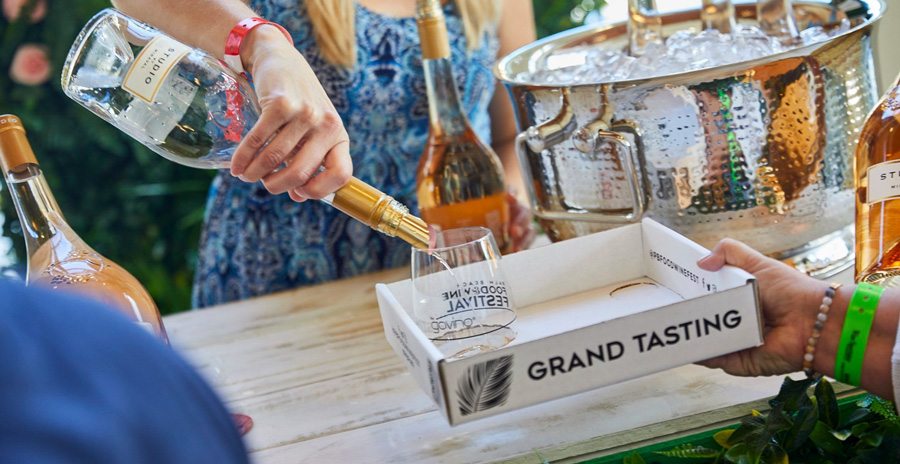 1. Adult-Only Tastings
Sometimes, hosting a community food festival event is not enough to create the buzz necessary to generate the revenue you need to succeed. At times, hosting adult-only-themed events is a way to attract a unique subset of guests while also appealing to parents who are looking for a great night out.

Hosting adult-only tastings, similar to events such as Oktoberfest, can help bring beverage aficionados together for a night while celebrating local vendors and small businesses.
Creating an alcohol or beer garden during your festival that is designed for adults only can ramp up engagement and participation. Additionally, hosting adult-only tastings is one of the quickest ways to sell additional drink tickets, resulting in much more revenue.
2. Restaurant Week
Designating an entire week to highlight local vendors and restaurateurs is another way to bring the foodies and members of your community together. Putting on and hosting a Restaurant Week is a great way to introduce your own restaurant to local citizens while also working with other business owners, vendors, and restaurants to create a sense of camaraderie.
Some reasons why those in the community may attend restaurant week include:
Free samples and taste-testing: Many restaurants during Restaurant Week will likely give away free samples and provide taste-testing opportunities to those who are interested in their food.


Getting to know new restaurants: Some locals may be unfamiliar with the restaurants and eateries they have available near them. Attending a food festival that focuses on local providers is a great way to immerse oneself in the community of food vendors and restaurants in the area.


Specials and discounts: Many restaurants, vendors, and participants of Restaurant Week are more likely to offer special discounts and offers for patrons during the week to encourage attendance. This means, more savings for customers, regardless of which restaurant they choose to visit.
3. Farmers Markets and Tasting Booths
If your goal is to spread the word about various farmer's markets and local vendors in your area, you can do so with a food festival event that is focused on farmers' markets in your local vicinity. Work with local farmers to inform them of your upcoming festival ahead of time so they have adequate time to prepare their crops and the item(s) they intend to sell.
When you are hosting a farmer's market food festival, consider offering tasting booths or encouraging the farmers to do the same, depending on the foods and/or beverages they have to offer. Ask the farmers who intend to participate to offer tasting booths to encourage attendance and to help them spread the word about their farm and the type of foods and products they produce.
4. Niche Food Festival
Considering putting on a niche food festival for your next food-related community event to truly stand out. If you have plenty of foodies in your community, a niche food festival for specific cuisines or lifestyles can really help to draw in patrons and turn up the hype.

A few niche food festival ideas to consider (depending on your current location), might include:
Vegan: An all-vegan food festival is a great way to attract those who do not eat meat, dairy, or eggs for dietary or for lifestyle reasons. Vegan food festivals can include delicious items ranging from mushroom melts and sweet potato fries to surprisingly impressive cauliflower mashed potatoes!


Vegetarian: If you want to lean more on the healthy side when it comes to food, but are not yet ready to commit to being fully vegan, a vegetarian food festival is another option. Vegetarian food options also include ingredients such as dairy and eggs, which vegans do not or will not consume.


Seafood: A seafood-themed food festival is optimal if you live in or near a region in which seafood can be obtained affordably, especially in bulk.


All-meat: Hosting an all-meat-themed food festival will appeal to the meat lovers in your area. Brisket, pulled pork, boasted chicken, ribs, steak tips, and even fried fish are all options when serving an all-meat food festival, depending on the vendors, caterers, and sponsors available.


Consider the local demographics when choosing the cuisine or type of food you intend to serve at any food festival you are hosting in your local community.
5. Street Food and Food Truck Vendors
Hosting a street food-themed food festival is another unique idea to bring members of your community together over food. Food trucks offer a variety of foods, from smoked brisket and sausage to delectable one-of-a-kind desserts.
Hosting street food and food truck vendor events typically only requires a permit and an available space that is suitable for the number of attendees you are expecting.
6. Seasonal Food/Holiday Celebrations
If you are planning your food festival during the holiday season, consider the cuisine you plan to introduce during the event.
For example, during a winter or Christmas-themed event, you may offer traditional dishes such as ham, turkey, meatballs, potatoes, and plenty of delicious sweet potato or pumpkin pies. During St. Patty's Day, however, green-themed beer, Shamrock shakes, sauerkraut, and Reubens are key.
7. Eating Contests/Cookoffs
If you live in an area that is rife with competition, consider hosting an eating contest or a cookoff. Hosting eating contests and cookoffs can help local home cooks to get a bit competitive while also drawing attention to specific brands, vendors, and restaurants.
Whether you are planning to host a food festival event to promote local restaurants and vendors or if you are showcasing additional businesses and sponsors near you, the options are endless with a bit of creative brainstorming. The right food festival will not only feature delicious regional foods, desserts, and beverages, but it will help those in the community to bond over something they all have in common with one another.
When you feel comfortable planning your next food festival, you can do so confidently and comfortably with any decisions you settle on.