10 Tips for Hosting a Valentine's Speed Dating Event
One way to celebrate Valentine's Day while also promoting a business, brand, or even a particular local service is to host a Valentine's Day speed dating event. A speed dating event does not have to be limited to a certain time of year or to a particular location.
Choosing to host a speed dating event on Valentine's Day can significantly increase the overall turnout while providing you with more opportunities to promote your own business, brand, products, or services.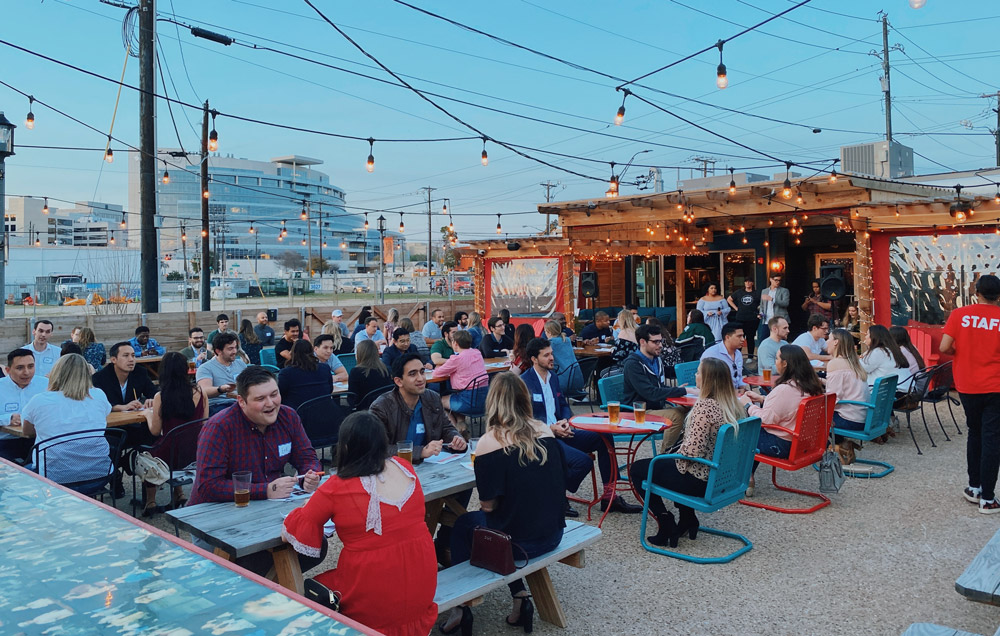 1. Create a Website or Online Registration Page
To ensure you maximize your reach and potential for attendance, consider creating a website or an online registration page for your Valentine's speed dating event.
Using an online registration page is a way to appeal to those who are interested in searching for events and dating opportunities online or with the use of their smartphones. An online registration page also makes it much easier to track the interest and engagement of users on your page leading up to the actual date of the event.
2. Incorporate a Valentine's Day Theme Into Your Dating Event
When hosting Valentine's speed dating event, don't just throw together a few tables and chairs and call it a day. Incorporating a Valentine's Day theme into the actual event can help to create an atmosphere that is romantic, loving, and charming.
Use heart-shaped lights, tealight candles, and even Valentine's Day-themed cards or other decor to help bring the space you are using to life.
3. Outline Guidelines and Event Details
Create an outline, or itinerary for your Valentine speed dating event.
If you intend to host numerous smaller events based on age, inform your guests ahead of time. Include dates, times, parking details, and other relevant information in your event's outline to ensure prospective guests are well-informed and not left feeling confused.
4. Use Video Testimonials to Market the Speed Dating Event
Generating attention surrounding your speed dating event is not always an easy task, especially if you are new to hosting a Valentine's Day speed dating gathering.
If it is your first year hosting, consider making videos regarding the benefits of speed dating to incentivize guests to purchase tickets and sign up. Use previously recorded testimonials (if available) from real paying patrons to demonstrate your ability to host a speed dating session, prompting more interest and ticket sales.
5. Include a FAQ Section
Once you have a website or online registration page for your Valentine's Day speed dating event, you can also include additional information for visitors and prospective attendees, such as a FAQ section.
A FAQ, or Frequently Asked Questions section, is ideal to provide more support in terms of the event's itinerary, instructions, and overall guidelines. Additionally, you can also implement a FAQ section into your website to respond to inquiries and questions that you receive from your visitors or even past guests most frequently.
Using a FAQ page is a way to streamline the coordination process of planning your speed dating events while also providing those who are interested in attending with valuable resources that can answer any questions they may have.
Common FAQ to consider answering might include:
Getting to the event
Parking or transportation questions
Are there multiple events?
Age requirements?
Duration of the event?
Any rules and regulations to follow if participating in the event
What happens after the event?
6. How Will You Implement Your Valentine's Day Theme Into Your Event?
Consider the type of event you are hosting and how it is Valentine's Day-themed.
How will you be incorporating elements of Valentine's Day into the actual event?
Will you be providing red-colored punch, candies, and Valentine's Day desserts?
Consider all of the aspects of Valentine's Day to determine the best methods of incorporating the holiday into your own speed dating event.
7. Include Terms and Conditions for Ticket Sales
Always include the terms and conditions of each ticket you sell, whether you are selling tickets in person or if you are selling tickets using an online or hybrid platform. Terms and conditions may include details that ticket sales are final or that there are no refunds.
Consider the type of event you are selling tickets for and what terms and conditions must be abided by in order for the tickets to remain valid, even during and throughout the event. For example, be sure to include a code of conduct that must be followed at all times during your speed dating event to ensure that everyone is able to enjoy themselves.
8. Consider Both Virtual and/or Hybrid Speed Dating Options
If you want to maximize your reach both online and locally, consider hosting virtual and/or hybrid speed dating events.
A virtual speed dating event provides anyone with internet access the ability to get to know others who are also interested in dating. Hybrid events bring the best of both worlds together, allowing those who prefer to date in person to do so while offering an alternative option for those who wish to date virtually or with the use of a hybrid dating platform.
9. Hire a Charismatic Host to Host the Speed Dating Event
One option to consider to ensure your event goes as smoothly as possible is to hire a charismatic host.
A host who specializes in game shows, dating events, and smaller, intimate gatherings will help manage the event's timeline and itinerary. Working with a host is also a way for you to focus on other elements of the event, such as the overall satisfaction of your guests.
10. Create an Engaging and Entertaining Atmosphere for Attendees
Besides traditional musical chairs, incorporate engaging and entertaining activities that will help break the ice among your guests. Using digital games, card games, or even classic icebreakers can help your guests feel more comfortable and open with one another.
Planning a Valentine's Day speed dating event does not have to feel complicated or confusing, especially if you are familiar with the basics of the process. Once you are familiar with speed dating events and Valentine's Day themes, you can begin planning your Valentine's speed dating event feeling comfortable with and confident in all of your decisions.