4 Effective Ticket Designs For A Memorable Event Campaign
Event aesthetics matter. The colors of your brand can improve customer recognition by 80%. And 92% of people pay attention to color when they're purchasing a product or service from a brand. So, it shouldn't come as a big surprise that the design of your ticket is important.
It may seem like a small detail, but that small detail has big consequences. Consistent branding across all channels and objects increases your overall profits by 23%.
That means that your ticket's design could impact your overall profits by as much as 23%! Will it? Probably not...
But, it will have some impact. And that impact is definitely worth paying attention to as an event planner. Here's everything you need to know about event ticket design.
Why is the Design of Your Event Ticket Important?
Did you know that 72% of consumers admit that the design of the package played a role in the purchasing decision?
In fact, 40% of consumers will share a picture of branded packaging if they think it's well designed. Your event ticket is the packaging for your event.
Not only do event tickets play a role in how people think about your brand and your event, but they can single-handedly sell tickets.
A well-designed ticket can end up on your attendees' social media accounts. After all, over 96% of people that attend theatre events will take their ticket and their program booklet home with them and share on social media.
People save tickets!
Give them a good reason to!


Things to Remember When Choosing an Event Ticket Design
Let's talk about the anatomy of an event ticket. There are 5 things you should keep in mind when you're planning out your event ticket design:
Brand consistency: Remember, you want your branding to be consistent across ALL channels. If you always use Helvetica font and purple colors, then you need to use Helvetic and purple on your event tickets. It's that simple!


Your mission: Nonprofits and other organizations should keep their mission near-and-dear to their heart. Try to incorporate that mission visibly on the ticket.


Brand logo: Do you want your logo on the ticket or not?


Colors: Do you want colors? If so, keep them consistent and go bold! Colors are a big deal.


Security: What kind of security elements do you want on your tickets? The last thing you want is to deal with the big, wonderful world of ticket scammers.



4 Ticket Design Examples
Let's take a look at some examples of ticket designs worth considering.


Design #1: The Classic Ticket
There's a time-and-a-place for traditional tickets. They're simple, sure, but sometimes they just work. If you're throwing a low-key event, hosting a concert for an underground artist, or creating a back-alley art show, having a simple, visually tame ticket can set the mood.
What's on this ticket?
Some minimal event info
A barcode


That's it!


Design #2: The Simple Ticket
Of course, most of you will want to experiment with colors. They help your brand and capture users' attention.
Remember, you want to get people excited about your ticket appearance. It works wonders for your social media game as well. Adding a splash of color and a logo to your tickets is a simple but effective way to boost your ticket rep.
What's on this ticket?
Some event info
A barcode/other security measures
A logo
Background color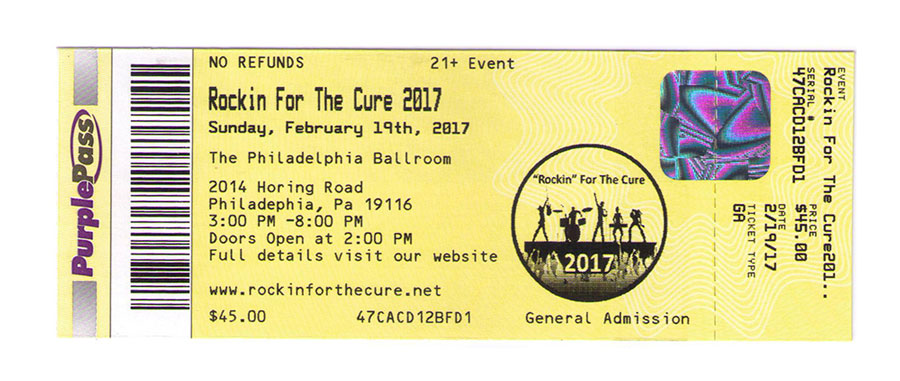 Design #3: The Flashy and Secure Ticket
Looking for something a little more in-your-face and secure?
Try the flashy ticket. Extra security measures, a logo, and color can be aggressively branded and really capture attention. Plus, they help you keep ticket fraudsters at bay.
These tickets look amazing, prevent theft, and streamline your ticket workflows. What's not to love?
What's on this ticket?
Branded color/design
Logo/graphics
Bold event info
Barcode/other security measures



Design #4 Picture Tickets
Want a picture of your event on the ticket for your event?
This design is what you're looking for! These tickets are social media magnets, and they work especially good for newer event planners looking to spread their social media accounts. Get this — customer posts are trusted 12x more than yours.
And 85% of people think user-generated content is more helpful than your images, videos, or posts.
Get those tickets on social media!
What's on this ticket?
A big, bold picture of your event
Colors
Bold event info
More durable ticket material
Barcode/other security measures


Meet our sister company, Express Event Printing, who can bring your ticket designs to life!
You can order custom prints and other event material now at Express Event Printing by requesting a free quote below. Or contact us for any question at support@purplepass.com or 800-316-8559.