4 Benefits of Using An Online Registration for Comedy Shows
You're a comedian, an event organizer, or the manager of a comedy club. The spotlight's on you, and you have the responsibility to ensure that every performance is a hit, not just on stage, but offstage as well. And this isn't just about the laughs; it's about making sure every seat is filled, every ticket is accounted for, and every guest leaves the event with a happy memory.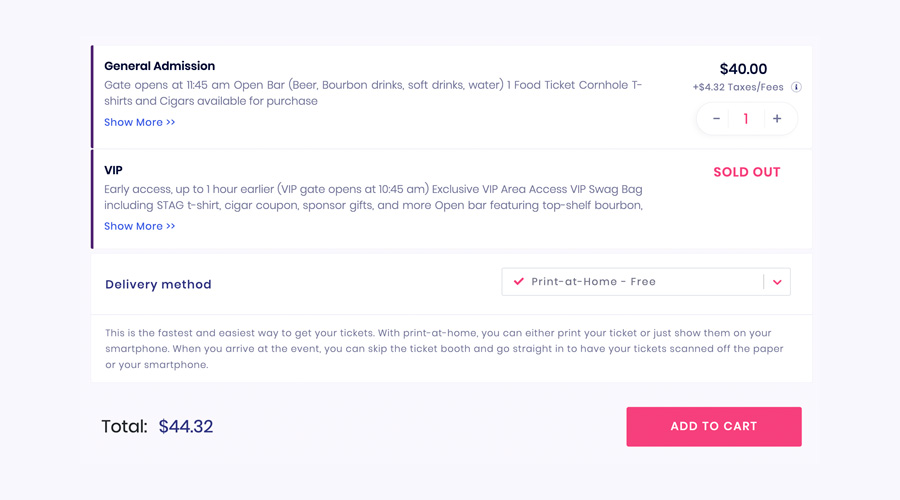 1. The Advantages of Using An Online Registration
From creating a more searchable event online, to collecting payments and tracking orders, there are many reasons to using an online platform for your event's registration.
Centralized Management: Gone are the days when you needed paper tickets, cash boxes, and manual tallies. With an online system, you can manage ticket sales, keep track of headcounts, and handle reservations, all from one dashboard.
Real-time Data Access: You'll have instant access to sales numbers, which can be invaluable for gauging interest and planning future events.
Simplified Logistics: No more physical ticket printing. Your guests can now book, pay, and receive their tickets online as an option.
Enhanced Customer Experience: Booking tickets becomes a breeze for your customers. They can choose their seats, pay online, and even get reminders before the show.
2. Event Promotion Made Easy
Digital promotion provides immediate feedback on how well your promotional efforts are performing. With analytics, you can view the number of clicks, shares, and engagement on your promotional content, allowing for adjustments in real-time to maximize reach.
Utilize a registration platform for promotional efforts:
Customizable Content: Online platforms often offer customizable event pages, enabling organizers to tailor the look and feel to match the event's theme or brand. This personal touch can enhance the attendee's experience and create a memorable first impression.
Targeted Advertising: Leveraging online ad platforms, such as Google Ads or Facebook Advertising, allows for precise targeting. By understanding your audience's demographics and interests, you can reach out to the most relevant people, ensuring higher attendance and engagement.
In a world that's rapidly digitizing, the advantages of online event promotion cannot be understated. Not only does it streamline the process, but it also offers tools and opportunities that traditional methods can't match.
3. Building a Stronger Online Presence for Comedians
While comedians once solely relied on word of mouth or local press, the digital age offers numerous avenues for brand building.
Personal Website: Every comedian should have a personal website. It's a hub where fans can learn more, watch clips, see upcoming shows, and of course, buy tickets.

Blogs and Articles: Share stories, experiences, or even write-ups about the comedy scene. It helps in engaging the audience and also in improving online visibility.

Linking to Ticket Sales: Directly embedding the ticketing link or interface on the comedian's personal website can drastically improve sales. It offers a seamless experience for fans, as they don't need to hop between sites to book tickets.
4. Different Seating Options for Venues
One of the perks of an online ticketing system is the ease with which you can manage different seating options. Here's how you can maximize your venue with varying seating:
VIP Seating: Reserve the best seats in the house for a higher ticket price. Include perks like a meet-and-greet or a free drink.

General Admission: This is the standard seating. You can offer early bird discounts to encourage quick sales.

Group Seating: Offer discounts for those booking in groups. Comedy is always better with friends!

Standing Room: If your venue has the capacity, once all seats are booked, you can offer a discounted 'standing room' ticket.

Interactive Seating Charts: Modern registration platforms offer interactive seating charts. This allows customers to pick the exact seat they want, ensuring they're happy with their choice and improving their overall event experience.
Request your venue seating map
We build an unlimited amount of maps for
promoters...for free! Request one below!

In Conclusion
The comedy scene is evolving. While the essence of humor remains timeless, the ways we experience and share laughter are continually changing. To stay ahead in this dynamic landscape, integrating technology, especially online registration, and ticketing, is the way forward.
For event organizers and comedians alike, the benefits of this integration are multi-fold. From efficient event management and enhanced promotions to building a strong online brand presence, the possibilities are limitless.
Whether you're a seasoned comedian or an event organizer venturing into the world of comedy, remember: The goal is to ensure laughs, and with an online registration system, you can focus on just that while the system takes care of the rest.
So, the next time you're setting up a comedy event, take the digital route. Embrace online ticketing and watch as the seats fill up faster than you can say, "Why did the chicken cross the road?"