10 event ideas for celebrating Saint Patrick's Day in your community.
Saint Patrick's Day is a time to celebrate Irish culture and heritage, and what better way to do that than with your community? Bringing people together for a shared experience is an excellent way to build connections and foster a sense of belonging.
In this blog post, we'll share 10 event ideas for celebrating Saint Patrick's Day locally and bringing your community members in green together for the day.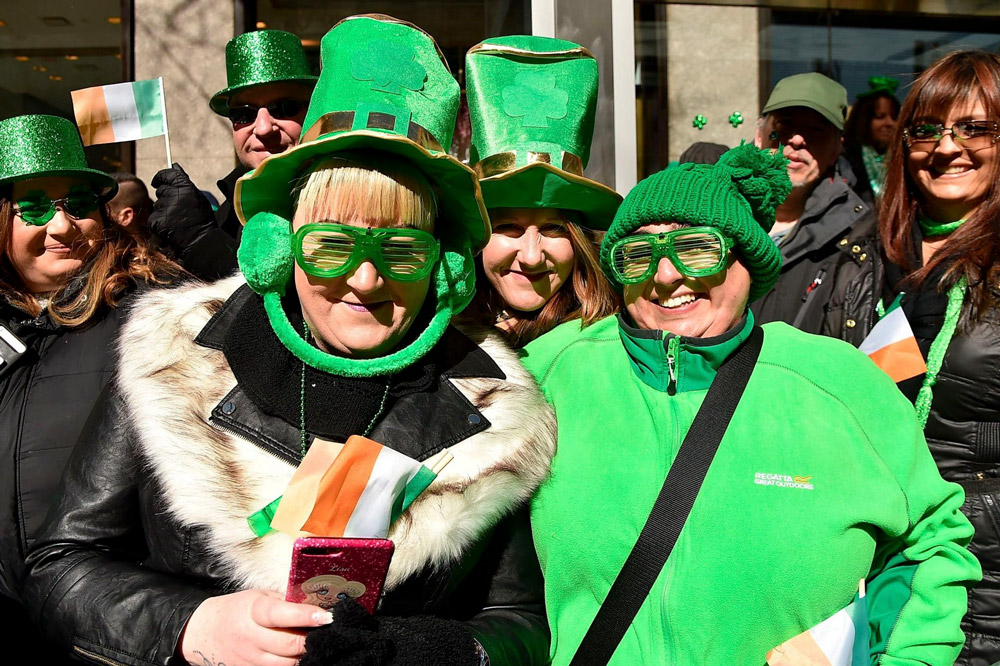 1. Host a Parade
A parade is a classic way to celebrate Saint Patrick's Day. Get your community involved by inviting local businesses, schools, and organizations to participate. You can also encourage people to wear green and decorate their floats or cars. Make sure to have plenty of Irish music, food, and drinks for everyone to enjoy.
Hosting a parade can seem challenging in the grand scheme of planning, but it will pay off by creating a safe, community atmosphere, and bringing different members, clubs, organizations, etc. together for the holiday.
2. Organize a Saint Patrick's Day Run
A Saint Patrick's Day run is a fun way to get active and celebrate the holiday. You can organize a 5K or 10K run and have participants dress up in green or other Irish-themed costumes.
Tips for planning and marketing a holiday run/race include:
Create a family-friendly atmosphere
Advertise it around the community; through flyers, banners, direct mail, posters, etc.
Create different race times and events so everyone has a chance to participate
Consider your prizes for winners or if the race is for a cause
Partner with local sponsors and vendors
Emphasis the theme with interactive events, costume contests, merchandise, etc.
3. Host a Community Potluck
A potluck is a great way to bring people together and share a meal. Encourage people to bring their favorite Irish-inspired dishes, such as corned beef and cabbage or shepherd's pie. You can also have a contest for the best dish and give out prizes to the winners.
4. Have a "Green" Beer Tasting
Saint Patrick's Day and beer go hand in hand, so why not host a beer-tasting event? You can invite local breweries to showcase their Irish-inspired brews and have people sample them. You can also have food trucks or vendors selling Irish-inspired snacks to go along with the beer.
5. Organize a Scavenger Hunt
A Saint Patrick's Day scavenger hunt is a fun way to explore your community and learn more about Irish culture. You can hide clues and riddles throughout the town, and have participants follow the clues to find the next one.
Make sure to have a prize for the winner or winning team.
6. Host a Ceilidh
A ceilidh is a traditional Irish social gathering that involves music, dancing, and storytelling. You can hire a live band or DJ to play Irish music, and have dance instructors teach people how to do traditional Irish dances like the jig or reel. You can also have storytellers or poets recite Irish poems or stories as well.
7. Organize a Leprechaun Treasure Hunt
A leprechaun treasure hunt is a fun activity for kids and adults alike. You can hide gold coins or other treasures around your community, and have people search for them. You can also have clues or riddles to help them find the treasure as part of an activity during the event or you can use this as a mini-event to promote a larger one.
8. Host an Irish Film Festival
An Irish film festival is a great way to showcase Irish culture and history. You can screen classic Irish films like "The Quiet Man" or "Angela's Ashes," or more recent films like "Brooklyn" or "Sing Street." Make sure to have snacks and drinks available for people to enjoy while watching the films.
9. Have a Green Outfit Contest
A green outfit contest is a fun way to get people in the Saint Patrick's Day spirit. Encourage people to wear their best green outfit, and have judges select the best one. You can also have categories like "most creative" or "best use of accessories."
10. Organize an Irish Art Exhibition
An Irish art exhibition is a great way to showcase local artists and their work. You can have artists submit their Irish-inspired artwork, such as landscapes, portraits, or abstract pieces. Make sure to have a reception or opening night for people to view the pieces, and possibly consider a silent auction if artists are interested in selling. Or you can just display their art during your event.
Start selling tickets in minutes!
Create your account, upload event details,
and go live! It's that easy to create your registration.