10 Easy Ways to Save Money on Events
As an event planner, the budget will almost always be one of the top concerns on your mind. But, saving money does not have to mean cutting corners or missing out on amenities and features for your event with the right strategy in place.
Here are 10 ways you can save money on events without lowering the quality.
#1 Mobile Ticketing
Typically, planning a local event requires printed physical tickets, which can quickly add up in cost, especially for smaller events.
To save money, consider opting for a mobile ticketing solution. Using mobile ticketing is not only a way to effectively streamline selling and managing tickets, but it also increases accessibility, which may boost overall attendance.
#2 Advertising
Rather than focusing on traditional methods of advertising, such as radio and local television ads, consider deploying a digital marketing and social media strategy that is right for your company or event. Both these avenues can be free or done on a limited budget.
Using digital marketing with social media is not only cost-effective, but it provides an opportunity for growth and expansion through the building of followers and online fans.
Launch a digital marketing strategy with the use of social media platforms such as Facebook, Twitter, Instagram, TikTok to promote your upcoming event. Use relevant hashtags and connect with those you would like to invite. Engage with followers and those who comment on your posts and campaigns to encourage further engagement and ticket sales.
#3 Use AliExpress
If you are planning a local event and you need furniture and decor, skip the big boxed stores or local furniture outlets. Instead, opt for an alternative website that offers discounts and wholesale prices, such as AliExpress.
AliExpress is just one of many international wholesale marketplaces that offers steep discounts on a variety of household, furniture, and decor items today.
If you choose to use an international solution, such as AliExpress, it is important to keep in mind that shipping times may vary. For some international shipments, you can expect to wait anywhere from 2 to 8 weeks for delivery (so be sure to plan). Always verify sellers and testimonials prior to placing an order via a third party or when using an international wholesale marketplace, such as AliExpress.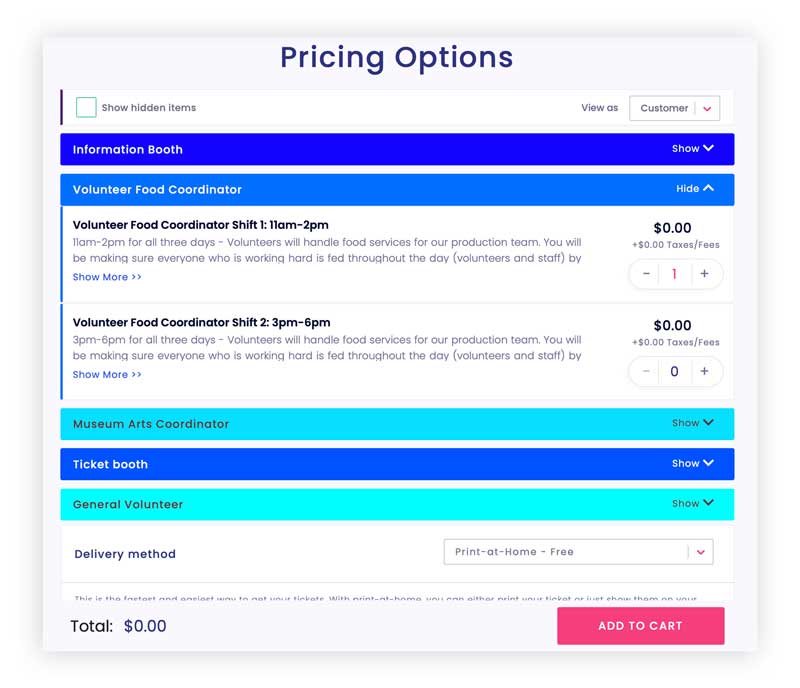 #4 Use Volunteers
One way to save serious money when planning an event is to seek out volunteers.
If you are hosting a charity event or even a networking event for local businesses, you may have even more volunteers who will help coordinate, plan, and manage the event.
Create volunteer sign-up pages
Use Purplepass not just for ticketing, but
for managing volunteers as well.
#5 Venues that include perks like furniture, staff, etc.
If you are thinking of renting a venue for your upcoming event, consider searching for a location that includes perks and amenities such as vendors, furniture, or even connections to local partners.
A venue that includes amenities or potential partnerships provides more opportunities while often also being more cost-effective.
#6 Food Options
When you handle the food being delivered or catered to an event, you have plenty of choices to help get you started. While it may tempt you to hire a catering company, this is not always the most affordable solution.
Opting for a buffet-style menu, food trucks, or even a vegetarian/vegan menu can help to significantly cut the cost of the food you serve.

#7 Work with students or interns
Another way to help cut the cost of hosting an event is to work with interns or students, especially for launching digital marketing strategies, photography, and even ideography of the event.
You can also seek interns to help with managing booths and ticket sales.
Interns and students who are interested in adding to their resume experience are most likely to volunteer for these positions.
#8 Get creative
Brainstorming and getting creative can help with saving money for any type of event you intend to host, big or small. Use both local and online resources to help with comparing costs, researching venues, and even seeking mobile ticketing solutions.
Work with local companies and business owners to contribute to the event to reduce costs. Ask for local support and promotion from those who will attend or sponsor your event.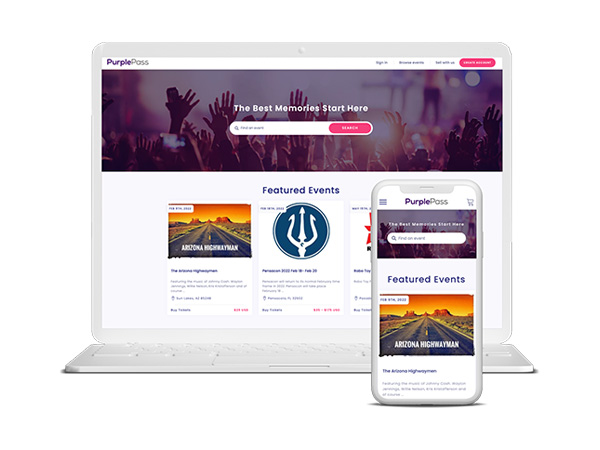 #9 Use a cost-effective registration platform
Using a cost-effective registration platform for your ticket sales is a must when planning an event in 2022. A cost-effective online registration ticketing platform such as Purplepass can help streamline the registration and ticket sales process with ease.
Not only will a cost-effective registration platform save your money when planning your next event, but it can also help you reach a much wider audience, increasing attendance and ultimately, ticket sales.
Request your venue seating map
We build an unlimited amount of maps for
promoters...for free! Request one below!

#10 Use local talent
Another way to save money by working with local members of your community is to use local talent. Rather than hiring outside talent or flying talent in, work with local business owners, artists, designers, and musicians when planning your next event.
Working together with local partners is not only a great way to save money while planning your next event, but it is also a way to connect with members of your community, which can help with building a positive and trustworthy reputation for your business and brand.
Whenever you are planning an event, take the time to brainstorm creative methods of reducing the overall costs. By using a variety of resources, both locally and even online, you can stretch your budget while making the most of any type of event you have in mind.