Using Student IDs as Coupon Codes for Academic Event Ticketing
Hosting a school event with academic event ticketing available online provides plenty of opportunities to get creative, especially with coupon codes, discounts, and tracking purposes.
If you're an educator or in charge of managing an event's attendees, using student or membership IDs as coupon codes for events can offer the management support you need.
The benefits of using student ID codes at checkout

At many schools and universities today, provide students with badges/cards that include IDs that are unique to the individual. Here are a few beneficial ways to apply these IDs at the checkout for event registration and signups.
Extra Credit
Using student ID codes to track event attendance is a great way to offer an incentive to students who may not feel as motivated to attend on their own.
For example, with Purplepass, you as an educator can see what students attended the event through the use of their student ID at checkout.

You can create coupon codes that do not provide discounts but are for tracking only. This option will provide insights into which students attended via their ID code, which is helpful if you are tracking hundreds, if not thousands, of students.
Using student IDs for a discount or free entry
Another way to use student ID codes as coupon codes for events is to provide a discount or free entry for students who wish to attend a school event.
When creating an event, you can choose whether the student IDs provide students with a discount or free entry into the event, they wish to attend.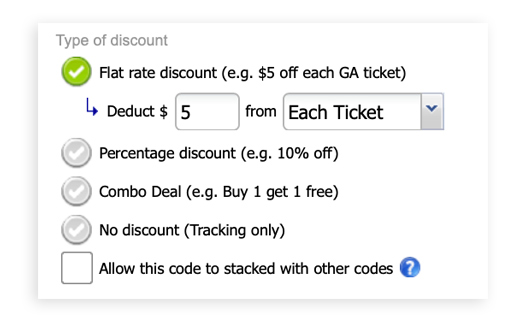 When creating new coupon codes, you have various discount types to choose from, including:
Flat rate discount: For example, you can choose to offer $5 off of a $10 coupon for students, or opt to offer $10 off of a $10 coupon if you choose to provide free entry.

Percentage discount: To provide students with free entry, deduct 100% from the entire order once they have successfully entered the coupon code.

Combo deal: You can also create BOGO (buy one get one) free deals using student ID coupon codes, which is ideal if the event provides accommodations for +1 guests.

No discount (tracking only): You can use the no discount (tracking only) option to keep track of individual student IDs that have been used to determine if a student has really attended.
Importing mass student IDs
Using Purplepass' coupon creation tool, you have the ability to easily upload files with student IDs to save time and to help automate the coupon creation process.
Rather than creating each student discount code individually, you have the option of uploading a standard text file (.tx) or a standard Excel spreadsheet file (.csv) with a list of your student IDs in numerical order.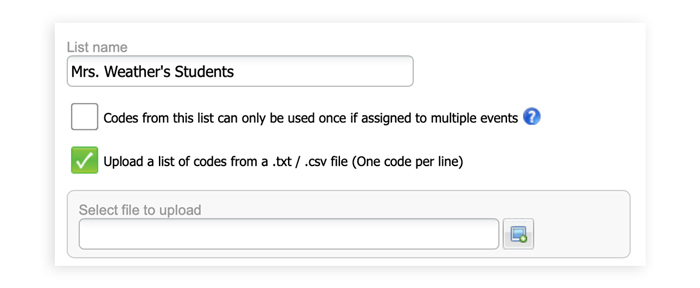 Mass-importing of your student IDs can help you quickly create and manage events without wasting time manually inputting the information yourself.
Managing graduations and ceremonies (limited tickets)
Using student ID codes as coupon codes for events makes sense for graduations and formally hosted ceremonies, especially with larger classes and universities.
With online academic event ticketing, you can create various ticket types, ticket tiers, and multiple discounts based on the estimated number of attendees and the type of school event you are hosting.


Advantages of using coupon codes for graduations and limited ceremonies:
The ability to control the number of free tickets students receive for family and friend
Offering group discounts for larger families or groups who are planning to attend
Offer additional discounts to members of the military, veterans, or seniors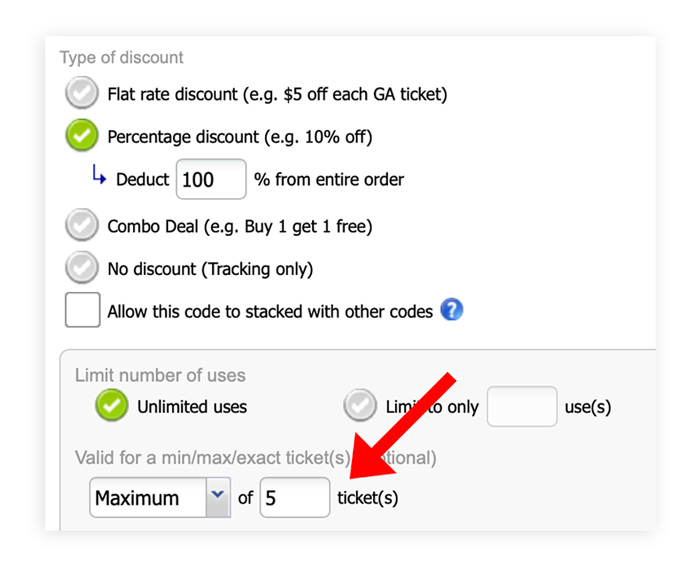 With the right ticketing solution, using student ID codes as coupon codes for events is easy, straight to the point, and does not require any coding knowledge.

If you are an educational event planner, athletic director, or even a school administrator, using student ID codes as coupon codes for your school's events can significantly decrease your workload and automate the ticket sales process.
Ticketing for Education
Want to learn more about using ticketing
for your schools? Request a free demo below.