matching article(s)
Show content for
Everybody
Organizer
Buyer
Answers
Ordering full color ticket stock for events posted to Purplepass
Ordering full color ticket stock for events posted to Purplepass
Full color ticket stock can feature any artwork or design you create. This is a fully customizable ticket that you can brand your event within a timely manner, all you need is a design.
Log in to your Purplepass promoter dashboard. NOTE: an event must be made first before tickets can be ordered.
Once you create and post your event, you can select "Ticket Stock" to begin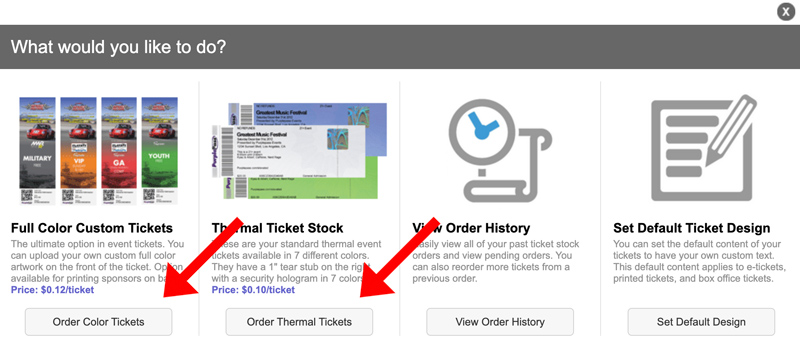 A pop-up with different ordering and navigation options regarding ticket management will appear
Select "Order Color Tickets"
Creating Your Ticket
On the full color ticket ordering page, there is a sample ticket where uploaded artwork can be viewed. There are also drop-down menus at the bottom of the page for entering the necessary information for ordering full color stock.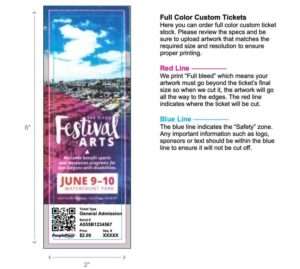 Select your ticket type (ie. general admission, talent, security, etc.), the quantity, face value, and finally the section to upload an image
In the section where you are prompted to "upload image", the artwork or design should be selected from the appropriate file on your computer
Once the image appears within the frame on the sample ticket located on the center left of the screen, make sure to align the artwork within the blue lines
Anything outside the blue lines is considered bleed and may be cut off
NOTE: if you need help creating a design or artwork, there is also a number listed on the ticket for design services, 1-800-316-8559

 

At the bottom of the screen, there is also a box you can check for complementary micro perforation. NOTE: this is a free feature that makes tearing your ticket stubs easier during admittance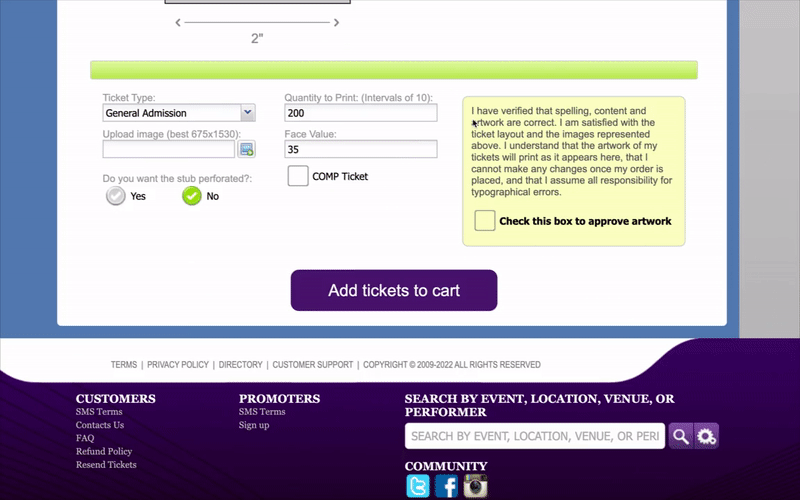 Select the box within the yellow field to the right of the page to approve all the changes
Select "Add tickets to cart

" button at the bottom of the page, and you will be taken to a payment screen for checkout