Will Call vs. Print-At-Home Ticket Comparison
$10.3 billion worth of event tickets are expected to be purchased online this year, 2019.
In other words, people LOVE to buy event tickets online. Selling those tickets online can be easy... or it can be difficult.
After all, there are about a million ways to market your tickets on a thousand different platforms using hundreds of different ad types.
But, once you actually sell them, the nightmare is over right?
Almost!
You still have to figure out how to get those tickets to your customers. But don't worry! Instead of millions of options, you have three — shipping, will call, and print-at-home.
You probably already know what shipping is, but what about will call and print-at-home?
Are those good options?
How do they work?
Let's talk about it!


What are will call tickets for events?
When customers purchase "Will Call" tickets, they are pre-purchasing tickets online (or over the phone) to pick them up at-the-door on the day of the event.
The term "will call" is a shortened version of "will call for" — which means the same thing as "will come and get".
So, when customers purchase will call tickets, you can expect them to show up ready to receive their ticket at your door via box office.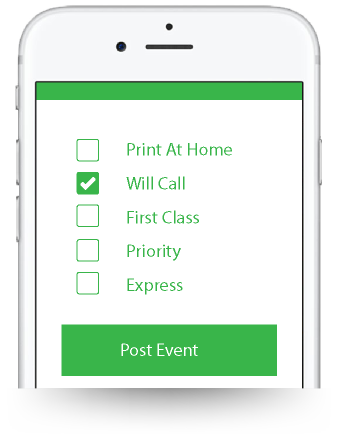 Generally, customers will need some information when they show up at the door to prove that they're the ones that purchased the tickets.
Need an ID with their name or a combination of their credit card and ID
Staff can search for their information in the mobile box office
That's it!


For event managers, will call tickets can be a great way to presell tickets.
But, we recommend the following when dealing with will call tickets.
Create a separate line for those that purchased will call tickets.
Train staff for locating guests in the box office system


The rules regarding will call tickets vary by event and region. In the United States, most will call tickets are picked up during the day of the event or a few days before.
PROS AND CONS OF WILL CALL TICKETS
Pros
Helps you mitigate front door traffic with smart line planning
They can help you generate income pre-event and collect data faster
Attendees get regular tickets — which can act as mementos and permanent event branding mechanisms instead of print-at-home


Cons
You have to organize these tickets appropriately and have them ready for the guests
You still have to pay for ticket materials and track supplies
Extra training is needed for staff dealing with these ticket types
If your box office isn't located by the event gate, picking up tickets could be confusing for guests



What are print-at-home tickets?
Print-at-home tickets are physical tickets that customers purchase online and print from their home printer.
For event organizers, these print-at-home tickets are an amazing source of income.
Not only will customers print the tickets at their own homes using their paper materials, but they won't crowd a line and they don't require additional staffing resources.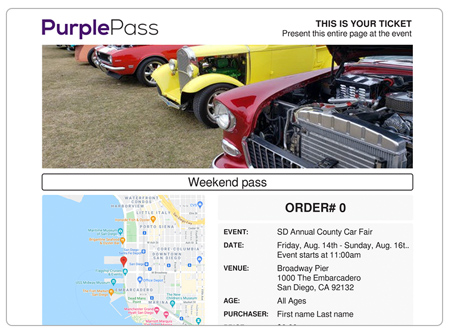 Now, there are some tricky components to offering print-at-home tickets.
For starters, you have to make sure that you're working with a ticket company that offers good security components.
Otherwise, people will duplicate the print-at-home tickets and flood your event with fake tickets. Second, print-at-home tickets don't act as branding elements. Most customers aren't going to hang onto a home-printed ticket after the show.
Still, print-at-home tickets are one of the fastest-growing ticket delivery methods for event planners. They save money, time, and plenty of headaches (as long as you use a reputable ticket printing software!)
Note: Print-at-home tickets through Purplepass can also be used and scanned directly on mobile phones if the event allows it. This might not be the same for other ticketing software.
PROS AND CONS OF PRINT-AT-HOME
Pros
You don't have to pay for supplies
Easy to set up and utilize at-home printing systems
Can be extremely convenient for customers
Works as both a ticket and confirmation page
You can include event details on the print-at-home ticket page


Cons
You have to invest in security elements
Customers won't have a permanent, glossy ticket to take home and keep
They have to have a printer and ink at home unless they are able to bring it up on their smartphone
From here, if you go with print-at-home you can also decide if you want to give guests the option of showing their tickets on their phones instead of physically printing them out.