Season Pass Ticketing for Competitions, Tournaments and Showcases
Managing sporting events for schools as an event coordinator or athletic director requires the ability to manage attendance expectations, ticket prices, seating availability, reservations, and more.
Season Passes
Another great function of an all-in-one ticketing solution is the ability to offer season passes. For many schools, offering season passes provides parents with the ability to ensure they can see all of their child's games year-round.
Purchasing season tickets online and ahead of time eliminates the hassle of purchasing tickets for each individual event and usually comes at a discounted rate.

Common types of season passes created include:
All-sports pass: Provide parents and school visitors with the opportunity to purchase an all-access season pass to all the school's sporting events in the current academic year. The all-sports pass is optimal for larger families and families with multiple children enrolled in many events or activities throughout the year.

Tournaments and competitions: This option helps to plan for accommodations and reservations ahead of time, based on the number of students and parents who are interested in attending all included events.

Flex passes: With the flex pass you can add as many tickets from as many events from your account as you'd like. For example, If you are promoting a variety of events not related to each other, but in your account, you can include them on a flex pass in case customers are interested in attending those other events.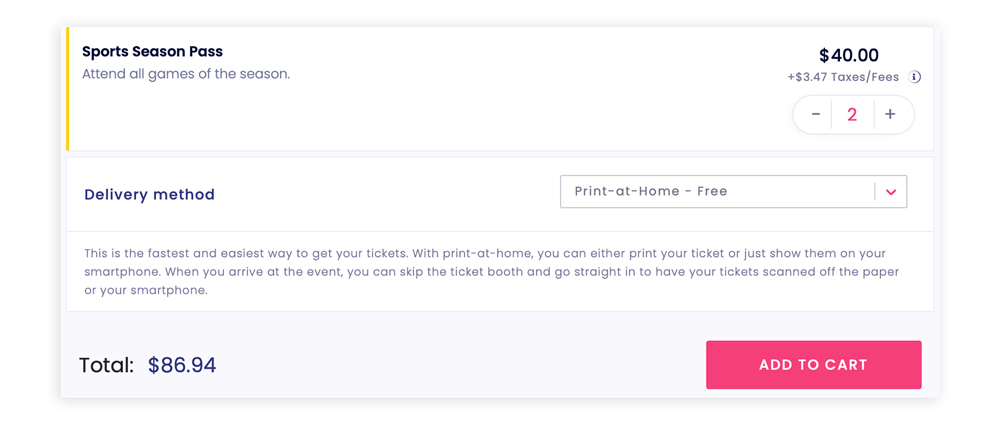 Benefits of offering season passes:
Offering online season pass options for school events can help in many ways, such as:
Better organization of school sporting events and seasonal activities

Helps parents save time with planning and paying for event tickets upfront and in advance

Cut costs by offering season passes, which will help to incentivize parents to purchase season passes and attend more games
Tournaments and Competitions
Offering school event tickets and season passes online is not exclusive to traditional sports such as football, basketball, and softball.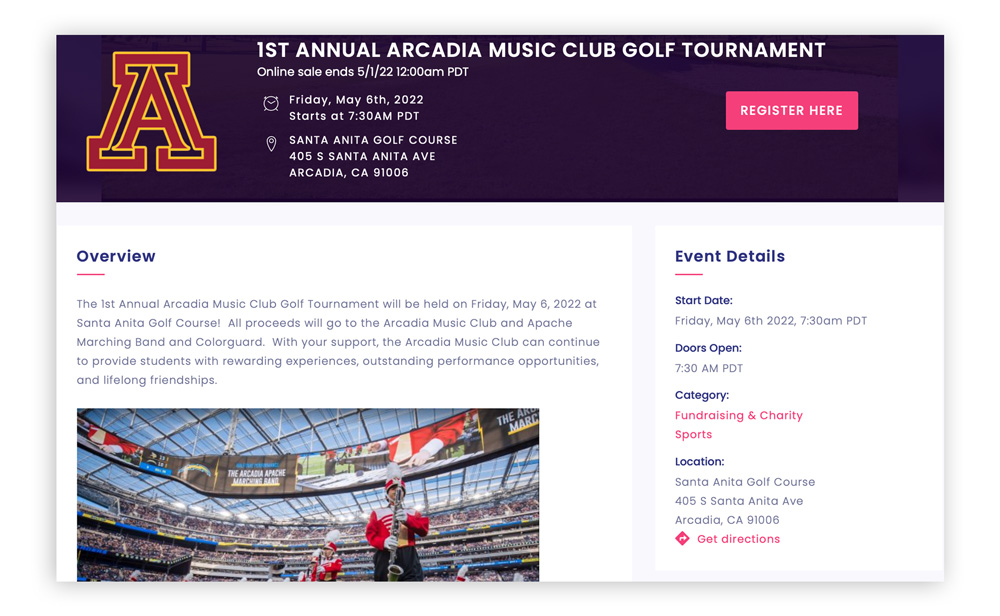 There are plenty of other school clubs and activities that can benefit from having season passes and online ticketing, such as
Dance teams

Chess clubs

Debate teams

Math tournaments

Spelling bee competitions

Trivia tournaments

Programming tournaments

Gaming tournaments

Cheerleading competitions

Traditional athletic programs (football, soccer, baseball, basketball, volleyball, swimming, track)


Manage special ticket types for tournament/competition members and parents, relatives, or even veterans/military attendees.
Offer discounts for purchasing tickets in bulk or for purchasing tickets as a group when managing your school's tournaments and competitions for any sport, club, or activity.
Showcases and Talent Shows
Showcases and talent shows are another type of popular school events that benefit from online ticketing and event management.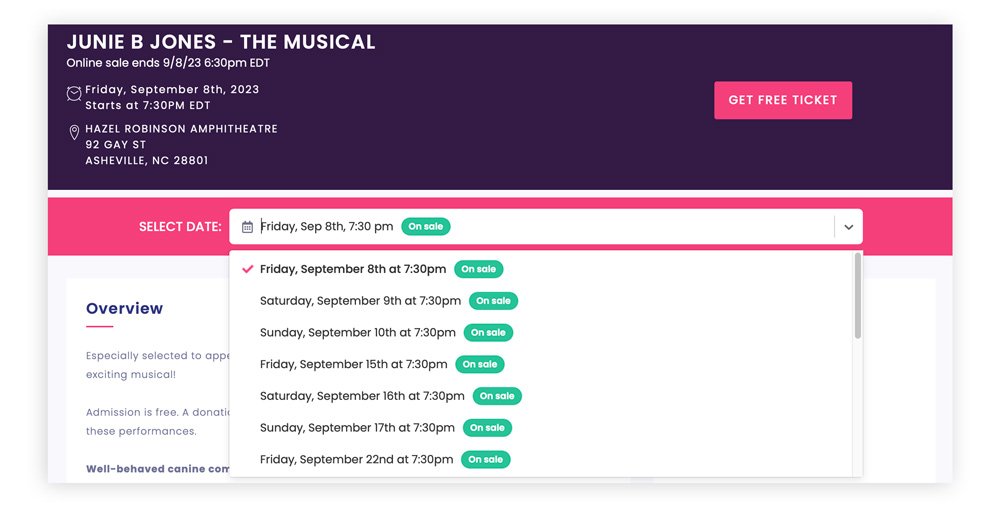 The ability to create and sell multiple event times online

Limiting the number of tickets available for specific time slots/setting capacity per show

Providing VIP/exclusive access tickets for additional donations

Offering discounts to students/special groups such as veterans, military members, or seniors

Assigned seating support and custom venue designs

Data collection on popular time slots and event dates for future events


Online Purchases and Payment Options
Using contactless ticketing for your school's sporting events is a great way to offer an opportunity to purchase tickets in advance.
Purchasing tickets online in advance can help prevent enormous crowds and long wait times that can come with sporting events.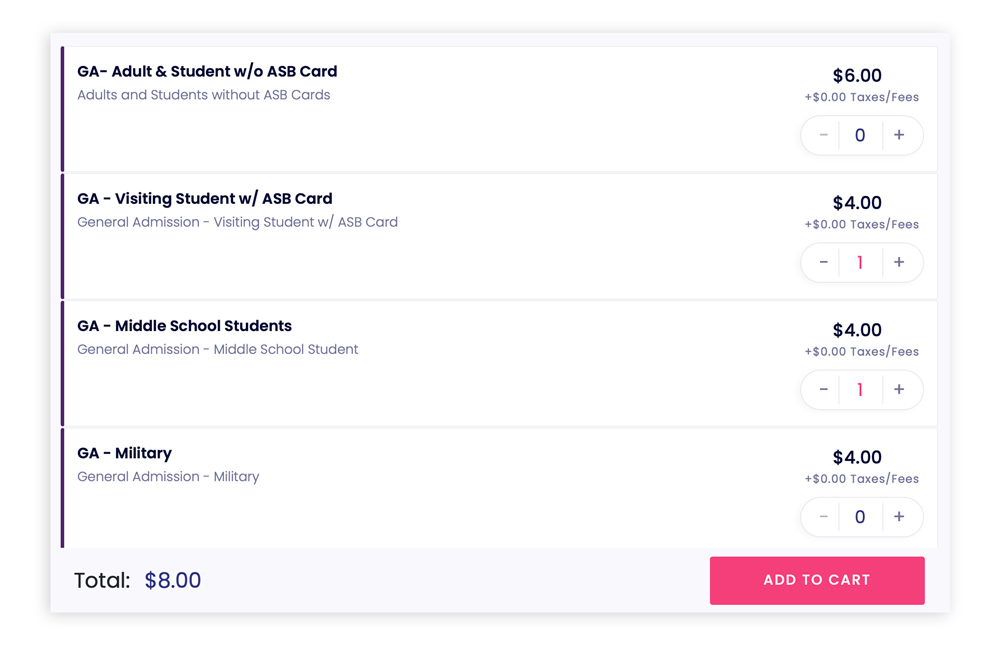 Selling sporting event tickets in advance with a ticketing solution such as Purplepass is ideal for those who have different ticket types available to promote. Custom ticket options can be anything from student discounts to memberships that are available for specific age groups.
Student discount tickets

Visiting student tickets

Military/veteran discounts

Elementary/middle school/ high school tickets

Senior discount tickets

Club member/donor ticket discounts

Group discounts (for those purchasing multiple tickets at once)
Planning and managing your school's sporting events and season passes does not have to take up all of your time and mental energy.
With a ticketing solution such as Purplepass, implement contactless ticketing while managing attendance, sales, and reservations for all of your school's activities and sporting events year round.