Understanding your Conference Leads and How to Network with Them
We live in an increasingly digital minded society.
With powerful tools like LinkedIn and Slack, connecting to people has never been easier. But what about those old-school face-to-face events that used to dominate the sales cycle?
Today, getting leads is as easy as creating the right Facebook campaign or sending automated In Mail messages to the right people at the right time.


Check registration off your list
Request a demo now to set up, create and
start selling tickets in minutes!
So, why is the conference industry booming?
It may seem strange that the meetings industry alone supports 2.5 million jobs and a massive $325 billion in direct spending. But it's only growing. 42% of meetings and conference execs plan to increase their budget next year.
And that's because conferences are an absolutely AMAZING way to bring in new leads and network with a variety of creative professionals.
But why should you try it?
And how do you use conferences to score those tasty leads?
Understanding your conference leads
85% of jobs are filled through in-person networking; it's all about who you know right?
And, almost everyone agrees that in-person meetings are essential for business relationships. But, let's quantify this a little.
Businesses score about $1.60 for every $1 spent on in-person meetings.
And, the average close rate for an in-person meeting is over 40%.
Going out into the world and shaking someone's hand is still the single best way to score leads; remember personal connections over automation always wins.
And one of the best places to find these eager leads are at conferences, conventions and trade shows. After all, people come to conferences to network and recruit, meaning conferences are stuffed with potential buyers, leads and other opportunities.
So, how do you actually network with all of these people when you get to that industry conference?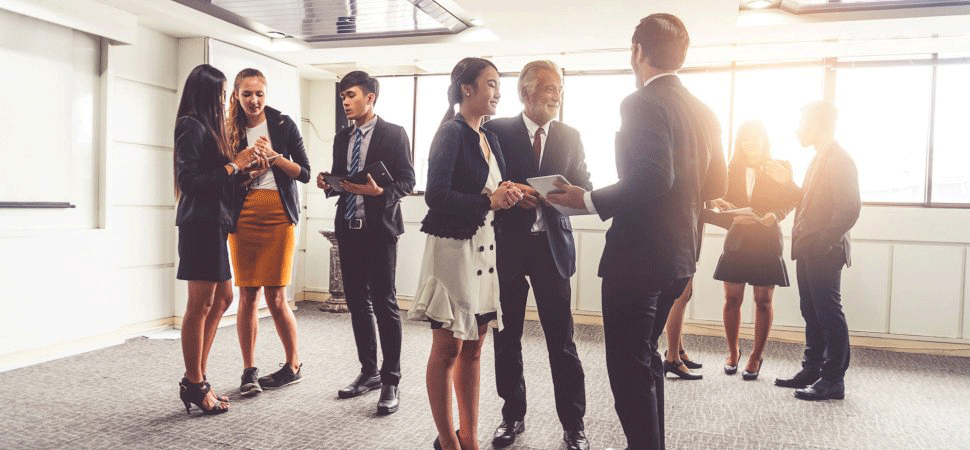 1. Get extroverted at events
When you first arrive at a conference, it's easy to blend into relatable, familiar groups.
You may find someone you've met before or colleagues in the same industry as you, wanting to group up instantly.
That's called a clique and it's the reason so many people miss out on the opportunities of a conference.
Cliques form because people feel safe, less judged, and it makes blending in seem easy.
Don't do that. Networking is all about meeting new people, shaking their hands, and forming connections.
Don't just stick with your regular crowd; get out there and meet some new people. In fact, probably spend as little time as possible talking to your colleagues.


Here are some tips for people that need a little extra help becoming extroverted:
Ask broad, open questions that don't just get a yes or no reply.
Focus on the person and the conversation you are having, nothing else.
Jump around, don't just get stuck in a group of extroverts.
Play off of the person you are talking to. If they have high energy and are extroverted, match their level. If they are super introverted, tone it down and become more relatable.
2. Be real and authentic
We can all smell a salesperson a mile away.
Don't practice the "sell me this pen" routine. Just be personable.
The best salespeople in the world can walk up to anyone and engage them like they're an old friend.
Never start with your pitch. Instead, listen to people, have real conversations with them, and create meaningful connections.
Remember, you don't have to sell something to them right then and there. It's much better to walk away with 20 new contacts than it is to walk away with 2 leads and 18 people who want to avoid you from now on.
Here's a pro tip. Master your handshake. 72% of people say that the initial handshake helps them form their impression of you.
3. Find a common connection
Since you're wandering into new groups of people, you won't really know exactly what to talk about at first.
Focus on figuring out what you share in common with them.
Maybe you both face the same pain points at work.
Maybe you both like to golf.
Or, maybe you both just don't like mashed potatoes.
It really doesn't matter what it is. Once you find that common link, use it to delve deeper into conversations and form a memorable connection.
4. Drop them you business card
For every 2,000 business cards you hand out, your overall sales will increase by 2.5%. You should always end a conversation with a business card — even if they don't seem interested.
While you're at it, make sure you have nice looking business cards.
39% of people won't do business with you if they think your card is cheap looking.
The aesthetics of your business cards are more important than you think. And people will judge the way your card looks.
If you aren't trying to sell, a business card is also a fast way to hand over your contact information.
If you need to update your look, design and/or print new business cards, you can request a free estimated quote and get started with Express Event Printing below!
5. Smile!
Don't ever underestimate the power of a smile.
They help you live longer, sell more products, and even encourage better conversation flows. We won't get too in-depth here.
Just smile.
Trust us.
Wouldn't you rather be approached by someone who is giving you a genuine smile than a frown?
6. Do your research before going
We always recommend doing your research before you go to the conference.
Are there any specific people you are dying to network with that will be there?
What kinds of leads are you looking for?
This is a great time to use social media.
Check out potential leads' LinkedIn profiles and Facebook pages.
You can bust out that handy-dandy buyer's persona or even do some firmographic research beforehand.
7. Bring a friend along
Having a friend with you can help you shake off those nerves and find your comfort zone.
Sure!
You can bring a work friend to help you sweet talk some leads, but you can also just bring your old buddy to help make conversations easier and your body language more relaxed.
Remember, try to have fun!
The conference doesn't have to be serious 100% of the time. We know! You want to get as many networking opportunities as possible. But that doesn't mean that you can't goof off a little.
An easy way to manage your guest list
Run reports, track ticket sales, issue
COMP tickets, etc. all in one place.
So relax, go into your next conference prepared, relaxed, and leave your sales goals behind. Right now it's all about meeting new people and forming real connections.
You got this!