Ticket Affiliate Marketing | A New Way To Sell Tickets
Over 35% of event planners say that registering enough guests is their #1 challenge. As event marketers, we're always on the prowl for customer acquisition strategies. After all, stuffing your gates is a surefire way to create a successful event.
Here's the honest truth — creating successful marketing campaigns is challenging. It just is. Especially trying to find a way to be different or unique from all the other billions of ads out there.
But what if you didn't have to create those campaigns? What if you could have other people sell your tickets for you for a small slice of your big pie?
That's affiliate marketing. And it's one of the hottest event marketing trends on the planet for a reason — it works!
What is Affiliate Marketing?
The idea behind affiliate marketing is simple. If someone sells your tickets through their own marketing efforts (blogging, YouTube, social media, etc.), you give them a percentage of the sale. It's revenue sharing.
So, let's say that you know a popular blogger who makes event-related blog posts. You could have them write a blog post about your event with a link to your ticket sales page located in the content or in the comments section. Then, when customers click that link to buy a ticket, you give them a percentage of the sale (usually somewhere between 5 - 30% depending upon how aggressive you want your campaigns to be.)
In a sense, you're outsourcing your marketing needs. Someone else runs marketing campaigns while you sit back and collect attendees. And it works! Affiliate programs are responsible for up to 30% of marketing sales worldwide. You get to use tons of different marketers — each using their own unique strategies — to help you sell your tickets. You get sales; they get cash. Everyone wins.
Why does it work so well? People trust word-of-mouth reviews from real people...they want their honest opinion or the product or service. According to Big Commerce, 92% of consumers believe suggestions from friends and family, while 88% trust online reviews written by other customers.
Using Affiliate Marketing to Sell More Tickets
The versatility of affiliate marketing presents plenty of opportunities and strategies that you can use. Let's look at some of our favorite affiliate marketing strategies below. There are plenty of other ones out there, but these are the ones that our event promoters seem to have the greatest ROI using.
1. Influence with Influencers
We've talked about the power of influencers in the past, but why pay them an upfront fee? 76% of marketers say that the biggest challenge of influencer marketing is measuring ROI. When you leverage influencers as affiliate marketers, measuring ROI becomes so easy. They only get paid if you get sales, and you can see if sales are directly coming from their link.
These influencers come in two types:
Local influencers
Niche influencers


The first category — local influencers — are people in the area of your event that have a social media following of some sort. Generally, these people will have a strong following, but not be in the "mega influencer" category. A few Facebook posts or a Twitter shout out from influencers can do wonders for your event. Since their followers are local, you get a targeted list of people who can (literally) walk to your event and buy tickets after their recommendations.
The latter category — niche influencers — are global influencers that happen to be in your niche. So, if you're running an event for law firm marketing, these influencers would have something to do with law firms or government. They will have a decent following, but their following will be people that fit squarely into your target audience.

2. Create with Critics
Event critics may have earned their place on your wall-of-hate, but they're also an incredible resource if you use them properly. All the people who review your event present ample opportunity as affiliate marketers. When people review your event, they often forget to include a link to actually buy your tickets. When you offer them a little cash, we have a feeling they'll be putting your link in their review.
Now, this isn't bribery for a good review. You still want their honest opinion, however, let the readers make up their own minds while having a place to direct them to event tickets.
3. Bring on the Bloggers
The vast majority of affiliate marketers fall into two categories — bloggers and social media influencers. But blogging is BY FAR the biggest source of affiliate marketing leads; this can be in the written form or vlogging (video blogs).
There are over 600 MILLION written blogs out there, so you have to get picky. You don't want to just accept any blogger. Try to look for people who are in your niche or command a following of people that happen to be in your marketplace. You can do some demographic (or firmographic you're a B2B event) research to figure out the best blogger to work with.
We've almost all seen affiliate marketing through blogs before, maybe we just didn't realize it. The example above is a video review of affordable, luxury handbags, all under $500. The vlogger has attached links to the different bags that were mentioned, along with different coupon codes users can use when checking out.
This is super common.
A lot of affiliate programs will give out coupon codes that their viewers can use when purchasing the product/service. This gives them that extra push to purchase the item reviewed and gives the affiliate marketer extra security to make sure their sale is acknowledged. If the user doesn't use the direct link provided, they can still use that coupon code to get the sale. This will tell the company where the discounted sale came from because the code was designed for this affiliate campaign.
4. Power to the Programs
Finally, there are affiliate programs you can join online. This is the spray-and-pray method, since you won't be able to get hyper-vigilant about who your affiliate marketers are. But, if you're short on time, these networks can help you find tons of affiliates fast. Plus, you only pay them if someone buys your tickets. You don't really lose anything by doing this. But you might not gain anything either.
So, how does it work? We'll use Shopfiy's Affiliate Program as an example.

1. First, you sign up and register your business.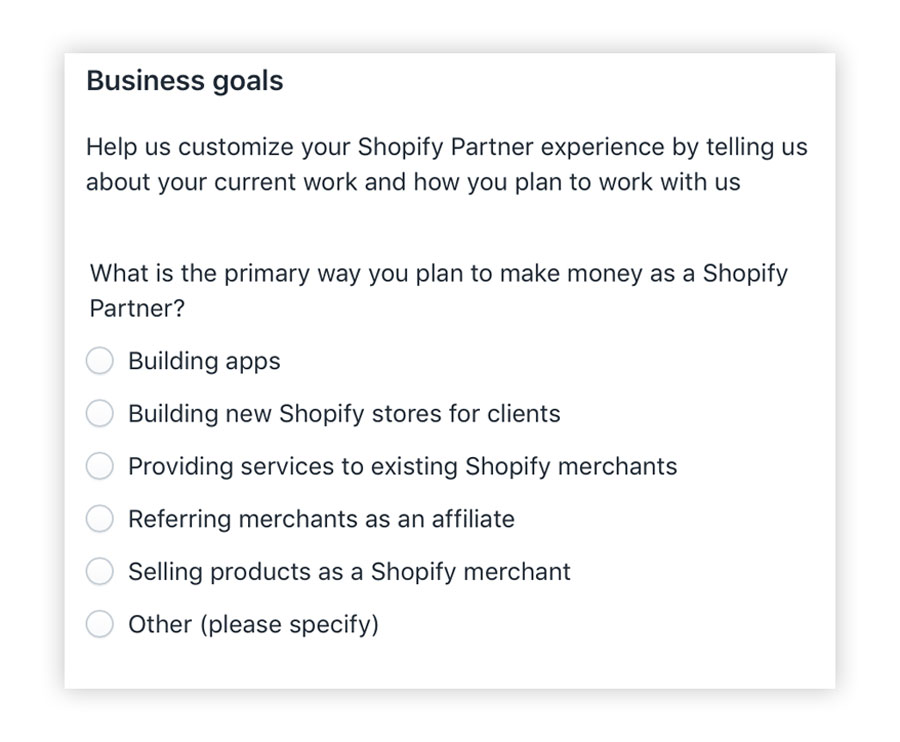 2. Once on your dashboard, you can start building your business plans, check out other affiliate tools, find partners, etc.
Below are other online affiliate programs you can access to help get you started. Make sure to select a merchant account and not promoter when signing up.
and so much more!
Ticket affiliate marketing is an easy strategy for promoting event sales, however, it is just as easily overlooked. The more direct links you can have online, the better! Whether it's a partnership with your talent, staff, sponsors or local bloggers, there is someone out there willing to link back to your event tickets.